Al-Shabaab's Foothold in Kenya's Northeast
Publication: Terrorism Monitor
By: Sunguta West
The Jamestown Foundation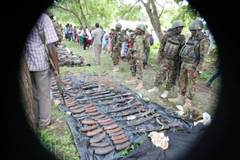 On June 14, the Harakat al-Shabaab al-Mujahideen militant group (better known as al-Shabaab) launched a major attack on a Kenya Defense Force (KDF) camp in Lamu County. The attack failed badly and exposed the militant group's weak military capabilities. However, it also confirmed the group's growing presence in the East African nation.
The attack began when around 100 al-Shabaab fighters sneaked up to the camp at dawn and then targeted it with machine gun fire, improvised rockets and explosives (Nairobi News, June 25). In the ensuing firefight, the military forcefully repulsed the attack, leaving 11 militants dead, including two senior Kenyan al-Shabaab commanders. A British jihadist, Thomas Evans, a 25-year-old white convert from High Wycombe in Buckinghamshire (a.k.a. Abdul Hakim), also died in the botched attack as well as two Kenyan soldiers (Daily Nation [Nairobi], June 25).
Al-Shabaab's most significant loss in the attack was Luqman Osman Issa (a.k.a. "Shirwa" or "Deere"), a Kenyan from Mombasa. Osman is believed to have previously sneaked heavily armed militants through the porous Kenya–Somalia border into the Lamu area, where he led a massacre a year ago. Osman was a key al-Shabaab leader and was in charge of the Jeshi la Ayman ("Army of Ayman"), an active al-Shabaab cell in Kenya's coastal region. The cell's fighters are known to hide in Boni, a forest which straddles the border region (Daily Nation [Nairobi], June 16). Osman's younger brother, Ibrahim Osman Issa was killed in 2001, while fighting for the Taliban in Afghanistan, and another sibling co-planned the November 2002 attack on the Israeli-owned Paradise Hotel in Kikambala (The Standard [Nairobi], June 16). This attack left 13 people dead and 80 injured. The other commander killed in the June 14 attack was Said Abdalla Hemed (a.k.a. Said Hamza).
The attack came after the African Union Mission (AMISOM) troops in southern Somalia have squeezed the group in recent months, forcing it to cede strategic territories. In particular, key cities such as Mogadishu, Barawe and Kismayo have fallen to AMISOM, leaving the group without important sources of revenue to finance its activities (Hiiraan Online, January 6). The militant group has further been weakened by the killing of its key ideological and military leaders and ongoing defections from the group to the Somali Federal Government (SFG) (Horseed Media, March 7).
However, while facing defeat at home, al-Shabaab has successfully exported its jihad to neighboring countries. In Kenya's predominantly Muslim northeast, it has executed numerous attacks over the last year in villages, towns and cities to devastating effect (The Star [Nairobi], March 27). The attacks, many of which are relatively low-level, have occurred against frequent warnings by the group that it will continue to escalate such assaults in revenge for Kenya's invasion of Somalia in October 2011. Kenya had launched this action to pursue al-Shabaab, who it accused of killing its nationals and abducting aid workers and foreign tourists.
Since then, an increased number of attacks have been recorded in northeastern Kenyan towns, such as Mandera, as well as in the major cities of Mombasa and Nairobi. The most prominent attack occurred on April 2, when four al-Shabaab militants, armed with AK-47s, stormed Garissa University College in Garissa town. The attack killed 148 people, mainly Christian students, and injured 79 others. This followed the Westgate Shopping Mall attack in September 2013, which killed 67 people and injured another 175 (The Star [Nairobi], Friday, April 3). Another significant attack was Osman's attack on the Mpeketoni area in Lamu County, which killed more than 70 people (Etaarifa, June 16). The group's spokesman at the time said the Lamu attacks were a revenge for Kenyan troops' presence in Somalia, the government's oppression of Muslims and particularly their alleged coercion and killing of Muslims scholars.
Before al-Shabaab's latest attempted attack on the military camp, two smaller and separate attacks had occurred in the northeastern region, raising concerns that al-Shabaab seemed to enjoy considerable freedom of movement, both in Garissa in the northeast and Lamu on the coast (Daily Nation [Nairobi], June 15). In recent months, militants in these areas have apparently adopted a new approach: they storm villages, erect their flags and herd the resident into mosques where they then proceed to lecture them (Standard Digital, May 23; Daily Nation, May 28). On three occasions in June and May, they have employed this approach in villages near the Somali border, preaching to the villagers about their mission and warning any would-be "traitors."
For example, on May 21, suspected al-Shabaab militants stormed the village of Yumbis in Fafi County near the Somali border and then herded the residents into a mosque. After lecturing the residents, the militants then retreated back to Somalia. A few days later, on May 26, reports indicated that several police officers had been injured in al-Shabaab attacks in the area (Daily Nation [Nairobi], May 26). Previously, the militants had similarly stormed the border villages of Kawasalo and Tumtishi (Standard Digital, May 23). In what is seen as an attempt to win the residents on their side, in many of their lectures of local residents, al-Shabaab reportedly castigated the government, accusing it of harassing Muslims and killing Muslim clerics.
Al-Shabaab's actions in these regions are significant due to a number of factors. These regions are generally underdeveloped, and the Muslim population there often feels neglected and marginalized by the government. There is also chronic youth unemployment, and investment in education is low, meaning that people in the region are unable to compete with other parts of the country for skilled jobs (Daily Nation [Nairobi], June 2). As a result, young and unemployed persons in the area are likely to become susceptible to radicalization and are more easily lured to join extremist groups, which can offer them a sense of belonging and means of livelihood in the absence of other opportunities (The Star [Nairobi], November 29, 2014). Al-Shabaab is reportedly also able to appeal to youths further by giving fighters in its camps a monthly salary of $500 (Business Daily [Nairobi], October 15, 2014).
Conclusion
The consequences of al-Shabaab's expanding foothold in Kenya's northeast, and particularly, its attempts to recruit disillusioned and underemployed young men in economically deprived rural communities in the region, could be grave. The Kenyan government has announced that it will build a wall along the border with Somalia to prevent al-Shabaab incursions. This initiative, and the country's ongoing military intervention in Somalia, may provide some relief. However, these will need to be supported by programs that address both the immediate and deeper needs and concerns of local communities, particularly to address their socio-economic deprivation, in order to be fully effective.
Sunguta West is an independent journalist based in Nairobi, Kenya.
The Jamestown Foundation kindly allows Modern Tokyo Times to publish their highly esteemed articles. Please follow and check The Jamestown Foundation website at http://www.jamestown.org/
https://twitter.com/JamestownTweets The Jamestown Foundation
Photo supplied in the article by The Jamestown Foundation: Weapons recovered from an al-Shabaab attack on Kenyan security forces in Lamu County (Source: The Standard).
http://www.jamestown.org/single/?tx_ttnews[tt_news]=44143&tx_ttnews[backPid]=7&cHash=27f5d24e51e71aefe7d1f338c200884a#.VaAr5ab6mf4