Foreign Minister of Germany Rebukes NATO over its anti-Russian Federation Stance
Galina Zobova, Takeshi Hasegawa, and Lee Jay Walker
Modern Tokyo Times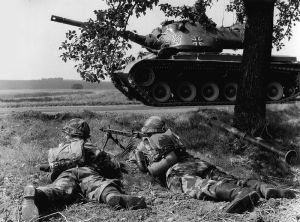 The demise of the Soviet Union seems like a different world away. However, leading figures inside NATO seem to be stuck in this time warp. This is based on anti-Russian Federation policies that are clearly visible. Indeed, NATO expansion and military statements inside this organization clearly point in the direction of containment, intimidation and mass anti-Russian Federation propaganda.
Therefore, the Foreign Minister of Germany, Frank-Walter Steinmeier, is urging NATO to step back and focus on political and military dialogue, whereby both sides can express themselves. Even stronger, the Foreign Minister warned elites inside NATO to pull back from "warmongering."
The BBC reports "Mr Steinmeier said that extensive Nato manoeuvres launched this month were counterproductive to regional security and could inflame tensions with Russia."
Sadly, it does appear that the administration of President Obama flip-flops over many issues, for example, the Syrian policy is extremely baffling to allies and foes alike. Other areas of bafflement apply to relations with Iran and Saudi Arabia because on the one hand Obama tries to solve the nuclear crisis with Iran, yet, on the other hand, America is supporting the anti-Shia Houthis alliance of Saudi Arabia in Yemen. However, in more recent times it does appear that the Obama administration and other nations in Europe are intent on upping the ante against the Russian Federation.
Steinmeier is extremely alarmed by NATO's comments against the Russian Federation and he is equally worried by recent military developments. Therefore, the Daily Telegraph reports that the German Foreign Minister "spoke out against recent Nato military exercises in Poland and the Baltics, describing them as "saber-rattling…"
He stated categorically "The one thing we shouldn't do now is inflame the situation with loud saber-rattling and warmongering… Anyone who thinks a symbolic tank parade on the alliance's eastern border will bring security is wrong."
NATO itself is rather silent over Turkey, a fellow NATO member, despite this nation being an open conduit for various sectarian terrorist groups aimed at undermining the government of Syria. Indeed, the increasingly authoritarian nature of President Erdogan of Turkey does not seem to concern this military block. Therefore, for the first time in NATO's history, this military alliance is tolerating a fellow member being an open conduit for sectarian terrorist groups. Of course, NATO members involved themselves in the Libya debacle by fighting on the side of Islamist terrorist groups – and various militias – just like certain nations utilized terrorist groups in Afghanistan and Bosnia before. Yet modern-day NATO is turning a blind eye to Turkey's terrorist proxies and the systematic bombing of Kurdish civilian areas in parts of Turkey, while furthering its increasing rhetoric towards the Russian Federation.
It is hoped that NATO will listen to the concerns of the German Foreign Minister because nationalist sentiments in certain East European nations are growing. Therefore, it is incumbent on the Obama administration to stop boosting forces that may up the ante based on the rhetoric of certain nations in the NATO military block.
http://www.bbc.com/news/world-europe-36566422
http://www.telegraph.co.uk/news/2016/06/18/german-foreign-minister-accuses-nato-of-warmongering-against-rus/