Kazakhstan Looks to India, Iran for Access to the World's Oceans
Publication: Eurasia Daily Monitor Volume: 12 Issue: 217
By: John C. K. Daly
The Jamestown Foundation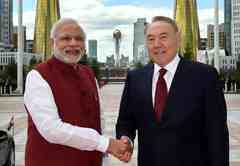 Since achieving independence in 1991, following the collapse of the Soviet Union, landlocked Kazakhstan has sought to end its geographical isolation by fostering relations with neighboring countries. In recent weeks, Kazakhstan's national railway company Kazakhstan Temir Zholy (KTZ) and India's Ministry of Railways signed a memorandum of understanding (MoU) aiming to develop freight traffic from western Indian seaports, across the Arabian Sea to Iran, and then, by rail, northward to Kazakhstan. (The Statesman [Kolkata], November 25). The MoU stipulates that KTZ and India's SEZ Adani Ports will construct a terminal at Mundra port, on India's western coast, to provide maritime service to Iran's Bandar Abbas port. This will facilitate Indian goods obtaining direct access to post-Soviet Central Asia and beyond via the Iran–Turkmenistan–Kazakhstan railway line, which became operational earlier this year (see EDM, September 22, 2014; January 14, 2015).
The MoU builds upon a mutual desire by Kazakhstan and India to deepen their transport connectivity. KTZ President Askar Mamin traveled to India on June 9–10. During his visit, Mamin held talks with Indian officials on developing logistics to transporting Indian goods via India's Mundra and Mumbai ports onward to Iran's Bandar Abbas for transshipment through Iran and Turkmenistan to Kazakhstan. According to Kazakhstan's ambassador to India, Bolat Sarsembayev, Mamin and his colleagues also explored the possibility of implementing joint projects for the construction and lease or acquisition of terminal facilities in western Indian ports such as Mundra and Mumbai to increase options for transport possibilities between Kazakhstan and India as well as promoting Indian exports to Kazakhstan (The Astana Times, July 7).
Bilateral transport issues were high on Indian Prime Minister Narendra Modi's agenda during his July 6–8 state visit to Kazakhstan. Modi stressed the need for the two countries to deepen their transport infrastructure links, telling the media, "The International North–South Transport Corridor, the Iran–Turkmenistan–Kazakhstan rail link, India's interest in joining the Ashgabat Agreement on trade and transit, and India's investment in Chahbahar Port, in Iran, will strengthen connectivity" (Narendramodi.in, July 8).
Progress has been achieved on resolving some of the outstanding issues that have stood in the way of implementing the International North–South Transport Corridor (INSTC), of which Modi spoke. The INSTC is a multi-modal transportation infrastructure network established on September 12, 2000, by Iran, Russia and India, during a meeting in St. Petersburg, to promote transit cooperation among the three countries. The corridor connects member states to the Indian Ocean, the Persian Gulf, the Caspian basin, as well as northern Europe, via northwest Russia. Since its inception, the INSTC has expanded to include eleven new members: Azerbaijan, Armenia, Kazakhstan, Kyrgyzstan, Tajikistan, Turkey, Ukraine, Belarus, Oman and Syria. Bulgaria has observer status (Instc-org.ir, accessed November 30).
In another notable development for increased trans-Eurasian transport, during a trilateral meeting held in Tehran on October 9, the railways of Kazakhstan, Turkmenistan and Iran agreed to introduce uniform rates for transit traffic and for container trains from China to Iran (Trend, October 9).
The question of where the money for upgrading transportation infrastructure links will come from remains unresolved. Over this past year, KZT has run up massive deficits; for the period January–September, Kazakhstan's national rail operator lost 219.9 billion tenge (nearly $715 million). In contrast, in 2014, KZT made a modest profit of $48.9 million (Trend, November 27).
In the larger Eurasian geopolitical sphere, the India–Iran–Central Asia transport axis is but one aspect of the larger Chinese-Indian rivalry for influence in Central Asia. The Indian-backed transit project directly competes with the $46 billion China-Pakistan Economic Corridor (CPEC), which focuses on Pakistan's Gwadar port on the Arabian Sea. The CPEC is a planned network of roads, railways and energy projects linking southwest Pakistan's deep-water Gwadar port with northwest China's Xinjiang Uygur Autonomous Region (The Economic Times, November 17). During an April state visit to Pakistan Chinese President Xi Jinping signed a number of agreements relating to the implementation of the CPEC (Xinhua, April 22).
Unlike the India–Iran–Central Asia transport axis, which is centered on Iran's relatively developed and growing railway network, the CPEC faces a number of immediate logistical hurdles, not the least of which being a lack of direct railway links between China and India. A further complication is that any direct Pakistan–China rail link would, by geographic necessity, pass through Kashmir, where India contests Pakistani and Chinese claims.
India will also play a role in Iran's plans to invest $25 billion over the next decade to modernize and expand its rail network from 9,300 miles to 15,300 miles. The state-run Steel Authority of India Limited (SAIL) has been awarded an export contract to supply roughly 100,000 tons of rails to Iran from its flagship entity, Bhilai Steel Plant (BSP). It is not the first Iranian contract for BSP, as it had earlier exported steel to Iran in 1967, 1969 and 1976, before the Iranian Revolution, shipping 275,000 tons of rails in all (Business Standard, November 2).
India and Kazakhstan are moving beyond rhetoric to making increased economic ties a reality, with growing transportation links an important element in deepening relations. India has a strong interest in Kazakhstani goods and natural resources, from uranium to wheat, while Kazakhstan is eager not only to tap into the fiscal resources of Asia's third largest economy, but its advanced technological base as well. How such ambitions will sit with Kazakhstan's former colonial overlord Russia or China, both seeking to expand their influence in Central Asia while diverting India's interests there, remains to be seen.
The Jamestown Foundation kindly allows Modern Tokyo Times to publish their highly esteemed articles. Please follow and check The Jamestown Foundation website at http://www.jamestown.org/
https://twitter.com/JamestownTweets The Jamestown Foundation
Photo supplied in the original article: Indian Prime Minister Narendra Modi with Kazakhstani President Nursultan Nazarbayev in Astana, Kazakhstan (Source: akorda.kz)
http://www.jamestown.org/single/?tx_ttnews[tt_news]=44861&tx_ttnews[backPid]=381&cHash=792b79bc833785738db803e66ef4b6b7#.VnMpb3v6n5c