Shintoism and Japanese Poetry: Arakida Moritake (1473-1549)
Lee Jay Walker
Modern Tokyo Times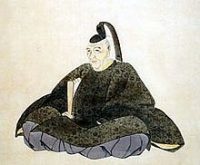 The poetry of Arakida Moritake (1473-1549) was inspired by the flows of the past, the reality of nature, and the Shinto faith that meant so much to him. Not surprisingly, in the history of Japan prior to the modernization period of the Meiji Restoration in 1868, certain cultural factors, religious, philosophical, and areas of importance shaped so many Japanese poets.
Japan is blessed with countless areas that bestow the richness of culture and faith. This includes Ise, Kamakura, Koyasan, Kyoto, Nara, and Nikko, to name just a few. Of major importance for Buddhism is Nara and the same applies to the foundation of the high culture that emerged in this part of Japan in the eighth century. However, the foundation of Shintoism in Ise – that meant so much to Moritake – applies to just over 2,000 years ago.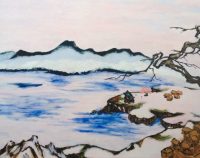 Moritake beautifully wrote:
Coming to the end of our journey at the peak of
Mount Kajimi
The wind in the pines, the wind in the pines.
In many ways, these simplistic words flow like the seasons in nature and they amplify aspects of Shintoism. After all, nature, time, and Shinto shrines fuse and flow naturally based on the reality of this world outside of human interference. Therefore, the Shinto faith is all-encompassing and built natural bridges in this period of history between Buddhism, Confucianism, Daoism, and Shintoism.
At the grand age of 69, Moritake was bestowed with being the head Shinto priest of the potent Inner Ise Shrine. This says much about this amazing individual whose poetry flowed naturally just like the faith of Shinto that meant so much to him.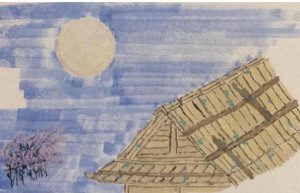 Moritake elegantly wrote:
A fallen blossom
returning to the bough. I thought –
But no, a butterfly.
Throughout his lifetime nature, poetry, and Shintoism were all firmly embedded within his soul. Moritake, not surprisingly, excelled in the world of haikai, renga, and Waka.
BELOW IS A NEW BOOK BASED ON THE ART OF SAWAKO UTSUMI
Book Review: Sawako Utsumi and her Kindred Spirit
European and Japanese Art: Buddhism, Christianity, Landscapes, Rinpa, Shintoism, Ukiyo-e, and Dutch Masters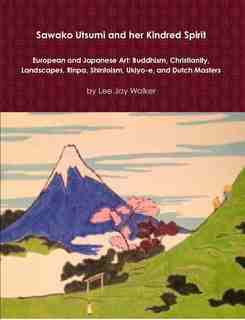 http://www.lulu.com/shop/lee-jay-walker/sawako-utsumi-and-her-kindred-spirit/paperback/product-22830732.html – Please click on to order the book.
http://fineartamerica.com/profiles/sawako-utsumi.html – Sawako Utsumi

https://fineartamerica.com/featured/the-fading-spirit-of-chikanobu-awakened-by-shintoism-sawako-utsumi.html
https://fineartamerica.com/featured/modern-japanese-art-in-the-shadow-of-the-past-utsumi-and-kano-school-sawako-utsumi.html
http://fineartamerica.com/featured/spirit-of-shinto-and-ukiyo-e-in-the-light-of-nature-sawako-utsumi.html?newartwork=true
http://fineartamerica.com/featured/spirit-of-ukiyo-e-in-the-light-of-shinto-sawako-utsumi.html
http://fineartamerica.com/featured/buddhist-cleric-nichiren-in-exile-and-homage-to-yoshitoshi-sawako-utsumi.html
DONATIONS to SUPPORT MODERN TOKYO TIMES – please pay PayPal and DONATE to sawakoart@gmail.com
http://moderntokyotimes.com Modern Tokyo Times – International News and Japan News
http://sawakoart.com – Sawako Utsumi personal website and Modern Tokyo Times artist
https://moderntokyonews.com Modern Tokyo News – Tokyo News and International News
http://global-security-news.com Global Security News – Geopolitics and Terrorism
PLEASE JOIN ON TWITTER
https://twitter.com/MTT_News Modern Tokyo Times
PLEASE JOIN ON FACEBOOK
https://www.facebook.com/moderntokyotimes