Blocked Transition: Corruption and Regionalism in Tunisia
International Crisis Group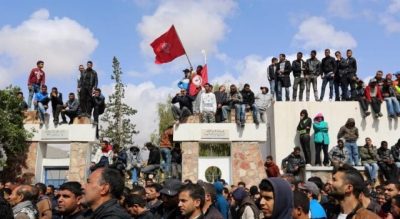 Executive Summary
The political consensus in place since the late-2014 parliamentary and presidential elections has stabilised Tunisian politics but is beginning to reach its limits. Despite the formation of a national unity government comprising the main political parties, the country suffers from a growing sense of socio-regional exclusion and weakening state authority, which are nurtured by spreading corruption and clientelism. Continuing the democratic transition and achieving economic recovery will require this consensus to be deepened beyond current arrangements between political and union leaders. A new audacious and innovative approach would include influential business personalities, in particular those from marginalised regions whose power in political and social life is hidden but growing.
In the context of macroeconomic instability, the business community is showing increasing signs of polarisation, not just among business leaders but also between them and barons of the parallel economy, especially smuggling. On one side, an established economic elite from the Sahel (the eastern coastal region) and large urban centres is protected by and benefits from existing regulations, a situation it intends to maintain. On the other, some among a new class of entrepreneurs from marginalised regions, who are partly confined to informal trade, are backing violent protests against central authorities and aspires to carve a place among – if not eventually replace – the established elite.
At the core of this entrenched conflict, which is poisoning economic and political competition, stands the monopolisation of key administrative positions that control access to credit and the formal economy. This contributes to the spread and "democratisation" of corruption, and paralyses reform. This in turn reinforces regional inequalities stemming from discrimination against citizens from marginalised regions, which itself is the result of administrative officials' arbitrary powers and the banking system's inflexibility.
While Prime Minister Youssef Chahed's national unity government has expressed its strong determination to fight corruption and reinvigorate the economy, it has repeatedly run into roadblocks. It has become clear that the reforms it advocates are unlikely to be implemented without a political initiative that aims to curtail these economic actors' hidden influence.
Although the government, backed by Tunisia's international partners, has announced a series of important measures, additional ones need to gain priority in order to improve public financial probity, protect the state from clientelist networks, and begin to tackle the sources of socio-regional exclusion, as this will affect stability in the medium term. To this end:
The government should provide the National Authority for the Fight Against Corruption (INLUCC) adequate human and financial resources to implement its strategy;
The government, in cooperation with parliament, should establish a legal framework for lobbying and brokerage activities to reduce influence-peddling at the highest political levels;
The parliament should reduce administrative officials' discretionary power – which fosters clientelism and corruption and is partly responsible for the fact that entrepreneurs from marginalised regions lack access to credit and markets – by simplifying administrative procedures in the economic sphere and removing excessively repressive legal provisions that entail prison sentences; and
The government and parliament should, based on existing law, require political parties to submit their annual financial reports to the Court of Auditors and extend financial disclosure requirements already applied to government ministers and senior civil servants to parliamentarians and presidential staff so as to weaken clientelist networks.
To be effective, these reforms should be accompanied by a rigorous and comprehensive national economic dialogue between the presidency, the government, the main political parties, trade unions and associations, and especially the country's most influential businessmen and businesswomen – whether they supported the pre-2011 regime or have been involved in the parallel economy. Such a dialogue, which will inevitably meet with resistance, should aim to render the formal economy more inclusive for newcomers from the interior and redouble political will in the anti-corruption struggle. It would need to include, on the basis of specific and objective criteria, business people who are creating obstacles to these aims.
Ideally, such a dialogue would yield legal amnesties. It should also encourage the creation of public-private investment funds dedicated to the development of marginalised regions, especially in high added-value sectors, while facilitating the implementation of stricter policies against corruption and smuggling.
The main political parties and trade unions, as well as local and international civil society organisations, should back an initiative from which the country has everything to gain. Members of the established economic elite and emerging entrepreneurs should both be able to escape the lose-lose logic that pushes them to economically sabotage one another, which could give rise to violent conflict in the future.
This means working toward the evolution of the current political consensus based on a gentlemen's agreement that aims to break the cycle of political polarisation between Islamists and non-Islamists – but which in effect has often resulted in a clientelist redistribution of state resources – to reach a genuine social and regional contract that can shield the country from an upsurge in violence and a return to dictatorship.
Tunis/Brussels
The International Crisis Group kindly allows Modern Tokyo Times to publish their esteemed articles based on important research. Please check the website of this highly valued international organization at http://www.crisisgroup.org/
https://twitter.com/CrisisGroup International Crisis Group on twitter
https://www.crisisgroup.org/middle-east-north-africa/north-africa/tunisia/177-blocked-transition-corruption-and-regionalism-tunisia