Typhoon Haishen to hit Kagoshima, Kumamoto, and Miyazaki
Kanako Mita and Sawako Uchida
Modern Tokyo Times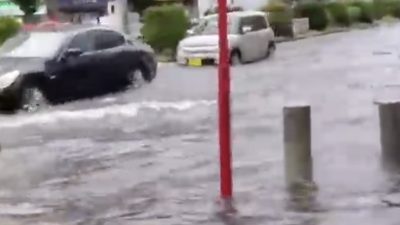 Typhoon Haishen is expected to generate huge waves around the coastal areas of Kyushu in Japan. Thus Kagoshima, Kumamoto, and Miyazaki are bracing for extreme winds, torrential downpours, mudslides, and other negative factors later on Sunday and early Monday.
An emergency warning in the morning will likely be declared in Kagoshima. If so, the warning signifies that the center of the potent typhoon is 12 hours away. Therefore, if projections are accurate, the prefectures of Kagoshima, Kumamoto, and Miyazaki are preparing for the worst.
The Japan Meteorological Agency uttered, "Typhoon Haishen is expected to approach or make landfall in Kagoshima Prefecture late Sunday night. Kagoshima is expected to enter the storm zone shortly after noon on Sunday. We may issue an emergency warning for violent winds, high waves, and a storm surge in Kagoshima on Sunday morning."
Local governments and people are being advised to prepare in advance and to take thorough precautions. The torrential downpours and extreme gusts of wind will hit several parts of Kyushu.
Flooding and mudslides are expected to cause havoc in Kagoshima, Kumamoto, and Miyazaki. Hence, with recent deaths in July from torrential downpours and bursting banks along the river in Kumamoto, residents are naturally fearful.
Many Shinkansen bullet trains are being relocated from the prefecture of Fukuoka to Hiroshima and Okayama. Equally, the West Japan Railway Company declared that all Sanyo Shinkansen train services between Hiroshima and Hakata will be out of service on Monday.
Similarly, from Sunday afternoon, the Kyushu Railway Company will suspend local and bullet trains. The following day all trains will be canceled in the Kyushu region by this train operator.
Planes linking Okinawa and Kyushu – and other areas – will also be canceled on Sunday. Further disruptions will occur on Monday