MOROCCO: SECURITY SERVICES MAKE GAINS AS TERROR THREAT GROWS
Publication: Terrorism Monitor
By: Alexander Sehmer
The Jamestown Foundation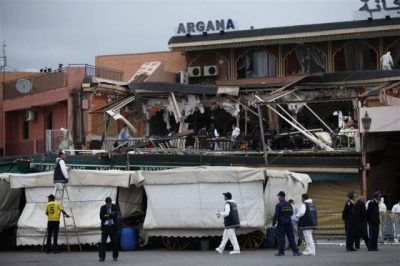 Moroccan investigators arrested an alleged jihadist with links to al-Qaeda in the city of Azrou in November. The man, a computer engineer, had disseminated jihadist propaganda and was suspected of involvement in online banking fraud that had allowed him to seize large sums of money, according to the authorities. Reports quoting the interior ministry linked the man to al-Qaeda and Jabat Fateh al-Sham in Syria (Morocco World News, November 20).
The arrest follows the successful dismantling in June of a supposed Islamic State (IS) terrorist cell, composed of six people with links to IS in Libya. The group was operational in the cities of Agadir, Amzmiz, Chichaoua and Laqliaâ and was planning suicide attacks, according to Moroccan authorities (Tel Quel, July 2016). In May, the security services arrested a 33-year-old Chadian man accused of leading an IS cell in Tangiers. He was suspected of planning an attack equivalent to the devastating Casablanca bombings in 2003, in which 33 people were killed; in November, a court jailed him for 20 years on terrorism charges (Morocco World News, November 11).
Morocco has seen a number of attacks since the 2003 Casablanca bombing, including one blamed on al-Qaeda that killed 17 people in Marrakesh in 2011. But for a country that is a key exporter of Islamist recruits to jihadist causes abroad – by some estimates at least 1,500 Moroccans are fighting for IS in Syria and Iraq, and that number may even be higher – its security services have proved relatively successful at countering terrorist threats at home (Daily Sabah, November 8, 2015). Its foreign intelligence service also maintains good relations with its European counterparts. Following the attacks in Paris in 2015, the Moroccan authorities tipped off French police leading to the raid on the flat where the attacks' alleged mastermind, Abdelhamid Abaaoud, a Belgium national of Moroccan origin, was hiding out.
The success is partly a matter of experience – the authorities have been tracking Moroccan fighters at least since the 1979–1989 Soviet-Afghan war, in which hundreds of Moroccans took part. But Morocco also benefits from having one of the region's more open political landscapes, which has allowed it counter negative socio-economic factors such as high youth unemployment. Morocco's successful weathering of the "Arab Spring," and its measured response to the recent protests over the killing of a fisherman – he was crushed to death in a garbage truck after refusing to pay a bribe to police – are a testament to this (New Arab, October 30).
Nonetheless, the Moroccan authorities must remain vigilant. In an audio recording obtained by al-Jazeera in May, the head of the so-called Islamic State in the Greater Sahara, Adnan Abu Walid al-Sahrawi, threatened attacks on Morocco (al-Jazeera, May 4). While it is highly doubtful al-Sahrawi's group has that kind of capacity, the recent arrests indicate Morocco remains at risk from attacks by domestic terrorist cells.
The Jamestown Foundation kindly allows Modern Tokyo Times to publish their highly esteemed articles. Please follow and check The Jamestown Foundation website at http://www.jamestown.org/
https://twitter.com/JamestownTweets The Jamestown Foundation
https://jamestown.org/program/briefs-255
Photo Source: Site of the 2011 Marrakesh bombing (Source: Reuters) provided in the original article by The Jamestown Foundation.