Uzbekistan Alters Its Vision for Afghanistan
Publication: Eurasia Daily Monitor
By: Fozil Mashrab
The Jamestown Foundation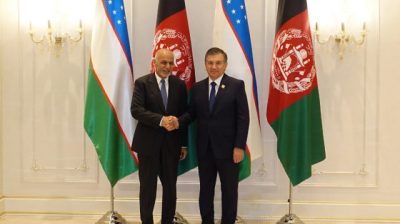 After the change of leadership in Uzbekistan, it has been widely acknowledged that the country's new president, Shavkat Mirziyaev, is pursuing a more proactive and constructive regional diplomacy in Central Asia than his predecessor (see EDM, October 26, 2016; December 15, 2016). Along with Mirziyaev's attempts to further enhance ties with Kazakhstan and Turkmenistan as well as his efforts to improve ties with Tajikistan and Kyrgyzstan (Azattyq.org, May 25), the Uzbekistani government also significantly altered its approach toward another important neighbor—Afghanistan (Podrobno.uz, June 12).
Heralding the arrival of a new era in bilateral relations, Uzbekistan's Foreign Minister Abdulaziz Kamilov made an official visit to Afghanistan in January 2017, the first such visit to Kabul by a high-ranking official from Tashkent in almost two decades. During the visit, Kamilov said that his government would no longer look at Afghanistan solely through the prism of security threats, which was the predominant approach over the last 25 years. Instead, he said, Uzbekistan wanted to reshape relations by facilitating greater cross-border trade, humanitarian and cultural cooperation, as well as more active participation in implementing various mutually beneficial regional energy, infrastructure and transport projects (Politrus.com, January 31).
The creation of the position of special presidential envoy for Afghanistan was another indication that Uzbekistan wants to upgrade bilateral ties to a qualitatively new level. It has underlined Tashkent's willingness to play a more active role in the international processes related to achieving peace and stability in Afghanistan (News.tj, May 29).
An important improvement in bilateral relations has been the activation of official contacts at the highest level. President Mirziyaev has been maintaining direct personal dialogue with his Afghan counterpart by making use of every opportunity to speak, including at international forums. As such, both leaders had a side meeting at the Shanghai Cooperation Organization's (SCO) annual summit in Astana, in June this year, during which they discussed the execution of an agreed-upon "road map" for the development of comprehensive bilateral cooperation (Uza.uz, June 8).
Elyor Ganiyev, Uzbekistan's minister of foreign trade, who attended the two leaders' meeting in Astana, said that the two countries have all the reserves and capacities to increase mutual trade from around $500 million in 2016 to at least $1 billion by the end of 2017. He also affirmed that the two countries were preparing specific agreements to facilitate the trade and transit of goods (Uzdaily.uz, June 13).
Uzbekistan's Trading House was opened in Kabul in January 2017, and it will permanently host an exhibition of all industrial products made in Uzbekistan for the Afghan market. Currently, Uzbekistan is Afghanistan's only neighbor with which it has a railway connection. Uzbekistan exports electricity, petroleum products, fertilizers, construction materials, agricultural machinery, ambulances, medicines and medical equipment, wheat, and eggs to Afghanistan. Moreover, it imports minerals, tropical fruit, carpets and other goods from Afghanistan (Regnum.ru, April 22; Uzdaily.uz, June 13).
In another bold move, Uzbekistan sees great potential for itself in active participation in various regional energy, transport and infrastructure projects related to Afghanistan. During Mirziyaev's recent working visit (his second in 2017) to Turkmenistan, in late May, Uzbekistan was invited by the host government to help in the implementation of the Turkmenistan–Afghanistan–Pakistan–India (TAPI) natural gas pipeline, which was readily accepted. Afghan officials also consider the implementation of the TAPI pipeline project as a priority for their country (1news.uz, May 21).
According to Alisher Sultanov, the CEO of Uzbekneftegaz (Uzbekistan's national oil and gas company), his firm has a particularly good chance to be chosen as the operator of the TAPI pipeline. Even though Sultanov acknowledged the existence of various regional challenges to implementing this ambitious and expensive project, he nevertheless expressed optimism and said that his company was up to the challenge (Anhor.uz June 15).
Some commentators have been quick to express disbelief that Uzbekistan and Turkmenistan's cooperation on TAPI would have any real impact on the implementation of this long-delayed project; as such, they dismissed it as a meaningless exercise (Azattyq.org, May 25). However, if history is any guide, these two Central Asian neighbors faced similar skepticism in the past when they agreed to implement another ambitious project: The first line of the Turkmenistan–Uzbekistan–Kazakhstan–China (TUKC) natural gas pipeline was successfully launched in 2009, only a few years after the agreement was finalized.
Currently, the TUKC pipeline has three lines, all of which were constructed with the participation of Uzbekneftegaz. The pipeline has already delivered more than 180 billion cubic meters of Central Asian gas to China. Realistically, the set of challenges for implementing the TAPI pipeline might be different from those faced by the TUKC. But from the technical side, Uzbekneftegaz has all the necessary experience and know-how to implement such a grandiose projects. Moreover, in Central Asian politics, such agreements, as perhaps opposed to some international practices, are not signed and announced for only propagandistic purposes; their implementation or lack of thereof usually carries reputational costs in interstate relations.
Uzbekistan's bold moves in Afghanistan are taking place at a time when the security situation might be worsening, with a resurgent Taliban and other terrorist groups loyal to the so-called Islamic State (IS) increasingly challenging the central government in Kabul. Militants are stepping up their insurgent activities especially in Afghanistan's northern provinces, which border on Central Asian countries, including Uzbekistan. One can also see ominous signs that an escalation in the global rivalry between the United States and Russia might be again playing out in Afghanistan (Sputnik News, May 23).
The US government's recent decision to send additional troops and military equipment to Afghanistan is a welcome development from Tashkent's point of view, which could potentially help Afghan authorities roll back the growing insurgency in the country (USA Today, June 15). However, real peace and stability in Afghanistan will most likely remain as elusive as ever for years to come. Therefore, the long-term success of the Uzbekistani government's reset in its relations with Afghanistan will depend on whether it will be able to continue to see opportunity rather than threat as far as Afghanistan is concerned—even if the security situation there takes a turn for the worse in the coming months.
The Jamestown Foundation kindly allows Modern Tokyo Times to publish their highly esteemed articles. Please follow and check The Jamestown Foundation website at http://www.jamestown.org/
https://twitter.com/JamestownTweets The Jamestown Foundation
https://jamestown.org/program/uzbekistan-alters-vision-afghanistan
Photo source: Afghan President Ashraf Ghani (L) with Uzbekistan's Shavkat Mirziyaev (Source: AKIpress)