After a Delay, Russia Delivers New Types of Weapons to Armenia
Publication: Eurasia Daily Monitor
By: Armen Grigoryan
The Jamestown Foundation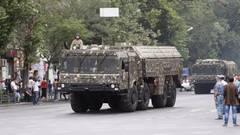 During preparations for a military parade to mark the 25th anniversary of Armenia's independence on September 21, Iskander mobile short-range ballistic missile launchers (NATO reporting name SS-26 Stone) appeared on the streets of Yerevan. This development became one of the most discussed issues in Armenia for the next few days.
Several media reports about the parade rehearsal asserted that the vehicles that appeared in the streets were Iskander-Ms; however, that type of weapon, with a range of 500 kilometers, could not be exported unless Russia decided to discard the Missile Technology Control Regime (MTCR)—a multilateral voluntary covenant for prevention of proliferation of missile and unmanned aerial vehicle (UAV) technologies capable of carrying payloads above 500 kilograms at distances exceeding 300 kilometers. The spokesman for the Armenian Ministry of Defense, Artsrun Hovhannissian, in an interview with Radio Liberty shortly before the parade, avoided answering the question of whether Armenia really acquired that type of weapon, saying it would be better "to keep the intrigue alive" until Independence Day (Azatutyun.am, September 19). During the parade, it was announced that the equipment on display had a range of 300 kilometers; therefore, this could be the Iskander-E, which has a maximum range of 280 kilometers and was specially designed to meet MTCR export restrictions. The defense ministry spokesman said that all equipment showcased during the parade—including the Iskanders, Smerch multiple rocket launchers, Buk anti-aircraft missiles, and Infauna vehicles carrying electronic warfare systems for jamming and communication management—were the property of the Armenian Armed Forces (Azatutyun.am, September 21). However, some vocal critics of Russia's policies and the current format of Russo-Armenian relations remain skeptical, arguing that the Iskanders belonged to Russia (5165news.com, September 24).
The deployment of the longer-range Iskander-M system to the Russian military base in Gyumri, Armenia, was announced several years ago (Azatutyun.am, June 3, 2013). The possibility for Armenia to acquire similar weapons, among other equipment, has been discussed since 2015, when the Russo-Armenian inter-governmental committee agreed that Russia would provide Yerevan a $200 million loan for buying weapons (see EDM, June 29, 2015). Already then, Russian military analyst Alexander Golts noted that supplies might include Iskander-Es, as Russia would hardly export the Iskander-M (1in.am, July 14, 2015). Still, Iskanders were not mentioned among the weapons and other equipment included in the purchase plans discussed at the intergovernmental level in early 2016 (see EDM, January 28; March 18).
The loan agreement stipulating that the procurement would be carried out until the end of 2017 came into force on February 10, 2016. No deliveries were reported for a few months, and that led to expressions of disappointment by Armenian officials, especially after the intensive battles in Karabakh—the so-called "four-day war"—in April, while the government also tried to contain the growing public discontent with Russia (see EDM, April 14). In June, some top officials said that Russia made ratification of an agreement on establishing a joint regional air defense system (which, according to several critics, would subordinate Armenian air defense to Russia's Southern Military District) a precondition for supplying the promised weapons worth $200 million (see EDM, June 20). Ratification of that agreement was postponed for about two weeks and took place after a visit of Armenian defense ministry officials to Moscow (Haykakan Zhamanak, June 24). The start of weapon deliveries was announced soon after a presidential meeting of Serzh Sargsyan and Vladimir Putin in Moscow, on August 10, followed by Russian Defense Minister Sergei Shoigu's brief visit to Yerevan. The Iskander was not mentioned among the planned deliveries, although it was stated that the list had not yet been finalized (Izvestia.ru, August 16). More recently, the Russian newspaper Vedomosti reaffirmed that the annexes to the loan agreement did not include the Iskander, and referred to unnamed managers of a Russian military industrial company, who said that Iskanders were being supplied on the basis of a separate agreement in the Collective Security Treaty Organization (CSTO) framework, and thus not covered by the $200 million loan. As such, the Iskander system has now apparently been exported from Russia for the first time; a 2005 contract with Syria was annulled by the Russian government upon request by Israel (Vedomosti.ru, September 18).
Russian military analyst Pavel Felgenhauer noted that Russia's intention to supply weapons to both Armenia and Azerbaijan, reaffirmed also after the "four-day war," remains unchanged since Moscow considers that it can win even more regional influence this way. He also noted that further Russian supplies to Azerbaijan would depend on the latter's ability to pay (1in.am, August 4). As noted by David Shahnazaryan, an analyst at the Yerevan-based Regional Studies Center, "Russia may agree to anything but settlement [of the Karabakh conflict]," and while the balance of military power is in Azerbaijan's favor, it may currently not be enough to solve the issue by force (168.am, September 23). Supplying heavy weapons to Armenia, and thus providing it with an additional deterrence capability, may be a part of Moscow's tactics of manipulating the conflicting sides, while it is also likely to induce Azerbaijan to spend more on procuring Russian weapons. Besides, there may be another reason for Moscow to show a more favorable attitude toward Yerevan at this moment. Russia would prefer to keep the current situation in Armenia politically stable, with both the government and the parliamentary opposition loyal to Moscow—as well as preserve the status quo after the 2017 general elections in Armenia. As such, this is a convenient moment to ease local anti-Russian sentiments by reinforcing the Russo-Armenian "strategic partnership" narrative.
The Jamestown Foundation kindly allows Modern Tokyo Times to publish their highly esteemed articles. Please follow and check The Jamestown Foundation website at http://www.jamestown.org/
https://twitter.com/JamestownTweets The Jamestown Foundation
http://www.jamestown.org/single/?tx_ttnews%5Btt_news%5D=45789&tx_ttnews%5BbackPid%5D=7&cHash=1786f370cad0d66d63ecbd60aa4ef184#.V-sUg1uCW39
Photo source: Iskander theater ballistic missiles, on parade in Yerevan, September 20 (Source: Janes)