Art of Japan and Murasaki Shikibu: Richness of Culture and History
Lee Jay Walker
Modern Tokyo Times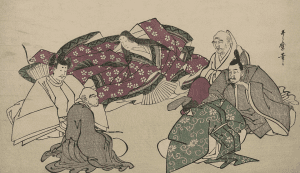 The most famous lady in Japanese history is Murasaki Shikibu (Lady Murasaki) and many ukiyo-e artists depicted this lady of knowledge and wisdom.  It is difficult to get the real truth about Murasaki Shikibu because of documentation.  Therefore, while it is stated that she was born in 973 the year of her death is disputed, some stating possibly 1014 and others 1025.
Also, how she obtained her knowledge of Chinese is debated because some claimed that she listened tentatively by the door and was not allowed to study with her brother. However, others claim that her father allowed her to study with her brother and learn some Chinese classics.
The same applies to her death and her real name because it is speculated that she was called Fujiwara Takako because this name is mentioned in a diary in 1007 but this is not conclusive.  Also, sometimes her death is reported to be in 1014 based on the silence of her pen but this again is too sketchy.  Therefore, others state 1025 and base this on her retiring from court and seeking seclusion in the later period of her life.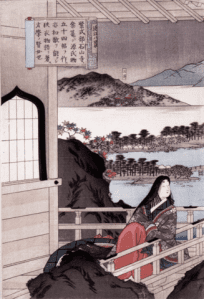 Yet clearly much is pure guess work because little is known about the real "Fujiwara Takako" and to be on more solid ground it is best to stick to Murasaki Shikibu.  However, what is clear is that this lady was extremely intelligent and she wrote the classic called The Tale of Genji during the Heian period.
Murasaki Shikibu was no normal lady because she desired to express many things and given her stature in society then clearly she had the opportunity to do so.  This lady of letters was a poet, novelist and being in the Imperial court she had certain obligations, therefore, she was a lady-in-waiting.
Her novel called The Tale of Genji left a lasting legacy based on the quality of her writing and the passion that it oozes. Platitudes abound in Japan and throughout the international community and it is a major source of pride for women in Japan and for Japanese culture which is enriched by The Tale of Genji.
Ukiyo-e artists have depicted Murasaki Shikibu during the height of this art form in Japan and the art highlights a noble and refined lady.  The art work is based on wisdom, serenity, sophistication, and a lady who had a special aura. Therefore, ukiyo-e artists have transcended Murasaki Shikibu and entered her into a new dimensional world where certainty and an aura of inner-beauty and knowledge are rolled into this remarkable individual.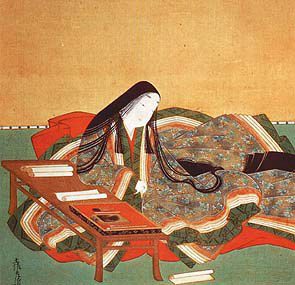 It is reported that Murasaki Shikibu was extremely bright when a child and her father lamented that "If only you were a boy, how happy I should be!" However, this comment did not prevent her father from understanding and nurturing her talent because he went against the grain and allowed his daughter to study Chinese classics.
The death of her husband brought Murasaki Shikibu into the imperial court and while she was a lady-in-waiting she observed many things. The Tale of Genji became popular in a relatively short time and while the earliest manuscript was lost the manuscript scrolls were found in the 12th century.
Near the end of her life even less is known and it could be that she died in 1014 because her work does cease.  However, this is pure speculation and it could be that she just retired and spent her remaining years by reading, praying and escaping from this world and for this reason some state that she died in 1025. Therefore, the jigsaw about the life of Murasaki Shikibu is very difficult to put together but the one legacy which is certain is The Tale of Genji.
Murasaki Shikibu also wrote a volume of poetry called The Diary of Lady Murasaki and Japanese artists illuminated this lady of letters to wider society. The art work of ukiyo-e artists in the Edo period and throughout the Meiji period maintained the rich aura of Murasaki Shikibu and her novel The Tale of Genji is a classic within Japanese literature and international literature.
http://www.taleofgenji.org/  The Tale of Genji
http://webworld.unesco.org/genji/en/index.shtml The Tale of Genji
http://www.womeninworldhistory.com/heroine9.html
http://harvardmagazine.com/2002/05/murasaki-shikibu.html