Artist from Japan inspired by L.S. Lowry: Northern England in a Japanese context
Lee Jay Walker
Modern Tokyo Times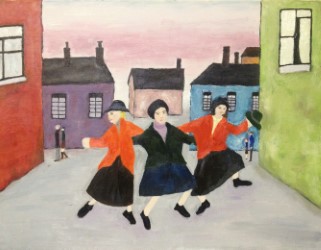 The contemporary Japanese artist, Sawako Utsumi, is deeply moved by the art of L.S. Lowry (original below). Indeed, several art pieces done by Utsumi relate to playing on certain Japanese themes while focusing on the original. Therefore, in her art piece related to Lowry titled "Lowry in Japanese color, space, and time," a more openly Japanese context is added to a greater degree.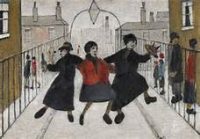 This notably applies to space, time, and clarity that are equally visible within Japanese gardens. Equally, certain areas related to quaint angles of Buddhism in the land of the rising sun relate to the importance of space and time. Hence, Utsumi reawakens a sense of her own cultural identity within the original by Lowry that is set in industrial northern England.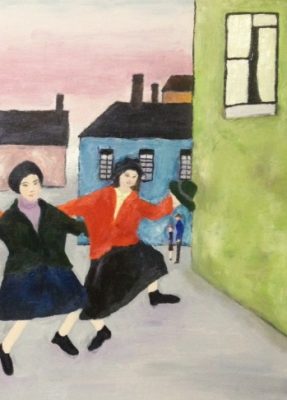 All of a sudden, the industrial landscape turns into a scene that exemplifies a natural flow that isn't constrained by limited space. In other words, the children playing now seem more liberated and at ease in the new environment that is colorful, clean, and not constrained by railings or negative aspects related to industrial northern England.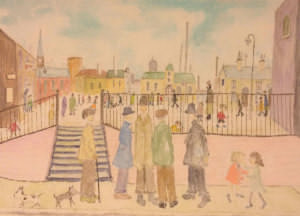 Equally, the distant industrial angle and the gloomy skyline is now transferred by closeness and a sky that equates to freedom. Of course, each individual will see different things and others will see nothing. Yet, for Utsumi, this matters not one jot, providing one other soul connects to her art in a meaningful way that complements the original – while acknowledging the huge transformation based on art, different cultures, and the intentions of Utsumi.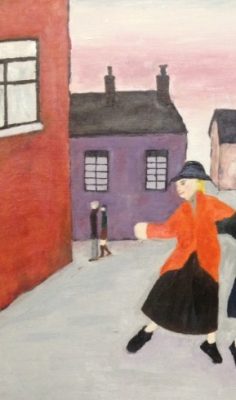 In another article, I state, "Hence, the contemporary Japanese artist Utsumi is focusing on individuality, new forces based on the color that will soon emerge, and people content in their natural surroundings. This focus works a treat because old northern England now becomes innovative once more. After all, the Industrial Revolution and modernizing forces came from the same rich history of northern England."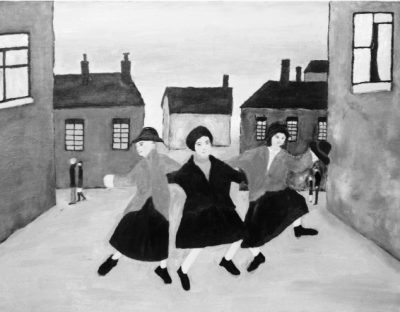 The freedom related to the children playing in the art piece titled "Lowry in Japanese color, space, and time," suddenly alters the notion of struggle and limited ambitions based on the daily grind of life. Instead, the colors of the houses relate to new freedoms and defeating the limited opportunities that generations of working-class people face in industrial cities all over the world.
BELOW IS A NEW BOOK BASED ON THE ART OF SAWAKO UTSUMI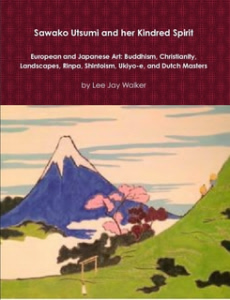 Book Review: Sawako Utsumi and her Kindred Spirit
European and Japanese Art: Buddhism, Christianity, Landscapes, Rinpa, Shintoism, Ukiyo-e, and Dutch Masters
http://www.lulu.com/shop/lee-jay-walker/sawako-utsumi-and-her-kindred-spirit/paperback/product-22830732.html – Please click on to order the book.
http://fineartamerica.com/profiles/sawako-utsumi.html – Sawako Utsumi and where you can buy her art, postcards, bags, and other products. Also, individuals can contact her for individual requests.
https://fineartamerica.com/featured/lowry-in-japanese-color-space-and-time-sawako-utsumi.html
http://fineartamerica.com/featured/japanese-whispers-in-respect-of-lowry-sawako-utsumi.html
http://fineartamerica.com/featured/lowry-and-shadow-of-japan-sawako-utsumi.html
https://fineartamerica.com/featured/lowry-in-full-japanese-bloom-sawako-utsumi.html
http://sawakoart.com – Sawako Utsumi personal website
DONATIONS to SUPPORT MODERN TOKYO TIMES – please pay PayPal and DONATE to sawakoart@gmail.com
http://moderntokyotimes.com Modern Tokyo Times – International News and Japan News
http://sawakoart.com – Sawako Utsumi personal website and Modern Tokyo Times artist
https://moderntokyonews.com Modern Tokyo News – Tokyo News and International News
http://global-security-news.com Global Security News – Geopolitics and Terrorism
PLEASE JOIN ON TWITTER
https://twitter.com/MTT_News Modern Tokyo Times
PLEASE JOIN ON FACEBOOK