Assassinations of Rebel-Connected Chechens Continue in Turkey
Publication: Eurasia Daily Monitor
The Jamestown Foundation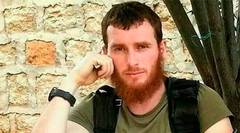 Another name has been added to the list of Chechens killed outside Russia: Abdulvakhid Edilgeriev was shot dead last month in Istanbul's Kayasehir district, which many Chechens have made their home. The murder took place in broad daylight—at about 1:30 p.m., on October 1. The Kavkazcenter website reported that Edilgeriev was apparently driving home from his mosque with his four-year-old niece when he was attacked (Kavkazcenter.com, November 3).
According to Kavkazcenter, which reflects the opinion of the Caucasus Emirate, Edilgeriev was the naib (aide or deputy) to the representative of the Velayat Nokhchiycho (Chechnya) of the Caucasus Emirate abroad. The slain militant had three young children, and three of his brothers were killed in Chechnya. After being wounded in the North Caucasus, Edilgeriev went to Turkey to recuperate and remained there after his recovery. In an apparent attempt to hide from the Russian security services, Edilgeriev changed his name and resided in Turkey under a new name—Georgy Kamaev. According to Turkish media, Edilgeriev was in an SUV with foreign license plates when two unidentified individuals who were waiting for Edilgeriev shot him through the windshield. Edilgeriev was wounded, but managed to exit the car and tried to hide in his home. However, the killers chased him and left only after shooting him several times in the head. Neighbors called the police and emergency services. Paramedics pronounced him dead at the scene (Kavtoday.ru, November 2).
According to news reports, Abdulvakhid Edilgeriev was a relative of Movladi Udugov, which raised his status to that of a well-known politician. Udugov has lived in Istanbul since 2000 and communicates only through the Internet. Udugov's current political orientation is uncertain, given that his brainchild—the Caucasus Emirate—has almost disappeared, due to pressure by the Russian security services and the emergence of the ideology of the so-called Islamic State in the North Caucasus.
Edilgeriev was known among the Chechen militants and the Chechen diaspora in Turkey by the nickname Ryzhy (Red-haired), for his red beard. He was married to the daughter of Isa Umarov, who is Udugov's half-brother. Umarov did not hold significant positions during the Ichkeria era, but he was a prominent figure among Chechen Salafis. During the first Russian-Chechen war, Edilgeriev served as a bodyguard to Umarov (Grani.ru, November 2).
According to the Turkish newspaper Sabah, the slain militant had previously returned from Syria, where he fought President Bashar al-Assad's forces in the ranks of Salaudin Shishani's (Faizulla Margoshvili) group. Edilgeriev's return to Turkey may have been connected to the activities of his father-in-law, Isa Umarov. A sharia court had previously decreed that Umarov must leave Syria for his incendiary activities in Salaudin Shishani's group. It is unclear why the media called the slain militant the administrator of Kavkazcenter, given that the website has been administered by Uvais Abdullaev for many years, and that legally, Kavkazcenter's administrator is the Swedish-Finnish politician Mikael Sturshe, who has also protected the website from Russian attacks for many years (Kavkazcenter.com, August 26).
It is noteworthy that the top leadership of Imkander, the largest Turkish organization assisting refugees and immigrants, attended Edilgeriev's funeral, including the organization's leader. Since 2013, Russia has been trying to block the activities of Imkander by putting it on the United Nations list of terrorist organizations (Lifenews.ru, November 3). Russia condemns Imkander for having close and open ties with Chechens fighting in Chechnya's Islamic underground movement. Imkander also helps Chechen militants resettle in Turkey, and obtain access to housing and employment there. The organization also finances several programs for rehabilitating wounded Caucasus Emirate militants.
A number of execution-style killings have occurred in Turkey of individuals connected to the armed resistance in the North Caucasus. Others targeted include Ali Osaev in 2003, Gazi Edisultanov in 2009, Berg-Haj Musaev, Rustam Altemirov and Zaurbek Amriev in September 2011, and Medet Onlu in May 2013. In addition, attempts were made on the lives of several prominent figures with ties to the Caucasus Emirate, the former chairman of the Supreme Sharia Court of Ichkeria, Shamsudin Batukaev, who was assassinated in Turkey in October 2011 (Kommersant, May 24, 2013).
All of those targeted were close to the leadership of the armed resistance in the North Caucasus and dealt with financial issues. In addition, there is no reason to believe that this list of slain individuals with ties to the Caucasus Emirate is complete: indeed, some were murdered quietly while in other cases, relatives of slain militants preferred to bury them without publicity. At the official level, Russia normally does not comment on the assassination of Chechens in Turkey, although investigators have substantial grounds for discerning a Russian trace in these notorious killings.
Several thousand Chechens who left Chechnya at the start of the second Russian-Chechen war now live in Turkey. Chechen refugees in Turkey tried to use the country as a transit point for further travel to Europe, but when they failed to do so, they remained in Istanbul and the nearby areas. Having helped Chechen refugees for many years, the Turkish authorities are unable to protect everyone who is engaged in political activities there who are regarded by Russia as people with ties to the militants of the armed Islamic underground movement in the North Caucasus. Thus, there are no guarantees that the murder of Chechens in Turkey by the Russian security services will stop any time soon.
The Jamestown Foundation kindly allows Modern Tokyo Times to publish their highly esteemed articles. Please follow and check The Jamestown Foundation website at http://www.jamestown.org/
https://twitter.com/JamestownTweets The Jamestown Foundation
http://www.jamestown.org/single/?tx_ttnews[tt_news]=44573&tx_ttnews[backPid]=228&cHash=8ff306072b38f424c12295b36560ce61#.Vj974aT6mKI
Photo: Abdulvakhid Edilgeriev, representative of the Caucasus Emirate assassinated in Turkey (Source: kavkazcenter.com) was in the original article published by The Jamestown Foundation
Eurasia Daily Monitor Volume: 12 Issue: 202 – The Jamestown Foundation