Central African Republic: Christian Neighborhood Attacked by Muslims in Bangui
Lielit Kebede, Takeshi Hasegawa and Lee Jay Walker
Modern Tokyo Times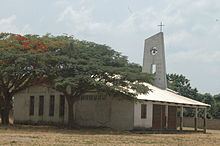 Religious clashes erupted after Muslims attacked a Christian neighborhood in the capital of Bangui. The attack took place after a Muslim male was found dead but the reasons behind his death still remain sketchy. This event therefore triggered a major attack against a whole Christian neighborhood whereby Muslims used heavy weapons, grenades and other military arms. Of course, this reality says much for the intervention force that is meant to bring stability. Therefore, a tense area erupted in violent clashes because of the indiscriminate nature of the attack against a mainly Christian part of the capital in the fifth district of Bangui.
The BBC reports: "About 20 people have been killed with at least 100 others wounded in the violence…. UN peacekeepers took up positions as the fighting spread from the city's only Muslim neighbourhood to an area where many Christians reside."
It should be stressed that unlike Iraq, Nigeria, and Syria, and other parts of the world that witnesses Christian and Muslim tensions (and inter Muslim clashes), the Christian anti-Balaka forces in the Central African Republic refuse to be willing lambs to the slaughter. After all, Boko Haram seeks to cleanse Christians in northeastern Nigeria and now this Islamist movement is targeting the Cameroon. At the same time, ISIS (Islamic State – IS) is beheading Christians in Libya and from time to time Coptic Christians are attacked in Egypt. Similarly, in Somalia the al-Shabaab Sunni Takfiri Islamist terrorist group supports killing all apostates from Islam to Christianity. However, Christian and traditional belief militias defend themselves tenaciously in the Central African Republic because they fully understand what awaits them.
The Guardian reports "The religious and ethnic unrest, which erupted after Muslim Séléka rebels seized power in the majority Christian country in 2013, has left the country divided. Two years of violence in the landlocked country has killed thousands of people and forced many more to leave their homes."
Bangui is meant to be a secured city based on military personnel from the UN peacekeepers and France. Yet clearly Muslims had ample military arms but sadly this reality isn't surprising. After all, Muslim Seleka forces, responsible for butchering Christians in 2013 and 2014, were allowed to freely escape the advancing anti-balaka militias with the open help of the international community.
The role of France is extremely murky therefore in a past article by Modern Tokyo Times it was stated: "It is equally noticeable that foreign intervention never happened during the period when mainly Christians were being butchered and forced to flee. On the contrary, outside intervention only really began to take hold when it was clear that Islamist Seleka was being overrun. Also, with Chad being accused of taking the side of Seleka – and with Chad having favorable relations with France – then it could well be that the anti-Balaka militias prevented a done deal in the Central African Republic?
Human Rights Watch alluded to this because this organization stated in 2014 that "Armed Seleka commanders and fighters are leaving their bases in Bangui, the capital of the Central African Republic, regrouping in northeastern towns, and engaging in a new wave of horrific attacks against civilians. In some cases, Chadian peacekeeping troops have facilitated the movement of armed Seleka leaders complicit in grave abuses."
Human Rights Watch further reported: "Seleka forces in January 2014 tortured and killed civilians in and around the town of Sibut, where the former rebels have been regrouping, Human Rights Watch said. Seleka forces were able to leave bases to which they had been confined by African Union peacekeepers by using bush roads to circumvent checkpoints or by traveling with Chadian troops in heavily armed convoys."
It is hoped that the latest violence in Bangui will be contained. If not, the political process will be eroded for an indefinite period. However, the role of international governments, Gulf petrodollars, and institutions in the rapid rise of Seleka, must be investigated in order for Christians to trust outside agencies.
http://www.hrw.org/news/2014/02/05/central-african-republic-seleka-fighters-regroup-north – Human Rights Watch
http://www.theguardian.com/world/2015/sep/27/central-african-republic-violent-sectarian-clashes-erupt-in-bangui – The Guardian
http://www.bbc.com/news/world-africa-34372113 BBC