Central Bank Crisis Risks Famine in Yemen
International Crisis Group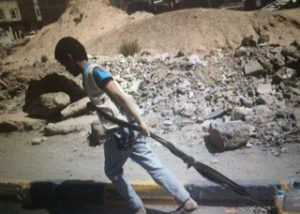 The collapse of UN-mediated peace talks in August is sending Yemen's war into a new phase, potentially with even more devastating consequences. During eighteen months of fighting between a Saudi-led coalition backing the internationally- recognised government of President Abed-Rabbo Mansour Hadi and Huthi (Zaydi/Shiite) rebels aligned with forces under the previous president, Ali Abdullah Saleh, the population has been the primary victim, sustaining air bombardments, rocket attacks, and economic blockades. Over 10,000 people, approximately 4,000 of them civilians, have been killed, the majority in Saudi-led coalition airstrikes. Both sides stand accused of repeated violations of international humanitarian law, actions that make the conflict increasingly difficult to resolve. Over 3.2 million Yemenis are internally displaced. Fourteen of 26 million are food insecure, and 370,000 children under age five risk severe, acute malnutrition. Now the situation is about to get worse.
On 19 September, President Hadi fired the Central Bank governor and announced he would move the bank from the Huthi/Saleh-controlled capital, Sanaa, to the government's temporary base in the port city of Aden. The decree could mark a turn toward economic warfare aimed at strangling the Huthi/Saleh alliance financially in its northern strongholds. Yet, ordinary Yemenis would suffer the most.
The move appears to have no well-thought-out implementation plan and opens a host of uncertainties, including a breakdown of the banking system and continued inability to pay salaries that would accelerate economic collapse and could tip large parts of the country into famine. It will also vastly complicate prospects for a negotiated settlement and almost certainly encourage the Huthi/Saleh forces to escalate, including attacks inside Saudi territory. Not least, it will deepen the north-south political divide, making more difficult future efforts to negotiate a peaceful solution to the troubled relationship between these areas.
The economy has long been a weapon in the war. Huthi/Saleh forces enforce, with occasional loosening, a crippling blockade on the second largest city, Taiz, which has been fought over for more than a year, with disastrous humanitarian consequences. The Saudi-led coalition imposed a tight air/sea blockade on Huthi/Saleh-controlled areas early in the war, ostensibly to prevent Iranian weapons from entering. While that situation has gradually improved since May under a UN verification mechanism, the cumulative humanitarian impact has been calamitous.
There had been a tacit agreement between the sides to allow the Central Bank, run by veteran technocrat Mohammed Awad bin Humam, to perform its functions relatively free of interference. Diplomats and international economists agree that, under increasingly adverse circumstances, the bank has remained largely impartial, guaranteeing import of basic commodities, protecting the riyal's value and paying public-sector salaries nationally. Without revenue from interrupted hydrocarbon exports, formerly approximately 70 per cent of the government's budget, or donor support, however, the bank is rapidly approaching insolvency. Acute riyal shortages are interfering with its ability to pay salaries, and the Hadi government has blocked bin Humam from printing additional currency through a Russian company.
The bank's looming insolvency coincides with a military stalemate and the breakdown of peace talks. In three months of negotiations in Kuwait, the parties came closer to a negotiated settlement than ever before. Both realised they were mired in a costly war of attrition, in which the Saudi-led coalition failed repeatedly to dislodge Huthi/Saleh forces from their northern positions, and the latter defended their area at great human cost without making headway in Taiz and further south. They sensibly entered into discussions on force withdrawals, general disarmament and formation of a national unity government, though the Huthis were unwilling to go into details on withdrawals. The talks faltered on sequencing security and political steps, however, and both sides have redoubled efforts to make decisive battlefield gains.
Even before peace talks ended, the Huthi/Saleh alliance had begun to entrench its political control of the north, highlighting the Hadi's government's lack of influence there, by forming a high political council as a first step toward a rival government. It also escalated attacks inside Saudi Arabia and is attempting to hold territory there. The Saudi-led coalition has pummelled Huthi/Saleh-controlled areas with airstrikes, and its Yemeni allies have tried, and again failed, to enter Sanaa from the north east. Possibly seeing it has limited military options in the northern highlands, Saudi Arabia and its main partner, the United Arab Emirates (UAE), now appear to be shifting the fight to the economic front, where they have significant leverage.
During the Kuwait talks, the Hadi government and its Gulf Cooperation Council backers turned increasingly critical of the Central Bank, accusing its governor of allowing the Huthi/Saleh forces to pilfer state coffers to fund their war effort. The heart of the issue is the monthly disbursal of 25 billion riyals (approximately $100 million) to the Huthi-controlled defence ministry. This notoriously opaque line item in the 2014 budget, which bin Humam has continued to implement absent a new budget, benefits the Huthis disproportionately, as they, like every group in Yemen before them, have likely stacked the ministry payroll with their loyalists.
Though Saudi Arabia intervened in the past to prop up the economy (and still has a $1 billion Central Bank deposit), it is no longer prepared to put cash into a bank it reasonably views as being used to finance a war against it and seems less concerned the bank's demise in Sanaa could precipitate a total economic collapse that arguably would not be in its long-term interest. The Huthi/Saleh alliance has been unwilling to negotiate guarantees to address Saudi concerns, while Hadi and his supporters expect Saudi Arabia and the UAE to replenish the bank's cash once it is in Aden. Faced with the prospect of a collapsing bank in Sanaa and a move to Aden that could inject much-needed liquidity even as it raises the possibility of economic warfare, the U.S., UK, UN and other international players have not opposed the move.
Paradoxically, Hadi issued his decree on the heels of a push by his international backers to revive the peace talks. On 25 August, U.S. Secretary of State John Kerry announced that the "quad" (U.S., UK, Saudi Arabia, UAE) had agreed with the UN special envoy, Ismail Ould Cheikh Ahmed, to renew negotiations for a comprehensive settlement that would move simultaneously on political and security tracks to achieve a Huthi/Saleh withdrawal from Sanaa, their handing over of heavy weapons to a third party and formation of a unity government. The plan brings together many elements the UN envoy proposed in Kuwait, while meeting the Huthi/Saleh demand that political and security compromises be signed as part of a package. It also closely sequences those compromises in a way that would give wins – and the perception of these – to both parties.
The proposal might force the Huthis, in particular, to show their cards, requiring them to either accept a plan that accommodates their demands or reject it, thus indicating unwillingness to make concessions to which they had previously committed in principle. But the promising initiative could be stillborn. None of its supposed backers, save Kerry, has strongly championed it. The UN has yet to officially submit a revised roadmap to the sides incorporating its ideas. And now the bank announcement undermines and complicates diplomatic prospects.
Yemen cannot bear the demise of yet another opportunity to end the war. It has become a failed and divided state and soon could also be a starving one. One of its last functioning, technocratically-run institutions, the Central Bank, is in peril. Pulling back from what threatens to be even more severe fragmentation and suffering requires urgent steps:
A UN-brokered plan for effective Central Bank functioning and a ceasefire to allow immediate resumption of talks.

As part of this, the Hadi government would commit to resume paying civil servants throughout the country, suspending plans to move the bank to Aden and continuing to rely on the bank's infrastructure and staff in Sanaa. Both sides would agree to a plan for collaboration between the bank's Aden branch and Sanaa headquarters until a peace agreement.
To ensure civil-servant salaries will be paid nationally and the liquidity problem is addressed, the sides would agree to support immediate printing of additional riyals, which are essential for resumption of salary payments and should be delivered to Central Bank offices in Sanaa, Aden and elsewhere, according to a plan based on the 2014 budget's salary stipulations. Ideally, defence ministry salaries would be paid nationally according to the 2014 budget and personnel lists, which include combatants on all sides but exclude Huthi fighters added since 2015.

Resumption, immediately following a ceasefire, of UN-mediated talks based on a new roadmap in line with the quad initiative.

The UN envoy should present the revised roadmap to the belligerents, preferably in writing, including a framework for political and security compromises moving simultaneously to result in phased withdrawals, disarmament and quick formation of a unity government.
The Huthi/Saleh delegation should, in response, propose a withdrawal plan to become part of the comprehensive agreement. Concluding an agreement would be contingent on negotiation of the plan's details.
To complete the comprehensive settlement, the envoy should add a mechanism to the settlement package for addressing regional autonomy demands, including the possibility of southern independence.
A devastating economic war of attrition may still be avoided, but only if the sides agree to an immediate ceasefire and return to peace talks. If a settlement cannot be reached based on the quad initiative, at least the ceasefire would give humanitarian agencies and governments time to put in place mechanisms to mitigate the impact on average citizens during the next phase of conflict.
The International Crisis Group kindly allows Modern Tokyo Times to publish their esteemed articles based on important research. Please check the website of this highly valued international organization at http://www.crisisgroup.org/
https://twitter.com/CrisisGroup International Crisis Group on twitter
https://www.crisisgroup.org/middle-east-north-africa/gulf-and-arabian-peninsula/yemen/central-bank-crisis-risks-famine-yemen
Photo image from the original article by International Crisis Group