China, Japan, Russia, and South Korea need to stem North Korea and the United States
Sawako Uchida and Lee Jay Walker
Modern Tokyo Times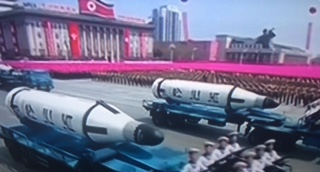 China, Japan, the Russian Federation, and South Korea need to work together in order to contain saber rattling and endless militarization of the Korean Peninsula. Of course, militant rhetoric emanating out of North Korea isn't unusual under the current leader Kim Jong-un. However, with President Donald Trump joining in with his own militant rhetoric, then it is time for greater urgency from regional nations to contain the crisis.
It should be stated that if a major war broke out on the Korean Peninsula, the main losers would be the Korean people from both North Korea and South Korea. If a war erupted and broke out, then Japanese nationals would also face the real prospect of being targeted. Of course, American military bases in Guam, South Korea, and Japan would probably be targeted by North Korea. Yet, this is a far cry from Korean citizens facing the biggest loss of life, possibly followed by Japanese nationals.
Hence, while some political elites in the corridors of power in Washington may deem a war on the Korean Peninsula to be unavoidable if North Korea continues to ignore the international community. The truth is, it isn't American citizens who face being killed in vast numbers. In other words, it is important that China, Japan, the Russian Federation, and South Korea work together to stem the voices of war, emanating from North Korea and in certain parts of Washington.
Jim Mattis, the United States Defense Secretary, warned North Korea to think deeply about its current policies. If not, then political and military elites in Pyongyang will self-destruct and lead to the "end of its regime and the destruction of its people."
Mattis further stated, "While our state department is making every effort to resolve this global threat through diplomatic means, it must be noted that the combined allied militaries now possess the most precise, rehearsed and robust defensive and offensive capabilities on Earth."
Modern Tokyo Times stated recently, "Equally important, it is clear that President Moon Jae-in of South Korea seeks dialogue despite all the difficulty this entails. In other words, the new leader of South Korea is open to reaching an accommodation with North Korea because of his enmity towards another war on the Korean Peninsula. This in itself is containing militant voices within Washington that support a different line than that of Rex Tillerson (the United States Secretary of State)." 
Therefore, the government of Moon in South Korea must express strongly to America, while remaining strong against North Korea, that a major war on the Korean Peninsula is not acceptable to the people of this nation. At the same time, South Korea must reach out to China, Japan, and the Russian Federation in order to use respective influences on America and North Korea respectively.
Not surprisingly, the political office of Moon expressed in recent days that "Above all, President Moon emphasized that South Korea can never accept a war erupting again on the Korean Peninsula."
Japan under Prime Minister Shinzo Abe must listen to Moon because in the past certain nationalist tendencies have been expressed. After all, the people of Japan could suffer greatly if a major war broke out. Hence, moderate voices in the corridors of power in Tokyo are needed in order to contain the crisis. Therefore, Abe should reach out to all Northeast Asian military powers by working in tandem with China, the Russian Federation, and South Korea.
Rhetoric emanating from North Korea is clearly out of control. Therefore, it is disappointing that Trump is following a similar line – albeit, after an array of threats from North Korea in recent times.
The BBC reports, "North Korea's state-run KCNA news agency said on Wednesday that Pyongyang was "carefully examining" a plan to strike the US territory of Guam… The Pacific island is home to US military bases, strategic bombers and about 163,000 people."
In relation to Guam, the New York Times reports, "Guam is a potential target because it is a strategic American military outpost and home to nuclear-equipped bombers that can strike North Korea. Just this week two United States B-1 bombers flew from Guam over the Korean Peninsula. And North Korean missile tests suggest it is within range of the country's arsenal."
Therefore, China, the Russian Federation, and South Korea need to set in motion a series of major talks with North Korea. Following on from this, certain conditions need to be met by America and North Korea – with Japan expressing the need to solve the most complex of issues. If North Korea ignores the goodwill of China and the Russian Federation – and a more moderate Moon administration in South Korea – then Pyongyang needs to know that China and the Russian Federation will take sterner action. This applies to economics, isolating North Korea politically, and not expressing the concerns of North Korea in relation to America's military build up.
http://www.bbc.com/news/world-us-canada-40879485
https://www.nytimes.com/2017/08/09/world/asia/north-korea-guam-japan-targets.html  
http://moderntokyotimes.com/?p=7584
DONATIONS to SUPPORT MODERN TOKYO TIMES – please pay PayPal and DONATE to sawakoart@gmail.com
http://moderntokyotimes.com Modern Tokyo Times – International News and Japan News
http://sawandjay.com Modern Tokyo Times – Fashion
https://moderntokyonews.com Modern Tokyo News – Tokyo News and International News
http://global-security-news.com Global Security News – Geopolitics and Terrorism
PLEASE JOIN ON TWITTER
https://twitter.com/MTT_News Modern Tokyo Times
PLEASE JOIN ON FACEBOOK