China's Lukewarm Response to Indian Military Modernization
Publication: China Brief
The Jamestown Foundation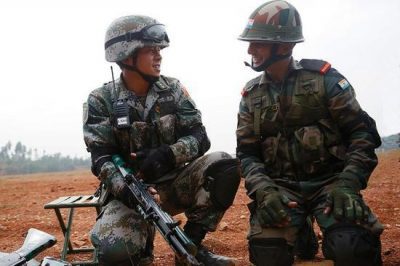 Between September 14–27, the United States and India conducted a joint military training exercise in Uttarakhand, an area less than 100 km from the Chinese border (Global Times, September 12). This combined exercise, known as Yudh Abhyas, or "training for war," started as an army training cooperation event in 2004 and has since evolved to include the air force as well (U.S. Army Pacific, March 12, 2012). Until 2008, the main focus had been sharing logistics and tactics. Between 2009 and 2012, the exercise focused on the UN-style peacekeeping missions (U.S. Army Pacific, March 12, 2012). Since then, the main theme has shifted to counter-insurgency and more recently, counter-terrorism (U.S. Army, September 12, 2015; The Diplomat, September 16). Each year, the United States and India takes turn in hosting the exercise.
China tends to be strident in its criticism of U.S. military operations and presence in the Asia-Pacific, to include U.S. increased cooperation with allies and partners as a result of the rebalancing (State Council Information Office, May 2015). The Chinese government and media repeatedly emphasizes that the "rebalance" ended the tranquilization and peace in the region (Xinhua, June 2; Global Times, September 30) Official media often directly accuses the United States for replaying the Cold War politics and the arms competition (Ministry of Foreign Affairs, April 29). Chinese Defense Minister Chang Wanquan echoed President Xi Jinping, denounced the US and its increasingly military cooperation with allies as "seeking its own security by scarifying the others," and is bringing "instability" to international security (People's Daily, May 21; Xinhua, June 26; Global Times, June 26).
But strangely, China's response to Yudh Abhyas did not follow this pattern. The Chinese government did not publish any statement on the exercise and official media sources did not regularly report on it. This year, Huanqiu expected a criticism from Beijing for holding the exercise too close to the border with China (Global Times, September 12). However, neither an official statement nor an article followed up on the exercise. Even in the years the official media has reported on the exercise, the articles have been very short and limited to reporting basic information such as the date, location and purpose (Xinhua, May 20, 2013; Global Times, September 12; Global Times, September 16). There is one minor exception—in 2009 two major media outlets, Xinhua and Huanqiu, did report on the exercise in detail, probably because the purpose of the exercise shifted from training to combat simulation that year (Global Times, October 13, 2009; Xinhua, October 27, 2009).
Chinese Response to Indian Border and Maritime Exercises
China's lack of attention to this combined exercise is not surprising – China tends to respond mildly, if at all, to Indian military training and exercises. India conducted 29 military exercises in 2016, four of which were with China and 22 were with other foreign states. [1] Of all of these, Chinese reporting covered only eight of India's exercises, with information mostly being conveyed through online outlets instead of printed papers (Huanqiu, February 9; PLA News, April 13; Huanqiu, May 5; Global Times, June 12; Global Times, July 7; Global Times, September 12; China.com, October 20; Global Times, October 24; Ministry of Defense, November 15). The low level of interest is also evident from the RIMPAC exercise; China only focused on its participation and entirely overlooked India's presence (Xinhua, August 4; PLA News, August 7).
This is the case even when those exercises have direct application to the Sino-Indian border dispute, which has been heating up since 2007 (China Brief, December 21, 2015). In February 2016 India's new mountain corps conducted an exercise designed to prepare them for combat along the whole border. The Indian parliament also approved a 9.4-billion-dollar worth of budget to recruit 80,000 soldiers for these troops. The government approved several social projects to rebuild infrastructure in the Sino-Indian region (Global Times, March 9). The Global Times, known for its over the top nationalistic coverage, mentioned matter-of-factly on July 5, 2016 that India announced a plan to enhance defense and combat capabilities in Arunachal Pradesh in response to the intrusion of 250 Chinese soldiers the month before. The Indians also conducted an exercise there and issued a stern warning to China that they are learning Chinese to prepare to chase out the Chinese the next time. [2]
Even in the case of the maritime sphere, in which there seems to be a budding rivalry between the two countries in the Indian Ocean, China's media coverage of Indian exercises is still balanced (Central Compilation and Translation Bureau, February 15, 2015; Global Times, April 11; Global Times, July 29; China News, September 8). For example, in June 2016, Japan, India and the United States conducted an exercise together in the East China Sea as part of the annual naval Malabar exercise. One would expect a strong PRC response to India interfering in Chinese sovereignty disputes, but instead Chinese media coverage rationalized away Indian participation. One article mentioned India wants to be a Pacific power with its Look East Policy, but it is not trying to flex its muscles like Japan and the U.S. With this exercise, India merely wants an opportunity to flush out its submarines (People's Daily, June 16). India wants closer relations with Japan to facilitate its Look East policy, but India's visit to China after the exercises shows Delhi wants to maintain good relations with Beijing as well (China Youth Daily, June 23). In February 2016 India dispatched four vessels to Vietnam and the Philippines to, in the words of a Chinese official, demonstrate their growing military capability and implement the Act East policy. The article concludes only that military activities are good diplomatic activities, but perhaps India should have been more careful about their timing (Global Times, June 2). The harshest treatment was a Global Times article that said for India Malabar was a good way to pursue alliance diplomacy without entering into an alliance or losing strategic autonomy, and India welcomed a greater U.S. role to facilitate its economic rise and prevent Chinese dominance of the region.
Why does China respond in such a relatively neutral, balanced way? One possibility is that Indian military activities remains insignificant, and therefore does not require a Chinese response. But Indian bilateral and multilateral defense cooperation with other regional actors such as Australia, Japan, Singapore, South Korea and Vietnam, has increased in unprecedented ways in recent years (Center for a New American Security, June 2013). [3] Just this year, India hosted its first multilateral military exercise entitled "Force 18" with ten Asian nations and eight dialogue partners, including China, Australia, Japan, and the United States (The Diplomat, February 28). Indian forces also regularly participate in the Malabar series of tri-lateral naval exercises with the U.S. and Japan, and in 2016, 12 Indian Air Force aircraft participated in the multinational "Red Flag" exercises held by the US Air Force in the United States (People's Daily, June 16; Global Times, May 7). On the bilateral level, Indian troops conducted counter-terrorism exercises in 2015 with Russia (INDRA-2015), while Indian Air Force aircraft exercised with Russian aircraft in Aviva Indra-2014 in 2014, and flew with fighters from the British Royal Air Force in Exercise Indradhranush in 2015 (Global Times, November 6, 2015; The New Indian Express, August 25, 2014; Aviation Week, July 31). In June 2016, the United States, Japan, and India conducted the Malabar naval exercises off the coast of Okinawa. Chinese ships monitored the exercises, tracking Indian and U.S. vessels with intelligence platforms to gather information (The Hindu, June 16; People's Daily, June 16).
China Responds Strongly to Other Countries
Another possibility is that this neutral coverage of Indian military modernization and activities is merely the result of Chinese reporting. There may be a desire in general to avoid stoking nationalism, or ignore external threats to Chinese national interests. But Chinese coverage of other countries casts doubt on this alternative hypothesis. Coverage on Japan is clear that about the threat Japan's military buildup poses to China (China Daily, December 18, 2013; Xinhua, April 30, 2015; Xinhua, July 21, 2015). The media responses strongly to every move—for example when Japan moved radar equipment to Yonaguni Island (east of Taiwan), China called the move "concerning" (Ministry of Foreign Affairs, October 23, 2014) and indirectly criticized the move, stating "we hope the Japanese side learns from the hard lessons of history [and] sticks to the path of peaceful development" (Sina News, March 29). Additionally, Chinese entities consistently suggest that this alliance is a Cold War relic and should not be directed against China (Xinhua, April 30, 2015; Ministry of Foreign Affairs, April 30, 2015; People's Daily Overseas Edition, April 25, 2014). Xinhua railed, "Washington has simply signed a Faustian pact with a Tokyo that has a knack of alienating its neighbors," and that the U.S. "is actually emboldening a warmonger whose martial zeal had been proved by history repeatedly" (Xinhua, April 28, 2015).
China is also quick to point out the challenge of Vietnamese and Philippine military modernization. On the Vietnamese acquisition of submarines, a Chinese vice admiral's commented in 2010 that "is naturally becoming a challenge to neighboring countries, including China" (China News, February 27, 2010). When Vietnam uses its military to protect its territorial claims, as India does on the border, China holds no punches. In June 2012 when Vietnam's Su-27 fighter jets flew patrols over the Spratly Islands and Hanoi passed a law placing disputed islands under Vietnamese sovereignty, China Foreign Ministry spokesman Hong Lei proclaimed the Vietnamese actions to be "illegal and invalid," and they "complicate and magnify the issue" (Ministry of Foreign Affairs, June 21, 2012). Likewise, when Vietnam sent Israeli-made EXTRA rocket launchers to its outposts in the Spratly Islands in August 2016, the Foreign Ministry stated "China resolutely opposes the relevant country illegally occupying parts of China's Spratly Islands… [and] illegal construction and military deployments" (Global Times, August 10). The Global Times opined that this deployment was "a terrible mistake," and that Vietnam should "draw some lessons from history" (Global Times, August 11).
On the Philippines, even though China spends approximately 59 times more on its defense and military than the Philippines (Xinhua, March 5), when Major-General Raul de Rosario unveiled a plan to spend $22.11 billion on the Filipino military through 2028 (The Diplomat, July 8, 2015), Chinese media outlets suggested Manila was contributing to an escalating regional arms race. Expectedly, China takes serious issue with the Philippines' efforts to bolster its alliance with the U.S. In response to the 2016 Balikatan exercises, a commentary in Xinhua remonstrated, "the exercises… caps Manila's recent attempts to involve outsiders in (a) regional row," proceeding to castigate the U.S for "unscrupulous inconsistency between fear-mongering deeds and peace-loving words" (Xinhua, April 4). In response to the 2016 Enhanced Defense Cooperation Agreement (ECDA) allowing American forces access to five additional military bases in the Philippines, Defense Ministry spokesman Yang Yujun reverted to the common Cold War refrain regarding U.S. allies in Asia. He warned, "to strengthen military alliances is a reflection of a Cold War mentality (State Council Information Office, March 31). China also lashes out when the U.S. and Philippines conduct joint patrols in the South China Sea, with the Defense Ministry depicting these activities as "militarization in the region, which is harmful to regional peace and stability" (Xinhua, April 15).
Conclusion
While Beijing is quick to jump to conclusions about other countries modernization efforts being directed at China and undermining Chinese security, China surprisingly responds calmly to Indian military activities. Even when India spends more resources on its military, many that have a direct application to a conflict against China along the border, Chinese media and official statements either ignores these developments or rationalizes that these developments are directed at other actors. This provides a strategic window of opportunity for expanding U.S.-Indian relations—we will have to wait and see whether President-Elect Trump capitalizes on it.
Dr. Oriana Skylar Mastro is an assistant professor of security studies at Georgetown University. Her recent publications include "The Vulnerability of Rising Powers: The Logic Behind China's Low Military Transparency" in Asian Security and "A Global People's Liberation Army: Possibilities, Challenges, and Opportunities" with Kristen Gunness in Asia Policy. Her full bio can be found here. Dr. Mastro would like to thank Lynn for her expert research assistance.
Notes:
For a list of all these exercises, see the Indian Ministry of Defence's 2015-16 annual report.
Wu Zhaoli, "India's Asia Pacific Strategy: Development, Objectives and Implementation [印度亚太战略发展、目标与实施路径]," South Asian Studies [南亚研究], (2015 Vol. 4), p. 114.
See Liu Yangjian, "浅析中印关系中印度的两面性 [Analysis on the Two Faces of India in Sino-Indian Relations]," Legal System and Society [法制与社会], (July 25, 2009); Wang Xinlong, "印度海洋战略及对中印关系的影响 [India's Ocean Strategy and Its Implications for Sino-Indian Relations]," South Asian Studies Quarterly [南亚研究季刊], (June 30, 2004).
The Jamestown Foundation kindly allows Modern Tokyo Times to publish their highly esteemed articles. Please follow and check The Jamestown Foundation website at http://www.jamestown.org/
https://twitter.com/JamestownTweets The Jamestown Foundation
https://jamestown.org/program/chinas-lukewarm-response-indian-military-modernization/