Coptic Christians Flee Sunni Islamists in North Sinai in Egypt
Murad Makhmudov and Lee Jay Walker
Modern Tokyo Times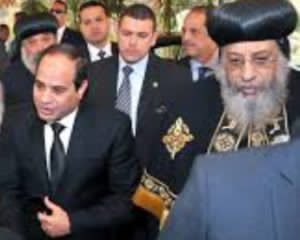 The indigenous Coptic Christians of Egypt are fleeing parts of North Sinai based on recent terrorist attacks and warnings towards this embattled religious community. Once more, the reality of Sunni Islamism and sectarianism is threatening to unleash more chaos, just like in other parts of the Middle East. Therefore, recent events in North Sinai bode ill for Coptic Christians and the nation state of Egypt that faces growing ISIS (Islamic State – IS) tentacles, along with the intrigues of the Muslim Brotherhood that ply propaganda throughout the Western world.
It is known that approximately 250 Christians have received help from the Anglican Church in Ismailia. Sadly, it appears that the numbers will increase based on the recent spate of Sunni Islamist attacks and the menace of countless threats.
Ahram Online reports, "In the past few days, churches in Ismailia have received dozens of Coptic families who escaped the North Sinai city for fear of being targeted."

The BBC says, "Most of the Islamist militant attacks of recent years have been focused on the Sinai peninsula, where an IS-linked jihadist group is active, but the capital Cairo has also suffered a string of attacks in the past two years."
Christians in El-Arish are especially scared because in recent times at least seven have perished because of the Sunni Islamist agenda. Unfortunately for Christians throughout certain parts of the Middle East and North Africa, they are easy targets.
The government of Egypt faces many internal problems since outside meddling emboldened the Muslim Brotherhood several years ago. Hence, the agenda of Sunni Islamism is aimed at hindering the economy, enforcing a rigid version of Sunni Islam on fellow adherents that don't follow the Takfiri mantra of hatred, spreading sectarianism, and other negatives that will weaken the nation state under the leadership of President Abdel-Fattah el-Sisi. Therefore, it is essential that the government of Egypt is supported and the same obviously applies to the embattled Coptic Christians that face persecution and discrimination.
http://english.ahram.org.eg/NewsContent/1/64/258852/Egypt/Politics-/Anglican-Church-in-Ismailia-receives–families-esc.aspx
http://www.bbc.com/news/world-middle-east-39085285