Democratic Party and Arms Race: Japan and South Korea in anti-Northeast Asia Mode
Kanako Mita, Sawako Utsumi, and Lee Jay Walker
Modern Tokyo Times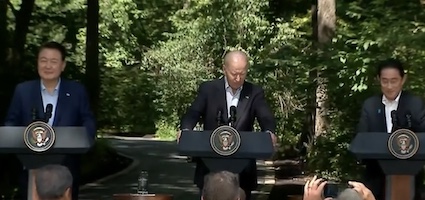 The one consistency of the administration of President Joe Biden is the endless warmongering nature of the current Democratic Party. Naturally, Japan under Prime Minister Fumio Kishida is on board concerning his endless anti-China and anti-Russian Federation mode – and the subservient nature of Japan's relationship with America. However, the current leader of South Korea, President Yoon Suk Yeol, is going further by taking a knee to America and Japan.
Global South nations in Africa and other parts of Asia are intent on breaking free from the arm-twisting of major G7 nations. Yet, the current leaders of Japan and South Korea are "useful tools" of America.
The rule of law mantra is not taken seriously by any even-handed nation. After all, how do the leaders of Japan and South Korea ignore America's destabilization policies from Operation Condor in South America to Agent Orange on Vietnam (Agent Orange also dropped on Cambodia and Laos) – to countless wars including Afghanistan, the former Yugoslavia, Libya, and Iraq?
Voice of America reports, "Without mentioning China, Biden said the leaders reaffirmed a commitment to maintain peace and stability in the Taiwan Strait and address economic coercion — a practice Washington accuses Beijing of employing for its political goals."
Americans at home – outside diehard Democratic Party supporters who support race-baiting and gender confusion policies – must be wondering why the Biden administration isn't so focused on over 200,000 overdose deaths in two years, a chaotic border that is a boost for drug cartels, and other ills that blight America including homelessness and affordable housing. Instead, the Biden administration is funding Ukraine all the time with tens of billions worth of military arms – along with supporting the militarization of Northeast Asia.
Wang Wenbin, the spokesperson for the Foreign Ministry of China, said: "The Asia-Pacific region is a promising land for peace and stability and cooperation and development and should not become a dueling ground for geopolitical rivalry."
Kishida – laying blame on China and the Russian Federation – said the usual words of "The free and open international order based on the rule of law is in crisis" and the "unilateral attempt to change the status quo by force in the East and South China seas" is dangerous.
China and the Russian Federation noting American military bases in Japan, South Korea, and countless other nations – along with recent wars supported by America and other NATO allies on several continents – fully understand that Japan and South Korea (under Yoon) merely seek to militarize and support the whims of America in enforcing its geopolitical order on Northeast Asia.
America, Japan, and South Korea pointedly rebuked China's "dangerous and aggressive behavior supporting unlawful maritime claims" concerning the South China Sea – in a joint statement.
Yoon said: "Any provocations or attacks against any one of our three countries will trigger a decision-making process of this trilateral framework, and our solidarity will become even stronger and harder."
It appears that Yoon would welcome Japanese troops to join American and South Korean forces – in any possible war with North Korea. This seems out of touch with public opinion in South Korea – which is still at loggerheads with Japan concerning history.
Yoon knows that opposition forces in South Korea are not so compliant with the whims of America and (especially) Japan. Therefore, the angle of South Korea – in the anti-China and anti-Russian Federation alliance in Northeast Asia- could unravel if opposition forces defeat Yoon in future elections.
Andrey Rudenko, the Deputy Minister of Foreign Affairs of the Russian Federation, said, "We have taken note of the [Japanese Prime Minister Fumio] Kishida administration's accelerated implementation of abandoning a policy of peaceful development, which has been professed for many decades, and embarking on a track of fast-tracked militarization. Among the concrete steps along these lines are the holding of large-scale military exercises near Russia's borders together with non-regional partners, the adoption of an updated version of doctrinal documents in the field of defense and security with a view to creating an attack potential and an unprecedented increase in defense spending."
Maria Zakharova, the spokesperson for the Russian Foreign Ministry, said the Kishida administration is "rejecting the country's peaceful development… (and) has embarked on the path of an unprecedented build-up of its military power, including strike potential."
The meeting between America, Japan, and South Korea was predictable – nothing more than a Cold War mentality and with Japan and South Korea abiding by America rather than concerning themselves with Northeast Asian powers.
The Watson Institute for International and Public Affairs – concerning the war on terror since September 11 – (Brown University – America) reports: "Millions of people living in the war zones have also been displaced by war. The U.S. post-9/11 wars have forcibly displaced at least 38 million people in and from Afghanistan, Iraq, Pakistan, Yemen, Somalia, the Philippines, Libya, and Syria. This number exceeds the total displaced by every war since 1900, except World War II."
Biden, Kishida, and Yoon – similar to the leaders of other G7 nations – seem fine if millions of people are killed or uprooted by G7 and NATO nations directly, by proxy, or concerning the military arms they send.
Likewise, NATO Turkey continues to occupy North Cyprus, North Syria and utilizes North Iraq to kill the Kurds. The same NATO Turkey also supports the ethnic cleansing of Armenians in Nagorno-Karabakh. However, the leaders of America – similar to caring little about Indonesia's brutal occupation of West Papua – fully support Turkey.
The "rule of law" mantra is just the manipulation of language to militarize and preserve Washington's power concentration. Accordingly, Japan and South Korea should seek to build bridges with China and the Russian Federation – while having cordial relations with America.
Sadly, the Democratic Party under Biden is intent on expanding NATO and supporting the militarization of Northeast Asia at all costs. This bodes ill for the region.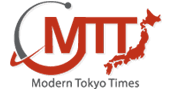 Modern Tokyo News is part of the Modern Tokyo Times group
http://moderntokyotimes.com Modern Tokyo Times – International News and Japan News
http://sawakoart.com – Sawako Utsumi's website and Modern Tokyo Times artist
https://moderntokyonews.com Modern Tokyo News – Tokyo News and International News
PLEASE JOIN ON TWITTER
https://twitter.com/MTT_News Modern Tokyo Times
PLEASE JOIN ON FACEBOOK