Islamists Threaten Christians in Northeast Kenya: Somalia and Al-Shabaab Islamist Inquisition
Murad Makhmudov, Takeshi Hasegawa and Lee Jay Walker
Modern Tokyo Times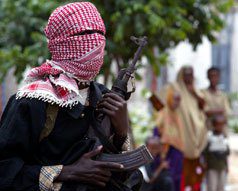 The government of Kenya must do more to protect Christians in parts of the country where al-Shabaab (al-Shabab) holds sway. After all, hundreds of Christians have been killed by Takfiri Islamists in northeast Kenya. Therefore, it is essential that Christians feel protected in their own homeland because al-Shabaab threatens to cleanse certain areas of Christians just like the same group does in Somalia.
A few months ago students who followed the Christian faith at Garissa University were singled out for death. This barbaric attack by al-Shabaab sent shockwaves throughout the Christian community in Garissa. In total 147 people were butchered by Sunni Islamist Takfiris that deem killing non-Muslims to be their religious duty.
Indeed, Christians are threatened with death if they openly attend Christian churches. CNN reports "Each Sunday brings with it new threats from Al-Shabaab. Garissa's Christians are told that if you worship here, you'll die. One of those attending Sunday Mass, Patrick Gitau tells us that despite the risks: "Every Sunday I'm here it's my cathedral. Yeah I'm here I was baptized in this church."
It is known in Somalia that the al-Shabaab terrorist group supports a complete Sunni Islamist inquisition against Christianity. This Islamist inquisition exists openly in Somalia because many converts from the Muslim faith to Christianity have been brutally beheaded by al-Shabaab. Therefore, this darkness is now spreading to parts of northeastern Kenya because of geopolitical realities that link Kenya and Somalia.
Late last year two terrorist attacks highlight the utter hatred of Takfiri Islamists towards Christians. In one incident, 36 quarry workers were killed, most belonging to the Christian faith, after the al-Shabaab killed anyone who couldn't provide evidence that they were Muslim.
The Guardian reports "Witnesses said the attackers surrounded the camp in a remote district near the Somali border shortly after midnight on Tuesday, roused the sleeping workers and ordered those who could not prove they were Muslims to lie on the ground before spraying them with bullets."
In November (2014) Christians were once more singled out after a bus was stopped by al-Shabaab Islamists. All individuals who couldn't recite the Muslim declaration of faith were slaughtered. This barbaric attack led to the deaths of 28 innocent civilians.
It is imperative that Kenya does more to help beleaguered Christians in parts of northeast Kenya. If not, then the Kenyan government and security forces will be laying the foundation for the weakening of the nation state. Therefore, it is essential for Christian leaders in Kenya to do more by highlighting and campaigning on behalf of fellow Christians that suffer in parts of northeast Kenya.
http://edition.cnn.com/2015/07/26/world/garissa-color/index.html
http://www.theguardian.com/world/2014/dec/02/kenya-quarry-massacre-leaves-36-dead-says-red-cross