Jahba East Africa: Islamic State Alters the Dynamic of Somalia's Conflict
Publication: Terrorism Monitor
By: Sunguta West
The Jamestown Foundation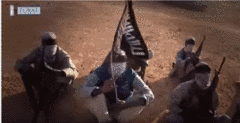 With the emergence of a group in Somaliland calling itself Jahba East Africa, it appears Islamic State (IS) is becoming an independent entity in Somalia's insurgency. This development will likely complicate the conflict both for the African Union forces in the country and the indigenous al-Qaeda-linked Harakat al-Shabaab al-Mujahedeen, or al-Shabaab.
IS already had a presence in Somalia following a split within al-Shabaab itself, but the extremist group has slowly become more autonomous, supposedly carrying out its first attack in Somalia in April via an unnamed affiliate.
IS Makes Its Entrance
In April, an unnamed pro-IS group claimed responsibility for an attack on troops from the African Union Mission in Somalia (AMISOM). The group claimed to have detonated an improvised Explosive Device (IED) on the outskirts of the capital, damaging an AMISOM vehicle. Although both AMISOM and Somali government officials have acknowledged the attack, they have refused to accept that IS was behind it (Horseed Media, April 26, 2016).
This is the first time a pro-IS group has made an official claim of an attack in Somalia, a country dominated by al-Shabaab. For many, the incident is a confirmation of the emergence of IS in Somalia and underlines a change in the fortunes of al-Shabaab, which— although controlling large swaths of southern Somalia—has been weakened by AMISOM's superior firepower.
The supposed pro-IS attack in Mogadishu comes at a critical juncture for al-Shabaab. The group has been in seeming retreat recently, abandoning strategic territory it has held since 2006 when it swept largely unchecked across southern Somalia while promoting its radical form of sharia. While it has suffered major setbacks, al-Shabaab remains a deadly force, continuing to carry out strikes on targets in Somalia and neighboring Kenya. It is now also proving itself willing to combat IS.
Al-Shabaab Hits Back
In recent years, al-Shabaab has proven to be a resilient force with the ability to mount devastating attacks against better armed forces, often inflicting heavy casualties. In January, its fighters overran a Kenyan Defense Forces (KDF) camp in El Adde in southern Somalia. There has been no official confirmation of the number of Kenyan troops killed in the attack, but it is thought to be high—possibly as many as 200—although Kenya has denied that figure (Kenya Daily Post, January 26, 2016).
Al-Shabaab is now attempting to ease the pressure in central and southern Somalia by moving further north into the semi-autonomous states of Gulmudung and Puntland, as these areas are presently outside of AMISOM's zone of operations. Reports indicate that the militants have been planning attacks in Puntland, using fishing boats to move arms and ammunition up the coast (Wardheer News, March 21, 2016). In March, senior al-Shabaab leaders were reported to be delivering fiery sermons from the coastal village of Garmaal after secretly entering Garacad, a historical fishing town in Puntland State (Garowe Online March 15, 2016). Garmaal residents identified senior al-Shabaab leader Saacid (Mahan) Karate, who reportedly urged them to cooperate with the militants because they were promoting the Islamic faith. The fighters hoisted their flag in the village, but later retreated.
Al-Shabaab has staged other similar temporary takeovers of a number of villages; the moves have led to a new and unprecedented security challenge for Puntland President Abdihakin Abdullahi Haji (Garowe Online, March 15, 2016).
Internal Divisions
Al-Shabaab has encountered some resistance to its northern push. In late March, fierce fighting in Gulmudung left at least 115 al-Shabaab fighters dead, with more than 100 others captured by the state's security forces (Ethiopian News Agency, March 28, 2016). The more significant challenge to al-Shabaab's operations, however, comes not from external resistance or even from AMISOM forces and the Somali national army (SNA), but from the emergence of IS in Somalia, which has forced a split, thereby weakening the group.
In November 2015, there were clashes between the two factions after al-Shabaab attacked bases belonging to its pro-IS faction. Then in December came the first reports of a clash between the two factions in the remote region of Bari, in semi-autonomous Puntland State (Horseed Media, December 24, 2015). The clashes have made it difficult for Sheikh Ahmad Umar (alias Abu Ubaidah), the al-Shabaab leader since the killing of Sheikh Ahmad Abdi Godane, to keep the group united.
Godane was killed in a US airstrike in August 2014 (Daily Nation, September 5, 2014). When Umar took control of al-Shabaab, he pledged loyalty to al-Qaeda leader Ayman al-Zawahiri. Now threatened by a major split in the group, Umar has allegedly detained, tortured, and even killed those attempting to abandon their allegiance to al-Qaeda in favor of IS (Intelligence Brief, November 2015; The Star, April 28). It would appear, however, that such actions have only helped boost IS recruitment.
Indeed, the emergence in April of Jahba East Africa—which pledged its allegiance to IS leader Abu Bakr al-Baghdadi—is a significant indication that IS is becoming an independent entity in Somalia (Shabelle News, April 9, 2016). Jabha's strength and military capabilities are still unknown, but an official indicated that the group had militants from Kenya, Uganda and Tanzania among its ranks (Horn Affairs English, April 17, 2016). The group is believed to be headed by former high-ranking al-Shabaab military and spiritual leaders, who pledged allegiance to IS in October 2015 (Citizen TV, October 25, 2015). A key actor among them is Abdulkadir Munin, who once lived in London but moved to Puntland in 2010 to join al-Shabaab. When he announced his allegiance last year, Munin, a charismatic preacher, had a following of about 100 fighters (Radio Dalsan, October 23, 2015).
Changing Conflict Dynamics
From the outset, Jahba has criticized al-Shabaab over what it describes as a failure to fully appreciate the ideal of the Caliphate. According to Jahba leadership, al-Shabaab has become a physical and psychological prison from which all Somalis should free themselves (Tuko, April 7; Twitter, April 9).
Reeling from recent successful operations by AMISOM and the SNA, al-Shabaab appears to feel the pressure from the emerging IS presence in the region, a threat it appears unable to contain. With the establishment of Jahba East Africa and the growing divisions within al-Shabaab, Somalia's insurgency risks becoming a three-way conflict between al-Qaeda loyalists, fighters linked to IS, and the 22,000-strong AMISOM force that continues to try to bring a decisive end to the conflict.
Sunguta West is an independent journalist based in Nairobi, Kenya.
Files:
Terrorism_Monitor_-_Volume_XIV__Issue_9_01.pdf
The Jamestown Foundation kindly allows Modern Tokyo Times to publish their highly esteemed articles. Please follow and check The Jamestown Foundation website at http://www.jamestown.org/
https://twitter.com/JamestownTweets The Jamestown Foundation
http://www.jamestown.org/programs/tm/single/?tx_ttnews[tt_news]=45374&tx_ttnews[backPid]=26&cHash=73bda0247d6d3d50f7207f571694313e#.VyTfY9f6mC4
Photo source: Islamic State is expanding into Somalia (source: YouTube)