Japan Art, Taisho Romanticism and Death: Yumeji Takehisa and Shadow of Shusui Kotoku

Lee Jay Walker
Modern Tokyo Times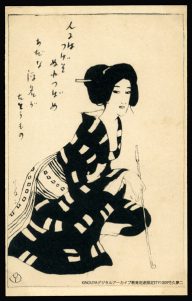 Yumeji Takehisa produced many stunning pieces of art but he never received the international acclaim that he fully deserved during his lifetime. He was born in 1884 and passed away in 1934 because of illness. Indeed, the final years of his life were left unfulfilled because despite producing striking pieces of art, his visit to America and Europe was mainly disappointing in 1931.
Yet when you look at the art of Yumeji Takehisa it is difficult to understand why he didn't make a breakthrough internationally. After all, his art is visually very beautiful and you can feel the passion and creativity of this sublime artist. Not only this, when viewing his most notable art pieces it is clear that his unique style and sophistication hits the heart immediately.
Also, this energy and passion comes alive in his art work. Therefore, the lows in his life and lack of international recognition must have hurt him deeply because many lesser artists were received with much more attention.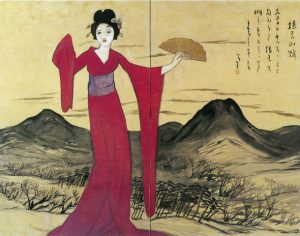 Within Japan Yumeji Takehisa was highly regarded during his lifetime. On the Artelino website (http://www.artelino.com) it is stated that he was "Born in Honjo village of Okayama prefecture in the south of Honshu island, Yumeji Takehisa reached an outstanding popularity in Japan. As a painter, illustrator and printmaker he was one of the leading exponents of the Taisho period (1912-1926)."
It is also stated that "He also became famous as a writer and poet. Tokyo dedicated a museum to Yumeji Takehisa, where one can see his paintings, watercolors and art prints."
Therefore, his art and other skills were noticed within Japan during his lifetime but this notably applies to lay circles. Yumeji Takehisa did know famous artists but he couldn't really breakthrough when it came to contemporary academic circles. This also is a little mystifying given the creative nature of his art and the stunning images he produced.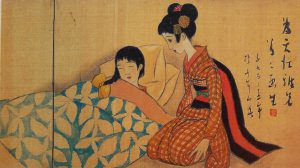 Artelino comments that "Being active in the hanga (Japanese for "print") movement, Yumeiji Takehisa was influenced by modern Western art, out of which a new style developed: "Taisho romanticism."
"Takehisa became one of its major exponents – mainly in the field of color woodblocks. He filled the decorative element of this style with a melancholic, poetic atmosphere which formed a beautiful harmony with the charm of beautiful women."
Indeed, the "Taisho romanticism" of his work suited his bijin-ga images because of the sensitivity of his most sublime pieces of art. It is also known that he was a strong friend of Shusui Kotoku (1871 – 1911) who was a well known socialist and anarchist.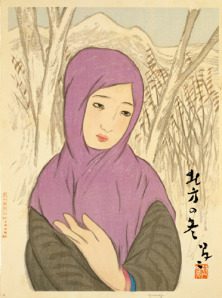 Sadly, Shusui Kotoku also died very young after being executed for "alleged treason." Given the "Taisho romanticism" of his work and adorable bijin-ga pieces of art, it is easy to believe that the "romanticism" of his friend impacted on his art work. Indeed, the liberalism of his lifestyle may also indicate that despite his friend being executed in 1911 – his "shadow" remained with the heart of Yumeji Takehisa.
The final period on this earth was very traumatic and difficult for Yumeji Takehisa but the spirit of Shusui Kotoku and himself remains long after their respective deaths. After all, despite both dying young their passion will always stay within the legacies they left and created within their respective work.
They died under different circumstances but both had fresh dreams and ideals. The legacy of Yumeji Takehisa is remarkable given the stunning art he produced and he truly deserves to be acclaimed internationally.
http://www.artelino.com/articles/yumeji-takehisa.asp
http://www.culturalnews.com/?p=539