Japanese Art and the Richness of Folklore: Samurai Taira no Tadamori
Lee Jay Walker
Modern Tokyo Times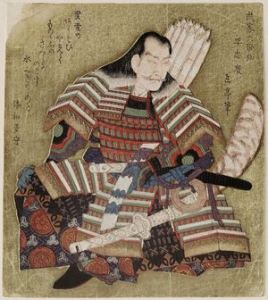 Japanese art and folklore depicts Taira no Tadamori (1096-1153) most favorably because this notable samurai feared nothing in this world. Likewise, within the rich world of Japanese folklore and spirituality Tadamori also didn't fear the unseen world of dark mysteries. Therefore, this distinguished individual during his lifetime left a lasting legacy based on the deeds that he achieved.
Tadamori played a powerful role in the consolidation of the Taira clan therefore his importance within the Imperial Court during this period of history was clearly noticed. His loyalty to the Taira clan he belonged to and the Imperial Court went hand-in-hand. Indeed, Tadamori's bravery and loyalty held no bounds because he was a staunch role model. This reality also highlights the inner-strength of the Taira clan in this period of Japanese history.
It is also noticeable that Tadamori shared some similarities with Oda Nobunaga (1534-1582) because both individuals had to tackle the warrior monks. Indeed, it is clear that warrior monks for long periods of Japanese history between both individuals often played a military role within the body politic of old Japan. The military prowess and intrigues of Buddhist warrior monks is often difficult to understand for outsiders because of the splendid majesty of so many temples and gardens throughout modern day Japan.
In another article about Tadamori I comment: "Tadamori served the Imperial Court and his own Taira clan and just like Oda Nobunaga (1534-1582) many centuries later, the warrior monks became a source of conflict for Tadamori during his lifetime. It is often difficult for outsiders to understand the military prowess of Buddhist warrior monks but clearly they were a threat in this period of Japanese history. This reality meant that Tadamori would clash with the warrior monks of Mount Hiei and Nara while serving the Taira clan."
Another major concern for the upper echelons in the twelfth century was the role of piracy. Not surprisingly, the Imperial Court fully understood this and once more Tadamori stepped up to the plate in order to launch important military campaigns against pirates. Notable military campaigns apply to the coasts of Nankaido and San'yodo. Of course, the Taira clan gained enormously from the prowess and wise ways of Tadamori. After all, this notable samurai warrior understood the higher plain of culture that went hand-in-hand with power consolidation and power concentration.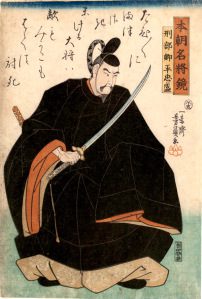 In this period of Japanese history it is abundantly clear that Japanese folklore, superstition and the power of religion were all powerful forces within the cultural norms of old Japan. This reality means that Tadamori became known through the channels of Japanese folklore in relation to the mysteries of the underworld. Therefore, the bravery and noble ways of Tadamori also shine out when he is depicted fighting demons and other sinister forces.
The Toshidama Gallery provides a rich glimpse of the role of art and culture based on the deeds and folklore mysteries that surround Tadamori. This notable gallery states: "A fine theatrical triptych from Kunichkia showing Onoe Kikugoro as Taira no Tadamori and Ichikawa Danjuro as the Oil Thief in a play that tells the story of a mysterious monster haunting a temple precinct. The emperor Shirakawa was perturbed by the appearance of a demon in the forest around the temple. It was reported that the demon had a fearful spiked head and breathed fire. The warrior and samurai Tairo no Tadamori was charged with confronting the creature and defeating it. Tadamori lay in wait for the awful apparition but instead of confronting a demon, Tadamori sees a harmless old monk in a straw hat carrying a lantern. It turns out that the impoverished monk was in the habit of creeping through the woods at night stealing a little oil from each of the standing lanterns in the trees. Tadamori apprehends the oil thief and is handsomely rewarded by the Emperor for his bravery."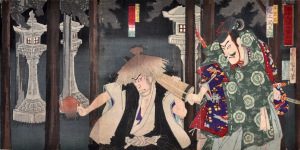 Overall, Tadamori highlights the rich legacy of the Taira clan and the intrigues of the Imperial Court in this period of Japanese history. Not surprisingly, Tadamori is highlighted within Japanese folklore, art, kabuki plays and other powerful mediums.
http://www.toshidama-japanese-prints.com/item_253/Yoshikazu-A-Mirror-of-Our-Countrys-Generals–Taiara-no-Tadamori.htm
http://www.toshidama-japanese-prints.com/item_623/Kunichika-Onoe-Kikugoro-as-Taira-no-Tadamori-and-Ichikawa-Danjuro-as-the-Oil-Thief.htm
More Information about TOSHIDAMA GALLERY 
Please visit http://toshidama.wordpress.com and http://toshidama.blogspot.jp/ for more articles and information. 
Please visit http://toshidama-japanese-prints.com/  –   On our site you will see a wonderful selection of Japanese woodblock prints for sale. Ukiyo-e (the Japanese name for woodblock prints of the 18th and 19th centuries) are beautiful, collectible and a sound financial investment.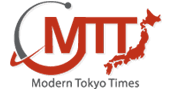 Modern Tokyo News is part of the Modern Tokyo Times group
DONATIONS to SUPPORT MODERN TOKYO TIMES – please pay PayPal and DONATE to sawakoart@gmail.com
http://moderntokyotimes.com Modern Tokyo Times – International News and Japan News

http://sawandjay.com Modern Tokyo Times – Fashion
https://moderntokyonews.com Modern Tokyo News – Tokyo News and International News

http://global-security-news.com Global Security News – Geopolitics and Terrorism
PLEASE JOIN ON TWITTER
https://twitter.com/MTT_News Modern Tokyo Times
PLEASE JOIN ON FACEBOOK
https://www.facebook.com/moderntokyotimes
Some Japanese art and cultural articles are republished by Modern Tokyo Times in order to inform our growing international readership about the uniqueness of Japan.