Kintaro in Japanese Folklore and Art
Lee Jay Walker
Modern Tokyo Times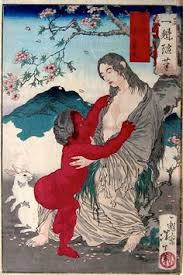 Kintaro remains extremely popular in modern Japan because of the power of animation and other aspects of modern culture that maintains his rich visibility. In the Edo period the world of noh, kabuki and ukiyo-e provided a rich vein of information about Kintaro. This powerful information is tinged with amazing creativity whereby his prowess goes beyond the norm. In Japanese folklore, Kintaro is known by the name of Golden Boy. According to legend, Kintaro was a child who was blessed with unbelievable power. Also, this special individual blended naturally with nature based on his upbringing.
The upbringing of Kintaro was based on his mother who cared for him and this special individual would also develop relations with the animal world. In many art pictures of Kintaro, you will see faithful monkeys. On top of this, Golden Boy is mainly depicted by the color red when it comes to ukiyo-e art. This angle highlights his strength and unique qualities of Kintaro.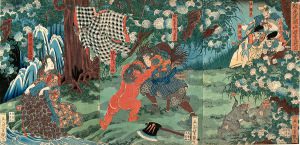 Kintaro is widely believed to be Sakata Kintoki according to Japanese folklore. Therefore, once Kintoki became a loyal retainer of Minamoto no Yorimitsu in the Heian period much is transformed by his power and abilities as a Japanese warrior.
Toshidama Gallery comments about the depiction of Kintaro by the artist Utagawa Yoshikazu by stating: "Yoshikazu portrays Kintaro (the Golden Boy) wrestling one of Yorimitsu's retainers. Kintaro, as with so many Japanese heroes, is the subject of legend and possibly some fact. Raised by his mother near Mount Kintoki it was said that he was a wild child of superhuman strength – wrestling bears, uprooting trees – and he befriended and spoke to animals especially his friends the monkeys."
"Yoshikazu pictures him at the moment he is discovered by the samurai Minamoto no Yorimitsu…Kintaro is usually pictured in red, and with his faithful monkeys and axe with is discarded in the foreground of the print. His mother is shown in the left hand panel and Yorimitsu in the right."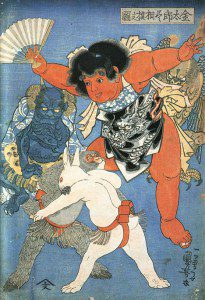 Toshidama rightly reports that Kintaro remains a popular figure in modern Japan and that he is viewed to be a symbol of great fortune for young boys. Also, in modern Japan, the amazing Kintaro can be seen in books, manga, statues, animation, and in other aspects of modern culture, in the land of the rising sun. Indeed, the computer game Mortal Kombat draws strong parallels with Golden boy. Therefore, Kintaro is equally at home in the old world of noh, kabuki, and ukiyo-e – and the new world of animation, manga, and computer games that highlight the potency and importance of Golden Boy.
Of course, given the nature of Japanese folklore then you have several angles to his childhood. Some stories claim that (already mentioned) his mother looked after him and cared deeply about Kintaro. Other information about Kintaro claims that his mother fled to the mountains after a family dispute. Therefore, his mother and Kintaro began to learn the ways of the mountains and how to survive such harsh conditions. Likewise, another angle is that his mother took him to the mountains and left him an orphan after passing away. Of course, other stories related to his upbringing are also told – for example, he was raised by Yama-uba who is a mysterious mountain witch.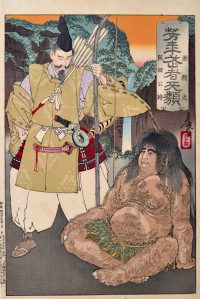 Amazing stories surround Golden Boy and this applies to his childhood prowess and fighting animals. Also, it is alleged that he fought powerful demons and monsters that can be found in Japanese folklore. Irrespective of the "real Golden Boy," it is clear that Kintaro connects strongly with many Japanese people irrespective of time. Therefore, Kintaro remains visible in the old world and within modern animation, manga, and computer games.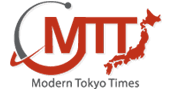 More Information about TOSHIDAMA GALLERY 
Please visit http://toshidama.wordpress.com and http://toshidama.blogspot.jp/ for more articles and information. 
Please visit http://toshidama-japanese-prints.com/  – On our site you will see a wonderful selection of Japanese woodblock prints for sale. Ukiyo-e (the Japanese name for woodblock prints of the 18th and 19th centuries) are beautiful, collectible and a sound financial investment.
http://www.toshidama-japanese-prints.com/item_152/Yoshikazu-Kintaro-Wrestling.htm
http://www.toshidama-japanese-prints.com/item_636/Yoshitoshi-Yoshitoshis-Courageous-Warriors–Minamoto-Discovers-Kintaro.htm
http://www.toshidama-japanese-prints.com/item_231/Chikanobu-Edo-Embroidery-Pictures-Day-and-Night–Kintaro.htm