Moscow Considers Trump Too Weak to Be Useful
Publication: Eurasia Daily Monitor 
The Jamestown Foundation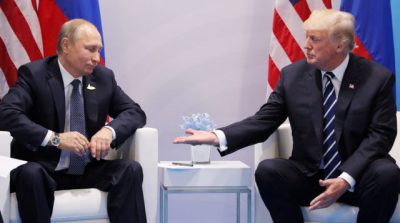 The US House of Representatives has with an overwhelming majority passed a bill reinforcing sanctions on Russia, Iran and North Korea, and the Senate seems ready to approve the bill this week. Russian state news agencies report that US President Donald Trump may have no other option but to sign the bill, though it will bar him from easing sanctions without Congressional approval in the future (Interfax, July 27). The Russian reaction to the new sanction legislation has been extremely angry: Trump has been accused of being too weak to control the "Russophobic US establishment." The media has claimed that the Kremlin has been extremely tolerant in its response to "US provocations," expecting that Trump would eventually put his act together and change the "negative dynamic of the US-Russian relations" as he promised during his presidential election campaign in 2016. However, the US Congress now seems to have made that impossible, while Trump himself has been making one mistake after another. The mass-circulation daily Moskovsky Komsomolets implies that Trump may have been a good real-estate manager, but he seems not to be up to the level of running the US presidency and his administration is constantly in crisis. Moscow had previously given up any hope to improve relations with Washington during the Barack Obama administration. It waited for a replacement administration to emerge and had high hopes placed on Trump that seem now to be teetering out—the United States apparently is unwilling to rebuild relations while Russian President Vladimir Putin is in power; both Moscow and Washington treat each other as enemies and are falling back to military-based mutual deterrence mode (MK.ru, July 26).
According to Russian Senator Frantz Klintsevich, "a new Cold War may begin" and the possibility of cooperation between Moscow and Washington will be forfeited if the bill on sanctions becomes law (MilitaryNews, July 26). According to the Chair of the Federation Council's (upper house of parliament) Foreign Relations Committee, Konstantin Kosachev, the official Russian reaction must follow after the sanctions bill becomes law and "must pain the Americans." Kosachev implied that Trump personally is opposed to the sanction bill, "but he is demoralized and lacks political will to resist." Russia hopes to find common ground with the European Union, which has expressed misgivings about the US sanction bill, and possibly jointly oppose Washington. "The Europeans are not our friends, but if their economic interests are infringed, they may decide to do something," continued Kosachev (interfax-russia, July 26).
Deputy Foreign Minister Sergei Ryabkov, the top Russian diplomat in charge of US-Russian relations, accused enemies of Russia in the United States of deliberately worsening relations. Moscow will now treat Washington "as a source of danger," continued Ryabkov. At the same time, bad Russophobes in Washington, according to Ryabkov, want to undermine the decision-making power of the Trump administration (TASS, July 26).
During a visit to Finland this week, Russian President Vladimir Putin denounced US actions as "cynical and boorish." Putin rejected as baseless accusations of Russian meddling in the US elections, accused Washington of continuously "provoking Russia" and promised that a reply to the sanctions will depend on the final text of the bill after and when it becomes law. Putin believes "unilateral US sanctions are illegal" and will seriously harm relations. He also expressed hope that "our many friends in America" will eventually help reverse the crisis in relations "for the good of our people" (TASS, July 27).
The nature of Moscow's retaliation to US sanctions has not been publicly disclosed. Senator Alexei Pushkov, former chair of the Duma's Foreign Relations Committee, proposed that Russia might fine or possibly close down McDonald's restaurants in Russia for alleged breaches of sanitary regulations "as part of our political and economic warfare strategy." According to Pushkov, "American business is making money in Russia, but it does not lobby against anti-Russian sanctions [in Washington]." The possible closure of the McDonald's restaurants will not harm the Russian public, according to Pushkov, adding that "they will be surely replaced with some other fast food restaurant chain, maybe Russian" (RIA Novosti, July 26).
Moscow is expected to expel 35 US diplomats, limit the number of US diplomats accredited in Russia and take over some US diplomatic property in Moscow as a delayed tit-for-tat move for an expulsion of Russian diplomats last December and the seizing of Russian country residences (dachas) in Maryland and Long Island in punishment for alleged Russian meddling in the US 2016 elections. The United States, China and Russia are reportedly in negotiations to find a compromise formula of a draft US-sponsored UN Security Council resolution imposing additional sanctions on North Korea as punishment for testing an ICBM on July 4. Moscow may decide to stiffen its stance and reject any new sanctions on North Korea, even if China agrees not to oppose them. Russia may refuse to sell enriched uranium, titanium and rocket engines to the United States or ship US astronauts to the International Space Station. US multinational companies—McDonald's, Coca-Cola, PepsiCo and others—may be harassed and their investments in Russia seized (Kommersant, July 27).
It is not clear whether US investments in Russia will be targeted and if so, whether it will be in the form of harassment—such as additional inspections and fines—or an outright seizure. According to Alexei Kudrin, former Russian finance minister and long-time friend of Putin, there is no hope left that the sanctions against Russia will be lifted anytime soon. The immediate effect of the new sanctions on the Russian economy will be relatively limited, according to Kudrin, but in the long run the adverse effect will be serious, restricting the import of new technologies and investments and limiting Russia's ability to integrate into the world economy (TASS, July 27). A decisive long-term downturn in US-Russian relations will most likely mean more internal repression of alleged "foreign agents"—such as any leftovers of a free press—and harassment of any non-profit organizations or individuals connected to the United States or Western NGOs. Russia treating the United States as an immanent foreign and domestic danger or threat may mean more aggressive actions internally and externally—a full return to zero-sum relations, with the Kremlin trying to harm anything it sees as connected to the United States.
The Jamestown Foundation kindly allows Modern Tokyo Times to publish their highly esteemed articles. Please follow and check The Jamestown Foundation website at http://www.jamestown.org/
https://twitter.com/JamestownTweets The Jamestown Foundation
https://jamestown.org/program/moscow-considers-trump-too-weak-to-be-useful
Photo source: Image from the original article by The Jamestown Foundation from Reuters