NATO and Obama Continue to Allow Turkey to Plot ISIS and Sectarian Intrigues against Syria
Nuray Lydia Oglu, Noriko Watanabe and Lee Jay Walker
Modern Tokyo Times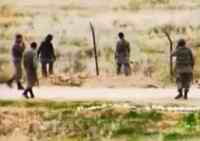 It is abundantly clear that Shia militias in Iraq and the policies of Iran are bailing out America in this country. Despite this, the reward that Tehran gets is virtually nothing because in Syria the American administration is working closely with the sponsors of Sunni Takfiri terrorism. In other words, President Obama is more concerned about America being in the same lion dens of Qatar, Saudi Arabia and Turkey. Therefore, the tenacious Syrian army that is fighting ISIS (Islamic State – IS), al-Nusra and many Takfiri sectarian terrorists, will continue to be undermined by the intrigues of Ankara and Washington despite the clear connection between ISIS and Turkey.
Newsweek reported last year that "A former member of ISIS has revealed the extent to which the cooperation of the Turkish military allows the terrorist group, who now control large parts of Iraq and Syria, to travel through Turkish territory to reinforce fighters battling Kurdish forces."
Similarly, the Daily Mail (United Kingdom) reports "A remarkable video has emerged purporting to show Islamic State militants chatting casually with a group of Turkish border guards near the besieged Syrian city of Kobane…The amateur footage, understood to have been filmed close to Zarova Hill in the outskirts of Kobane, raises serious questions about the apparently relaxed relationship between the terror group and officials from the Nato member state."
The Daily Mail continues: "There are also serious questions over why Turkey has allowed thousands of Western jihadists – who enter the country on budget airlines in tourist resorts – to easily pass over the border into Syria to join ISIS fighters there."
Of course, on a bigger picture it is abundantly clear that Turkey under President Erdogan is enabling various sectarian and terrorist forces to utilize border areas. At the same time, MIT is clearly involved in logistics and operational levels to varying degrees because military arms and revenues are flowing easily between ISIS and Turkey in border areas. Despite this, it is clear that NATO and President Obama are not worried about this reality, despite dissenting voices being raised in America within high circles.
Indeed, the Vice President of America, Joe Biden, linked NATO Turkey to terrorism but somehow Obama, the mass media and NATO are not worried about this reality. Biden stated "The Turks, who are great friends — I have a great relationship with Erdogan, whom I spend a lot of time with — the Saudis, the Emiratis, etc. What were they doing? They were so determined to take down (Syrian President Bashar) Assad and essentially have a proxy Sunni-Shia war."
Biden continued "What did they do? They poured hundreds of millions of dollars and thousands of tons of weapons into anyone who would fight against Assad — except that the people who were being supplied were al-Nusra and al-Qaeda and the extremist elements of jihadis coming from other parts of the world."
Al Monitor reports "The New York Times reported in early May from the Turkish town of Akcakale that bags of ammonium nitrate, which is used as fertilizer, were being sent from that region to parts of Syria held by IS."
It is abundantly clear that ammonium nitrate can be harnessed for bomb making. Of course, this was denied by officials locally in Turkey but not by a local politician who insisted it was being sold for bomb making purposes. Therefore, Semih Idiz (Al Monitor) states "…assuming what officials say is true, this still raises the question why a chemical compound — whose destructive force was seen in the Oklahoma City bombing in April 1995 — is being allowed into part of Syria held by IS.
Polat Can, spokesperson for the YPG, stated "There is more than enough evidence with us now proving that the Turkish army gives ISIS terrorists weapons, ammunitions and allows them to cross the Turkish official border crossings in order for ISIS terrorists to initiate inhumane attacks against the Kurdish people in Rojava [north-eastern Syria]."
A former member of ISIS told Newsweek "ISIS saw the Turkish army as its ally especially when it came to attacking the Kurds in Syria. The Kurds were the common enemy for both ISIS and Turkey. Also, ISIS had to be a Turkish ally because only through Turkey they were able to deploy ISIS fighters to northern parts of the Kurdish cities and towns in Syria."
Al Monitor in another article reports: "Fighters coming via Chechnya and Afghanistan are met at the Syrian border. There are intelligence officials there. Those crossing the border inform the intelligence people of their affiliation and under whose command they will be. Then, they cross the border and report to their units."
The same article states "There are al-Qaeda mujahedeen from Afghanistan and the Caucasus fronts who come with their families. Most of them settle in Syria. There are hundreds of militants who come the same way from Northern Africa, the Caucasus, Europe and Afghanistan. They simply cross the Turkish border and join the fight."
However, despite the obvious links between various terrorist groups utilizing Turkey based on the goodwill of the current government, this doesn't concern NATO and Obama. After all, if America and fellow NATO members were concerned by the terrorist ratlines linking Turkey with various sectarian and terrorist forces, then elites in Ankara would have been abandoned and isolated by now. Instead, NATO Turkey and fellow sectarian allies in Qatar and Saudi Arabia are allowed to plot their terrorist and sectarian intrigues in Libya, Iraq, Syria and Yemen.
In other words, Turkey is being rewarded for its role in destabilizing Syria despite the fact that ISIS and other terrorist groups have utilized the deeds of Ankara to the full. Therefore, the cleansing of Christians, mass beheadings of Alawites, the executions of Syrian soldiers and civilians by ISIS and other terrorist groups, and an array of other barbaric acts, have all been boosted by the roles of Ankara, Doha and Riyadh. Despite this, the usual Western powers of America, France and the United Kingdom tolerate this reality because of various geopolitical motives. Also, like usual, the eyes of NATO are firmly closed because Turkey isn't being penalized for enabling ISIS and other terrorist groups to grow and prosper in Syria based on the deeds of Ankara.
http://www.dailymail.co.uk/news/article-2811338/Oh-lovely-war-Remarkable-video-shows-ISIS-fighter-strolling-right-Turkish-border-checkpoint-relaxing-chat-guards.html
http://europe.newsweek.com/isis-and-turkey-cooperate-destroy-kurds-former-isis-member-reveals-turkish-282920
http://www.al-monitor.com/pulse/originals/2015/05/turkey-syria-aiming-radical-groups-shipping-weapons.html#ixzz3bM1Tl86v
Modern Tokyo News is part of the Modern Tokyo Times group
DONATIONS to SUPPORT MODERN TOKYO TIMES – please pay PayPal and DONATE to sawakoart@gmail.com
http://moderntokyotimes.com Modern Tokyo Times – International News and Japan News
http://sawandjay.com Modern Tokyo Times – Fashion
https://moderntokyonews.com Modern Tokyo News – Tokyo News and International News
http://global-security-news.com Global Security News – Geopolitics and Terrorism
PLEASE JOIN ON TWITTER
https://twitter.com/MTT_News Modern Tokyo Times
PLEASE JOIN ON FACEBOOK