Nepal Hit by Devastating 7.8 Magnitude Earthquake: At Least 1,450 People Killed
Hiroshi Saito and Walter Sebastian
Modern Tokyo Times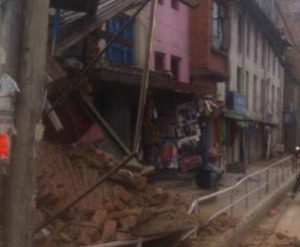 It is known that at least 1,450 people in Nepal have been killed after a devastating earthquake hit this nation. The deadly 7.8 magnitude earthquake is the most powerful to hit this country for over the last 80 years. Sadly, it is feared that the final death count will increase once outlying villages and remote districts are reached. Therefore, the government of Nepal issued a state of emergency in order to tackle the crisis.
The potent 7.8 magnitude earthquake hit central Nepal between Kathmandu, the capital of this nation, and Pokhara. Several nations responded quickly in order to help Nepal during this time of enormous tragedy.
Victims of the earthquake are also being reported in Bangladesh, India and Tibet. Also, in the vicinity of Mount Everest it is known that people have perished. Not surprisingly, the earthquake triggered avalanches on Mount Everest.
Aftershocks could be felt afterwards therefore for people that have been made homeless the situation is dire. This reality, and the enormous loss of life, will clearly challenge the government of this nation.
CNN reports "A 7.8 magnitude earthquake centered less than 50 miles from Kathmandu rocked Nepal with devastating force Saturday, toppling homes, temples and historic buildings and leaving at least 1,457 people dead, authorities said."
Lee Jay Walker at Modern Tokyo Times says "The Ministry of Home Affairs announced the latest death toll but with outlying areas not being reached then it will be a miracle if the number doesn't climb further. At the same time, many people will be made homeless and hospitals will be at breaking point. Therefore, international relief workers must work immediately with the government of Nepal and with regional networks in order to provide assistance quickly."
Sadly, with temperatures at night falling then the next few days are crucial. On top of this, vast numbers of people in Nepal have been left without running water and electricity. Therefore, it is imperative that the government of Nepal and the international community work quickly based on full cooperation.
http://edition.cnn.com/2015/04/25/asia/nepal-earthquake-7-5-magnitude/index.html