New Generation of Politicians Set to Play Growing Role in Kazakhstan
Publication: Eurasia Daily Monitor
By: Alexander Kim
The Jamestown Foundation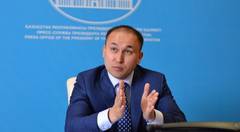 After long years of model stability, Kazakhstan is currently facing increasing turbulence in its economy and security. The country continues to struggle with the negative repercussions of the oil market slowdown, which has exacerbated social tensions domestically—most notably observed in the country-wide protests over land policy at the end of May (see EDM, May 16). The security situation at home has worsened as well, with the recent attacks in Aktobe and Almaty (Tengrinews, June 12; Zakon.kz, July 18), which were most likely stand-alone attacks carried out by groups of marginalized and impoverished citizens with no particular links to international jihadist networks (Kapital.kz, July 21).
After the public land protests in May, President Nursultan Nazarbayev ordered a reshuffling of top government posts on June 21. Astana's mayor, Adilbek Zhaqsybekov, was appointed to head the president's office. Adilbekov replaced Nurlan Nyghmatulin, who in turn was appointed chairman of the Kazakhstani parliament's lower chamber, the Mazhilis. Meanwhile, Investment and Development Minister Aset Isekeshev was named Astana's new mayor; and his deputy, Zhenis Qasymbek, was promoted to head the Ministry of Investment and Development (Tengrinews.kz, June 21).
Kazakhstan's longest serving head of government, Karim Massimov, has been prime minister for a cumulative eight and half years so far, presiding over a period of economic growth, diversification reforms and attempts to raise the country's international prestige (see EDM, September 25, 2012). To the surprise of many observers, he has kept his post amid the government reshuffle. Yet several important changes were made in Massimov and his government's level of public outreach. Specifically, the prime minister has resumed his activity on social media (mainly via Twitter: @KarimMassimov_E), where he now duly informs the population of all his activities and reactions to public events. A new ministry has also been created—the Ministry of Information and Communication—which is being headed by the president's spokesperson Dauren Abayev. The ministry is being entrusted with the primary role of restoring channels of communications between the government and society (Pm.kz, May 6).
Dauren Abayev (37) is a member of a group of relatively young technocrats, often with a foreign education and an international background, which over recent years has increasingly been entering the highest echelons of power in Kazakhstan. A number of mayors of key cities in Kazakhstan—Baurzhan Baybek of Almaty, Asset Issekeshev of Astana, Serik Shapkenov of Atyrau and Gabidulla Abdrakhimov of Shymkent—were all born in the 1970s, and at least three of them belong to the wave of Kazakhstani administrators trained in the West under the government-funded program "Bolashak." They display an open approach to public relations, ride bikes and run marathons, and exude optimism in the country's future. At the same time, they demonstrate undisputed loyalty to President Nazarbayev.
The technocratic class nurtured by the Bolashak program has always enjoyed strong support from Nazarbayev. The first group of these so-called "mladoturks" came to power at the end of the 1990s. Although this initial grouping was largely tainted by its members' participation in a failed opposition movement—Democratic Choice of Kazakhstan—many of them survived the political struggle and held influential positions for decades afterward (former chairman of the National Bank Kairat Kelimbetov is the best example). Although the technocrats compete for political connections, they do this in a more open way, seeking public support and generally committing to modernization and good governance standards. In recent years, they (as researcher Sally Cummings predicted in her 2005 book Kazakhstan: Power and the Elites) have no longer been comprised of Slavs or Western-minded Kazakhs; rather, they now tend to represent Kazakhs with a good command of the Kazakh language and a respect for national traditions.
The Bolashak program and the bureaucrats and officials it has produced represent a cornerstone of the Kazakhstan 2050 vision, which aims to lift the Central Asian republic into the world's top 30 most-developed countries. Similarly, the Bolashak program is integral in the Plan of the Nation (the so-called "100 Concrete Steps"), announced in 2015, which consists of five national institutional reforms, including the most heavily prioritized—the reform of the public service. The Kazakhstani government has already gone through several transformations and reforms and has become a more manageable structure with streamlined bureaucratic procedures. However, it is still inefficient in responding to mounting social, political and economic problems.
A recent expert assessment showed that the government and law enforcement agencies are receiving lower approval ratings because of the worsening social-economic situation, land issues, currency volatility, and the recent series of terrorist attacks (Ofstrategy.kz, July 2016). Most importantly, as communication between the government and the public suffers and mistrust widens, it is questionable whether the technocrats will actually be able to succeed in reaching out to the mostly impoverished and marginalized members of the Kazakhstani population who were active in this year's protests.
All government reshuffles tend to be closely scrutinized by analysts as possible clues into President Nazarbayev's plans for his own future succession. Nazarbayev, who just turned 76, is likely to opt for a more collective style of government to succeed him (Centralasiamonitor.kz, June 19, 2015)—one supported by stronger institutions and overseen by members of his family. It is believed Dariga Nazarbayeva, the president's eldest daughter and a current deputy prime minister in Massimov's cabinet, could play a key role. Either way, the new generation of politicians will undoubtedly play a greater role in the future transition as they continue to take up more posts in the national government and in the regional administrations. Will this combination ensure a stable handover of power, however?
The researcher Sean Roberts once called Nazarbayev a "lame duck" (PONARS Eurasia Policy Memo No. 231, September 2012): although the president enjoys vast popularity and may rule for many years to come, the question of his successor is of paramount importance both inside the country and outside it. These concerns are also shared by the country's elites, who are devising their own strategies in anticipation of a coming leadership transition. At least in the short term, inexperienced technocratic leaders who support modernization and love publicity may in fact contribute to some growing frustration in Kazakhstan's society, which still has a deep regard for tradition and is increasingly religious. But on the other hand, the country needs reforms and competent management. Many in the country, therefore, hope that Nazarbayev will retain his ability to sense the public sentiment and manage growing intra-elite competition—a skill that, as Roberts noted, "has been a hallmark of his rule in Kazakhstan for over twenty years."
The Jamestown Foundation kindly allows Modern Tokyo Times to publish their highly esteemed articles. Please follow and check The Jamestown Foundation website at http://www.jamestown.org/
https://twitter.com/JamestownTweets The Jamestown Foundation
http://www.jamestown.org/single/?tx_ttnews%5Btt_news%5D=45709&tx_ttnews%5BbackPid%5D=228&cHash=1419dbed287ab3ee6280484937f7ec97#.V8hj74VA2E4
Photo source: Dauren Abayev, new Minister of Information and Communication (Source: saigez.kz)