PM Mitsotakis of Greece Wins Election: Family Dynasties
Sawako Utsumi and Sawako Uchida
Modern Tokyo Times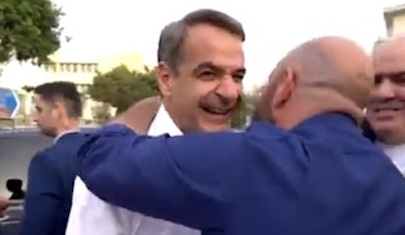 The election in Greece is a resounding win for Prime Minister Kyriakos Mitsotakis. This is despite the Predator (spyware) and phone bugging scandal where rival politicians were spied on. Therefore, the expected convulsions of the spyware scandal never materialized.
President Joe Biden of America will be ecstatic about the election result in Greece. After all, historically, Greece and the Russian Federation have cordial relations concerning Orthodox Christianity. However, the Harvard-educated Mitsotakis is anti-Russian Federation and firmly in the Biden camp.
Mitsotakis and his New Democratic Party (center-right) are set to win approximately 41% of the vote. In comparison, Alexis Tsipras of the Syriza Party (center-left) looks set for roughly 20%.
It seems that recent economic growth was the main factor behind the election win for Mitsotakis.
Mitsotakis said: "People want a strong government with a four-year mandate so that we can cover the lost ground that separates us from Europe. A government is needed that really must believe in reforms so that it can implement them."
Accordingly, Mitsotakis wants a second election to form a strong government.
Voice of America reports, "A second election, likely to be held in late June or early July, would be conducted under a new electoral law that gives bonus seats to the winning party, making it easier for it to form a government on its own."
The family-run political dynasties of Canada, Greece, and Japan in the northern hemisphere (and others) – are all too depressing because this shouldn't be happening under democracy.
The BBC reports, "His father Konstantinos Mitsotakis was himself prime minister in the early 1990s; his sister Dora Bakoyannis was foreign minister and her son Kostas Bakoyannis is the current mayor of Athens."
The Guardian reports, "Sunday's ballot was the first since the EU and IMF, which orchestrated the biggest bailout in global financial history to avert a Greek default, ceased supervising the country's finances."
Lee Jay Walker says, "Mitsotakis gained from the various parties on the left being divided and winning or losing votes against each other. Accordingly, Pasok (socialist) and KKE (communist) made modest gains – unlike Syriza (left-wing). Also, approximately 40% of people didn't vote in the election."
Canada, Greece, Japan, the Philippines, and many others are meant to be democratic. However, the ruling political families keep on rising to the top. Therefore, while it seems that Canada and Greece – for example – have leaders offering fresh hope: the reality is very different because political connections and privileged family politicians merely change the words to become elected.
Many voters in Greece voted for Mitsotakis concerning economic factors and a sense of continuity – given the recent economic chaos of this nation.
Accordingly, dynastic politics is a pulling power in democratic and non-democratic nations.
Modern Tokyo News is part of the Modern Tokyo Times group
http://moderntokyotimes.com Modern Tokyo Times – International News and Japan News
http://sawakoart.com – Sawako Utsumi's website and Modern Tokyo Times artist
https://moderntokyonews.com Modern Tokyo News – Tokyo News and International News
PLEASE JOIN ON TWITTER
https://twitter.com/MTT_News Modern Tokyo Times
PLEASE JOIN ON FACEBOOK