Russia and Turkey Mend Fences as US-Russian Relations Nosedive
Publication: Eurasia Daily Monitor
The Jamestown Foundation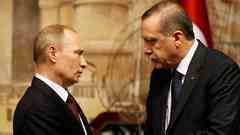 Reports emerged in Moscow and Ankara, on June 24, that Turkish President Recep Tayyip Erdoğan wrote his Russian counterpart, Vladimir Putin, a letter apparently apologizing for the loss of a Russian Su-24 bomber and the death of its pilot. The Russian jet had been shot down by a Turkish F-16, on November 24, 2015, during a bombing raid on the Turkish-Syrian border. This incident sparked a major Russo-Turkish confrontation. The Turks accused the Russian aircraft of venturing into their airspace, which Russia strongly denied. Moscow imposed punitive sanctions and discouraged Russian tourists from traveling to highly popular Turkish Mediterranean Sea resorts. For months, Putin refused to take Erdoğan's phone calls. Moscow demanded Turkey must apologize and pay compensation. Turkey has not yet publicly committed to pay anything, though the family of the killed Russian pilot may eventually be compensated. Erdoğan's letter was interpreted by some commentators as an expression of regret and not an actual apology (Kommersant, June 28). But the Kremlin insisted it was indeed an "apology" and that it was accepted (TASS, June 28).
It seems the formula to kick-start a Russo-Turkish detente was worked out beforehand. Turkish Prime Minister Binali Yıldırım publicly thanked the leaders of Kazakhstan and Azerbaijan, Nursultan Nazarbayev and Ilham Aliyev, respectively, "for facilitating the process of normalizing relations with Russia" (Interfax, June 28). The text of Erdoğan's letter could have been agreed with the help of intermediaries beforehand, which may explain the swift positive reaction from the Kremlin. Though the current detente with Turkey still appears tentative, Russian state-controlled agitprop immediately changed course from slandering Turkey to praise. Vladimir Zhirinovsky, the leader of the far-right Liberal-Democratic Party of Russia (LDPR) fraction in the Duma, told journalists: "Turkey will soon exit NATO [the North Atlantic Treaty Organization] and join the [Russian-lead] Customs Union. Turkey will be closer to Russia than Belarus, Kyrgyzstan or even Armenia. We will restore our relations in full" (TASS, June 28). Though a nationalist demagogue, Zhirinovsky often knowingly reflects in public the underlying opinions of the nomenklatura (key administrative appointees) in Putin's Kremlin.
On June 29, Putin and Erdoğan spoke on the phone for over 40 minutes—their first such conversation after the downing of the Russian jet. According to the Kremlin, the two leaders agreed to "turn a leaf in their relations and resume cooperation on regional and international issues." Moscow agreed to remove all obstacles preventing Russian tourists from visiting Turkey and pledged to begin promptly lifting its trade embargoes. Russian and Turkish foreign ministers will soon meet "to discuss Syria and other regional issues" (Interfax, June 29). A summit between Putin and Erdoğan has been agreed, and practical preparations are underway. According to the Kremlin press service, Putin and Erdoğan may ether have a meeting on the fringes of the G20 summit next September in China "or possibly earlier and separate of the G20" (Interfax, June 30).
The Russian tourist industry is reportedly overjoyed to have Turkey back as a destination, while Russian retailers say they hope to have cheap and quality Turkish fruit and vegetables back on the shelves in a couple of weeks, if the authorities give the go-ahead. Major energy projects—the building of a nuclear power plant in Turkey and an additional natural gas pipeline under the Black Sea, known as Turkish Stream—were effectively frozen, but could possibly be reactivated as Moscow and Ankara move closer again (Kommersant, June 29).
The decisiveness and swiftness of the Russo-Turkish detente this week seems to indicate both sides have an inherent interest in mending fences. Russia is seeking this at least as much, if not more than, Turkey—and the business interests of tourist agencies and retailers are not the vital issue. The Russian military-political offensive in Syria is today at a crossroads, and Moscow may try to find a quid pro quo to enlist Turkish understanding. The Russian military is reportedly angry with the futile attempts to work together with the United States in Syria. Russian military sources accuse the US of failing to follow up on obligations to push the Syrian opposition to "separate" from jihadists and join the forces of Bashar al-Assad, whom Moscow considers the "legitimate Syrian leader." The partial ceasefire in Syria, declared jointly by Moscow and Washington last February, is crumbling. Defense Minister Sergei Shoigu recently visited Syria and met with al-Assad as part of the preparations for a major offensive against the Syrian opposition—reportedly named "Vozmezdiye" ("Payback") (see EDM, June 23; Kommersant, June 27).
In contrast, US-Russian relations are caught in a nosedive. Moscow and Washington have accused each other of harassing their respective diplomats, as in the worst days of the Cold War. Moscow has threatened tit-for-tat actions in the future (Interfax, June 23; RIA Novosti, June 28). The Russian defense ministry has accused the US destroyer Graveley of endangering and harassing the Russian frigate Yaroslav Mudry in the Mediterranean. The Yaroslav Mudry is part of a Russian naval force led by the cruiser Varyag, deployed off Syria to support the Russian air and land military effort (Interfax, June 28). The Pentagon, in turn, accused the Yaroslav Mudry of potentially threatening the carrier Harry S. Truman (Interfax, June 30). Apparently the Truman was carrying out airstrikes against Islamic State targets in Syria, while, according to the US navy, the Yaroslav Mudry approached too close; the USS Graveley (part of the carrier's escort) could have been sent to chase the Russian vessel away. Such incidents happen, and no one was hurt. But relatively insignificant episodes like this are increasingly becoming a bone of public contention, thus highlighting the deterioration of US-Russian relations.
Next week, at a summit in Warsaw (July 8–9), NATO members may agree to a Romanian initiative to create a permanent Black Sea maritime deterrent force. Moscow has angrily denounced this plan as "destabilizing," rebuking the Alliance for encroaching into the Black Sea, which purportedly "has never been part of NATO's space" (see EDM, June 16). Of course, without active participation by Turkey, it will be virtually impossible for NATO to build a credible "permanent Black Sea maritime deterrent force."
In Syria and in the Black Sea, Ankara's role looks critical, and Moscow is apparently ready to make overtures to gain a measure of Turkish cooperation—or at least tacit understanding. Before the Russian jet was shot down last November, wooing Erdoğan seemed to be one of the pillars of Putin's regional policy. Today, despite all the heated talk of Turkish backstabbing, the "woo Erdoğan" agenda appears to have been granted a second chance.
The Jamestown Foundation kindly allows Modern Tokyo Times to publish their highly esteemed articles. Please follow and check The Jamestown Foundation website at http://www.jamestown.org/
https://twitter.com/JamestownTweets The Jamestown Foundation
http://www.jamestown.org/single/?tx_ttnews%5Btt_news%5D=45564&tx_ttnews%5BbackPid%5D=7&cHash=c0e1856689b661409b2b808f4ee31284#.V3bGk676mC4
Publication: Eurasia Daily Monitor Volume: 13 Issue: 118 – The Jamestown Foundation
Photo source: This image uploaded in the original article by The Jamestown Foundation is Presidents Vladimir Putin and Recep Tayyip Erdogan by http://thepeninsulaqatar.com