Strategic War Game Zapad 2017 Has Begun
Publication: Eurasia Daily Monitor 
The Jamestown Foundation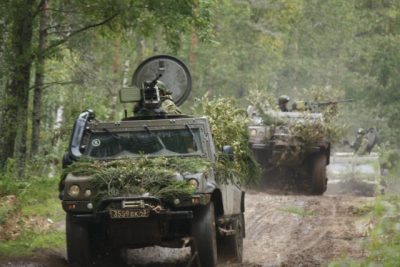 Last November, in Minsk, at a session of the joint Russian-Belarusian "defense collegium," Russia's minister of defense, Army-General Sergei Shoigu, declared the upcoming strategic war game, Zapad 2017, to be "the most important joint military exercise of the Armed Forces in 2017." According to Shoigu, Zapad 2017 is a joint response to the North Atlantic Treaty Organization's (NATO) increased military activities on the borders of the Russia-Belarus Union State: "On the western borders of the Union State, the [United States] and other NATO members are increasing their aggressive potential, building bases and developing their military infrastructure." Shoigu accused the West of "continuing attempts to force its will on other nations using military force, economic and military pressure, and information warfare." The Russian defense minister declared that a well-rehearsed military response by the Union State of Russia and Belarus during Zapad 2017 is essential "when international law is becoming irrelevant and military tension zones are reaching our borders" (RIA Novosti, November 2, 2016).
Today, the preparation, mobilization and deployment of forces have been essentially completed; Zapad 2017 will reach its climax from September 14 to September 20. Russian officials and generals are playing down the scope and strategic significance of Zapad 2017 in the media, insisting it is purely defensive, primarily anti-terrorist in focus, and limited in size. This year's Zapad scenario begins with a foreign-sponsored "hybrid warfare" attack on Belarus and Russia's Baltic exclave of Kaliningrad by subversive elements ("terrorists") supported and supplied by three fictitious bordering countries (apparently NATO members). According to the commander of the Western Military District, Colonel-General Andrei Kartapolov, in drafting the Zapad 2017 scenario, the Russian military command utilized its experience of involvement in the Syrian civil war. Under the Zapad 2017 scenario, the NATO-supported subversive "terrorists" are bent on regime change in Belarus and maybe in Russia—possibly demanding democratic reforms (Redstar.ru, September 12). Kartapolov (53) is, since February 2015, personally under European Union sanctions for planning and executing, as chief of the Main Operational Directorate of the General Staff, Russian military involvement in Donbas. From December 2016 to May 2017, Kartapolov was in charge of the Russian military operation in Syria.
In Zapad 2017, elite armor and air force units are rapidly deployed to the Western front to contain and then suppress the fictitious NATO-sponsored "terrorists" and subversive elements. While in the second phase of the military exercise, the conflict develops into a regional war as the fictional NATO countries that supported the initial hybrid attack begin full-scale "aggression" to aid the defeated "terrorists." To contain the aggression, the joint Russian-Belarusian forces begin a counteroffensive. One of the NATO aggressor states in the scenario—Vaisnoria—is physically located in the northwest corner of Belarus, adjacent to the so-called "Suwałki gap," a territorial corridor on the Lithuania-Poland border that separates the Kaliningrad enclave (oblast) from Belarus. The location of "Vaisnoria" on Belarusian territory allows the military units participating in the war game not only to attack the simulated NATO aggressors, but also actually to practice occupying "enemy" territory while in hot pursuit of the defeated invaders. This may possibly be a dry run in anticipation of a potential real conflict scenario in which Russian would need to breach the "Suwałki gap" and secure a land corridor to Kaliningrad by military means (Militarynews.ru, September 14).
Moscow has officially informed the Organization for Security and Cooperation in Europe (OSCE) that some 12,700 servicemen will be taking part in Zapad 2017. Of them, some 7,000 will be Belarusian troops. Also participating in the exercise will be 140 tanks, 150 guns and multiple-launch rocket systems (MLRS), as well as 40 aircraft. Keeping military personnel under 13,000 allows Russia to accept Western military observers on a purely voluntary bases under the terms of the Vienna OSCE document (2011 version). Moscow has announced it will accept foreign observers and journalists, but their access and duration of stay in the operation zone will be limited. Moscow has promised that by October 1, all Russian troops deployed in Belarus will be back home and that neighboring countries need not worry—Zapad 2017 is not a prelude to an invasion (Militarynews.ru, September 14).
The relatively low number of service personnel officially involved (fewer than 6,000 Russian soldiers) is apparently just a way to bypass the Vienna Document's requirements. Last year, the official number of troops taking part in similar end-of-season main strategic war games—Kavkaz 2016—was 12,500. As Kavkaz 2016 wound up, however, the chief of the General Staff and first deputy defense minister, Army-General Valery Gerasimov, told journalists the number of men involved was 120,000, while the previously announced 12,500 figure referred to the number of servicemen who carried out live-fire exercises on specially designated shooting grounds (Mil.ru, September 14, 2016). This was not the end of the numbers story: Defense Minister Shoigu later disclosed the number of defense ministry active service personnel involved in Kavkaz 2016 was 125,000; additionally, some 93,000 civilian defense ministry contract personnel were deployed. Around 600 jets and helicopters took part in Kavkaz 2016 (Interfax, September 19, 2016). Shoigu's figure of 223,000 employed in Kavkaz 2016 could also be incomplete, since it apparently excludes the other paramilitaries from the so-called power ministries known to be involved: the Federal Security Service (FSB), Border Guards, the Ministry of Interior (MVD), the National Guard, and the Ministry of Emergency Situations (MChS) (Mil.ru, September 14, 2016).
All major Russian strategic exercises tend to involve hundreds of thousands of participants. In some cases this is disclosed, but with Zapad 2017 Moscow may insist fewer than 6,000 Russian soldiers are deployed. Maybe someone in the Kremlin decided this will make Russia's public face seem nicer. Kartapolov explained that all over Russia, the logistical-organizational preparation of Zapad 2017 involved lots of personnel for many months. This inflates the overall number of deployed personnel, and the West is using the pretext to slander Russia and misinterpret its intentions (Redstar.ru, September 12).
Admittedly, an armed conflict on the western borders of the Russia-Belarus Union State does not seem probable this fall. But equally clearly, in the framework of Zapad 2017, Russia is testing its military battle readiness and capability to successfully fight a major regional conventional war in Europe that could possibly escalate into a nuclear exchange. On September 9, 2016, during the final stage of Kavkaz 2016, the Russian military test-fired a modernized intercontinental ballistic missile (ICBM). Gerasimov at the time refused to deny or confirm whether the ICBM launch was part of a possible nuclear escalation of the Kavkaz 2016 scenario (Interfax, September 14, 2016).
The Jamestown Foundation kindly allows Modern Tokyo Times to publish their highly esteemed articles. Please follow and check The Jamestown Foundation website at http://www.jamestown.org/
https://twitter.com/JamestownTweets The Jamestown Foundation
https://jamestown.org/program/strategic-war-game-zapad-2017-has-begun
Photo source: mil.ru was the original source of the image in the above article by The Jamestown Foundation