Takfiri Islamists Slaughter Ismaili Shia Muslims in Pakistan: Barbaric Bus Attack
Michiyo Tanabe, Amina Qamar and Lee Jay Walker
Modern Tokyo Times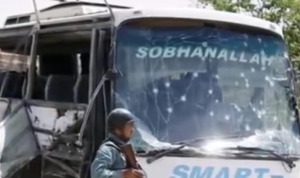 In Pakistan it is clear that the cleansing of Hindus and the systematic persecution of Christians isn't enough for Sunni Takfiri Islamist groups therefore the slaughter of other Muslim sects is relentless. Indeed, the more militant Islam gains ground, then the more fellow Muslims are butchered. This reality is based on the grounds of sectarianism and the notion of other Muslims being deemed apostates by Takfiri Sunni Islamists. Therefore, at least 45 Ismaili Shia Muslims were gunned down on a bus by Sunni Takfiri extremists who adore killing civilians.
It is credulous that when Sunni Islamists do terror attacks in Europe – or when Muslims from Europe go to nations like Iraq, Somalia and Syria to butcher – that issues like alienation are brought up in order to excuse the barbarity they inflict on Muslims and non-Muslims alike. Of course, even when nations are virtually 100% Muslim, like Somalia, the killing is endless because terrorist groups like al-Shabaab adore killing and persecuting in the name of Allah.
The BBC reports: "At least 45 people have been killed and 13 injured in a gun attack on a bus carrying Ismaili Shia Muslims in the Pakistani city of Karachi, police say."
The same source continues by stressing that the latest terrorist attack "is the second deadliest militant attack in Pakistan this year after 62 Shia Muslims were killed in a suicide bombing in January."
Currently it is unknown which terrorist group committed the latest massacre because ISIS (Islamic State – IS) and Jundullah have both claimed responsibility. However, it is most likely related to Jundullah – or an array of terrorist groups linked to the Taliban or various al-Qaeda affiliated groups.
Karachi is blighted by sectarian terrorist attacks mainly aimed at killing the followers of the Shia faith. At the same time, the minority Christian community suffers from the cycle of Takfiri Islamist violence. Therefore, the latest deadly terrorist attack sadly isn't shocking news because Karachi – and Pakistan itself – is blighted by this reality.
The six gunmen that committed the barbaric atrocity will not have blinked an eyelid because their coldness towards diversity is one hundred per cent. Also, the role of Pakistan in destabilizing Afghanistan and spreading Takfiri Sunni Islamist concepts to Kashmir means that this nation created a self induced nightmare that was bankrolled by Gulf states.
It should equally be said that while terrorist groups hit the headlines based on their endless massacres, the sad reality is that systematic persecution of religious minorities is endemic based on institutional religious discrimination. At the same time, Christians and Hindus suffer from their women being kidnapped and forced to convert to Islam. Also, any minor altercation may trigger being killed by normal citizens that deem non-Muslims and other branches of Islam to be inferior.
Attacks against Shia Muslims is especially worrying because of the numbers of people being killed by Takfiri Sunni Islamist zealots that want to turn the clock back to year zero. Therefore, the latest massacre whereby Ismaili Shia Muslims were singled out for slaughter sums up the Takfiri Islamist sickness that is eating away at the heart of Pakistan.
http://www.bbc.com/news/world-asia-32717321