Terrorists Attack the Tomb of Khomeini and Parliament of Iran: e-Khalq, ISIS, Jundallah, Jaish, or Operatives?
Nawal Soueif, Noriko Watanabe, and Lee Jay Walker
Modern Tokyo Times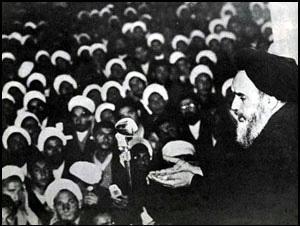 Terrorists have attacked the revered tomb of Ayatollah Ruhollah Khomeini and the parliament of Iran in the capital of this nation. It is known that at least 12 people have perished in the twin terrorist attack in Tehran against potent landmarks. However, despite ISIS (Islamic State – IS) claiming responsibility, it still remains unclear if this Sunni Islamist terrorist group was behind the terrorist attack against Iran.
Of course, ISIS and other Sunni Islamist sectarian terrorist groups are intent on butchering Shia Muslims in Afghanistan, Iraq, Pakistan, Syria, Yemen, and other nations. Similarly, Iran is supporting various forces in Iraq and Syria that oppose the ISIS agenda. Therefore, the motive of ISIS is clearly strong against mainly Shia Iran. Despite this, the terrorist attack in Tehran doesn't follow a similar pattern of this sectarian terrorist group. Also, it would be the first time that ISIS struck the nation of Iran.
The Guardian reports, "The apparently coordinated assaults have been blamed by Iran's hardline Islamic Revolutionary Guard Corps (IRGC) on Saudi Arabia and, whatever the truth of the allegation, they are likely to have a big political impact far beyond Iran, stoking tensions with the US, Saudi Arabia and the Sunni Muslim monarchies of the Gulf."
Internally in Iran, the Islamic Revolutionary Guard Corps ushered a statement saying, "This terrorist attack happened only a week after the meeting between the U.S. president (Donald Trump) and the (Saudi) backward leaders who support terrorists. The fact that Islamic State has claimed responsibility proves that they were involved in the brutal attack."
Turning to other possible suspects then in 2010 the Sunni Islamist terrorist group Jundallah slaughtered 39 people in a terrorist attack against a mosque in the province of Sistan-Baluchistan. It is known that tensions exist in this part of Iran because Jaish al-Adl is another Sunni Islamist terrorist group that is active even if the scale is currently limited. Similarly, you have a Kurdish problem in Iran just like other regional nations but the modus operandi doesn't point in this direction.
It could well be that "the deep state" of either an individual nation – or collection of anti-Iranian nations – had a role in the terrorist attack against the shrine of Ayatollah Ruhollah Khomeini and Parliament of Iran. Likewise, it could be elements of various covert security services that seek to destabilize the region further. Especially with tensions rising against Qatar and with President Donald Trump of America taking an anti-Iran stance. Indeed, America's recent bombing of the forces of the Syrian government is equally aimed at destabilizing the region and spreading more confusion.
Reuters says, "The attacks could also exacerbate tensions in Iran between newly re-elected President Hassan Rouhani, a pragmatist who positions himself as a reformer, and his rivals among hardline clerics and the powerful Revolutionary Guards."
Another possible culprit that launched an attack against important landmarks of the Islamic Revolution is the Mujahedin-e-Khalq. Indeed, this angle also could point in the direction of outside security services with links to this group.
The Guardian reports, "Well-documented covert efforts by George W Bush's administration in the 2000s to destabilize Iran by funding militant internal opposition groups are not forgotten in Tehran. Nor is unofficial, on-off American support for the Mujahedin e-Khalq, or People's Mujahadin of Iran, a group formerly backed by Saddam Hussein that was responsible for numerous armed attacks inside Iran."
If it turns out to be ISIS, like this sectarian terrorist group claims, then a developing trend internationally is becoming worrisome. After all, recent events in Afghanistan and the Philippines highlight the growing tentacles of ISIS. This follows on from ISIS spreading to Libya and Yemen after branching out from its strong base in Iraq and Syria. Also, recent terrorist attacks in the United Kingdom shows how ISIS propaganda is spreading and inspiring Sunni Islamists and the same applies to other European nations.
Overall, it is too early to say who was behind the terrorist attack against Iran. However, the event is worrying because the region doesn't need further destabilization – nor covert operatives instigating tensions.
https://www.theguardian.com/world/2017/jun/07/iran-tehran-attacks-parliament-khomeini-isis-saudi-arabia-donald-trump 
http://www.reuters.com/article/us-iran-security-idUSKBN18Y0HV 
Modern Tokyo News is part of the Modern Tokyo Times group
http://moderntokyotimes.com Modern Tokyo Times – International News and Japan News
http://sawandjay.com Modern Tokyo Times – Fashion
https://moderntokyonews.com Modern Tokyo News – Tokyo News and International News
http://global-security-news.com Global Security News – Geopolitics and Terrorism
PLEASE JOIN ON TWITTER
https://twitter.com/MTT_News Modern Tokyo Times
PLEASE JOIN ON FACEBOOK