The New Baku International Seaport: A Nexus for the New Silk Road
Publication: Eurasia Daily Monitor
By: Vusal Gasimli
The Jamestown Foundation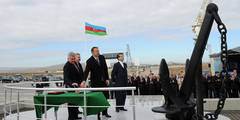 Snaking across Eurasia—from China, through Kazakhstan, Azerbaijan and Georgia, and on to Turkey—the first test container train arrived at the new Baku International Sea Trade Port complex, located in the town of Alyat (around 30 miles southwest of Baku), on August 3, 2015. Turkey, Azerbaijan, Kazakhstan, Georgia and China agreed on this Trans-Caspian Transport Route as part of the so-called "New Silk Road" intermodal east-west transport infrastructure. This route reduces the time exposure for delivering containers from 25 to 40 days through Bandar Abbas (Iran) and Poti (Georgia), to six days via the Shikhezi–Dostyk–Aktau–Alyat–Keshla route (Report.az, August 3).
The revitalization of the historical Great Silk Road has been a subject of discussion in the region since the 1990s. Countries situated between emerging China and the developed European Union are currently participating in a race to develop transport and logistics infrastructure to attract at least one of the threads of the New Silk Road that will carry goods and people across Eurasia. As Azerbaijan has become more economically secure over the years, the number of its infrastructure projects has increased, and a larger slice of the Azerbaijani public budget has been allocated to support transport development. A case in point has been the Baku International Sea Trade Port on the Caspian Sea, which aims to receive a greater share of the growing volume of goods and passenger throughput being sent between the opposite ends of Eurasia. The opening of a ferry terminal, on September 22, 2014, inaugurated the first stage of the new Baku Sea Port. The port is now capable of handling up to 10 million tons of cargo and 50,000 twenty-foot equivalent unit (TEU) containers per year; in the second stage, capacity will reach 17 million tons of cargo and 150,000 TEU containers; and in the third stage, the port will be capable of handling of 25 million tons of cargo and one million TEU containers (President.az, September 22, 2014).
The government of land-locked Azerbaijan considers transport and logistics one of the priorities for establishing a non-oil-based economy. According to the State Statistical Committee, 26.3 million tons cargo and 161.1 million people (more than 7.8 percent of total passengers) were transported along the Azerbaijan route of the "Silk Way" transport corridor between January and June of the current year. As a key component of Azerbaijan's regional hub vision, the new Baku International Sea Trade Port, a project drawn up by Dutch company Royal Haskoning, will significantly increase the flow of goods and the volume of transit cargo along both east-west and north-south corridors. Navigable all year round, the port at Alyat is situated 200 kilometers (km) from Iran, 250 km from Russia, 1,000 km from Turkey, 300–400 km from Central Asia and 3,000 km from western China. Furthermore, it is important to highlight that the new Baku Sea Port will not only serve as a simple transit hub; it will also be a cross-border point including logistics centers, a free economic zone, and customs services (Hazar, January 10, 2014).
The Chinese "One Belt, One Road" initiative—which has been likened by some observers to a new "Marshall Plan" for the Eurasian region—as well as its associated financial initiatives, including the Asian Infrastructure Investment Bank and the New Silk Road Fund, increase the potential of the Baku Sea Port. For example, Chinese investors have already shown interests in this Caspian coastal port facility (AZERTAC, September 21; Kavpolit.com, August 24).
Furthermore, the new Baku Sea Port's proximity to Azerbaijan's main railway and highway routes and the newly-constructed Baku Shipyard strengthen its operational capability. The Baku Shipyard, operated by Keppel Offshore Marine (KOM), one of the world's leaders in shipbuilding, has the capacity to simultaneously build and maintain many types of vessels, ranging from cargo carriers to tankers. The Baku Shipyard's strategic geographic location in the neighborhood of the new Baku Sea Port, and its near equidistance to the main seaports of several other Caspian littoral states, allows it to be a pillar of modern shipbuilding and ship repair to facilitate the transportation of goods and passengers in the Caspian basin (Bakushipyard.com, accessed September 25).
Looking further afield, the other littoral states of the Caspian Sea are also putting in effort to upgrade their own coastal seaport capacities. A strong geo-economic logic dictates these efforts: the seaports of Aktau (Kazakhstan), Atirau (Kazakhstan), Turkmenbashy (Turkmenistan), Rasht (Iran) and Astrakhan (Russia) provide opportunities for their hosts to attract north-south and east-west goods and passenger turnover (Portaktau.kz, September 30, 2015; Vestnik Kavkaza, March 31, 2012; Vestnik Kavkaza, October 2, 2012). However, unequal development in favor of any single seaport would not bring benefits: Complementarity and compatibility motivate current plans for maritime transport in the Caspian Sea basin.
Within the wider Black Sea region, the development of the new Baku International Sea Trade Port justifies the construction of the deep-sea port of Anaklia, on Georgia's Black Sea coast, where a number of important transit infrastructure projects are simultaneously being implemented. In particular, the construction of the Baku–Tbilisi–Kars railroad is expected to be completed next year, and two other projects in Georgia are scheduled for completion by 2019 and 2020, respectively: a domestic railway modernization project and the improvement of the "East-West" highway. Together, these projects will form a strategic transit nexus between the major entrance and exit seaports of the intermarium South Caucasus isthmus (Trend.az, August 12).
In turn, the Baku–Tbilisi–Kars railway will connect with the Marmaray rail project under the Bosporus Strait, thus allowing passenger and freight trains to travel between Europe and Asia along the New Silk Road, which promises to connect three quarters of the world's population and more than 65 countries (see EDM, October 30, 2013).
According to Aydin Aliyev, the head of Azerbaijan's State Customs Committee, Azerbaijan is interested in using the Dubai model of customs regulation at the Baku International Sea Trade Port (Trend.az, September 17). Also aligned with the future vision of the government of Azerbaijan, there is a plan to decrease the time and cost associated with cross-border trade in a bid to create a more user-friendly environment at this port facility.
In sum, a diversified transport and logistics infrastructure connected to Western and Eastern networks is of strategic importance for a number of reasons. Not only is it a prerequisite for non-resource-based economic development, but the construction of these transit networks will also strengthen the security, national independence and territorial integrity of the South Caucasus and Central Asian states.
http://www.jamestown.org/single/?tx_ttnews[tt_news]=44442&tx_ttnews[backPid]=7&cHash=2ba96fa4dd2f20e18e98cb681e3c64e6#.VhD7nqT6mKI
The Jamestown Foundation kindly allows Modern Tokyo Times to publish their highly esteemed articles. Please follow and check The Jamestown Foundation website at http://www.jamestown.org/
https://twitter.com/JamestownTweets The Jamestown Foundation
Photo: Azerbaijani President Ilham Aliyev at the groundbreaking ceremony for the new Baku International Trade Seaport (Source: en.president.az)
Publication: Eurasia Daily Monitor Volume: 12 Issue: 178 – THE JAMESTOWN FOUNDATION