Turkey Kills Kurds in Syria, while Kurds Attack ISIS in Iraq: Ineptitude of Obama and NATO
Murad Makhmudov, Sawako Uchida, and Lee Jay Walker
Modern Tokyo Times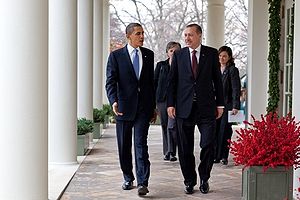 The ineptitude of President Obama knows no bounds when it comes to Syria and foreign policy in general. Yet, it is beyond understanding that NATO Turkey can openly kill the Kurds in Syria, at the time that Kurdish forces are assisting various Iraqi troops and the US administration in Iraq. Indeed, the Kurds, and other allies of America in northern Syria, now appear to be expendable when it comes to NATO Turkey.
NATO, just like Obama, is also destroying its reputation among allies of this organization. After all, not only did NATO tolerate Turkey under Erdogan being a major international conduit for international sectarian terrorists, but also issues related to democracy are being thrown out of the window. At the same time, just like Obama, NATO is remaining in the shadows while Turkey in northern Syria is killing Kurds. Therefore, while the mass media shows the bravery of Kurds fighting ISIS in Iraq, the same mass media is relatively silent about Turkey bombing the Kurds in northern Syria while they are fighting the same ISIS.
CNN reports, "Turkey says its warplanes have bombed Kurdish fighters in northern Syria, marking what may be the biggest single attack by Turkish forces against US-allied Kurds in that war-torn country since the Turkish military launched an incursion into Syria two months ago."
This media agency continues, "The bombings happened Wednesday night against Kurdish fighters advancing against ISIS militants near Afrin, a city about 40 kilometers (25 miles) northwest of Aleppo, Kurdish militia representatives said."
Once more, the deadly silence of Obama and NATO is alarming because the Kurds are being abandoned in northern Syria while being utilized in Iraq. Indeed, it is deplorable that Erdogan can brazenly mock America and fellow NATO members based on utter meekness and the abandonment of morality. The double standards are beyond understanding and reason.
The Independent says, "In Syria, the Kurdish People's Protection Units (YPG) and Kurdish-majority coalition Syrian Democratic Forces (SDF) have been two of the most effective forces in limiting the expansion of Islamist movement Isis, and have been supplied with logistic and military support by the US… Some YPG fighters, as well as Iraqi Kurdish Peshmerga forces, are currently leading an offensive to retake the Iraqi city of Mosul from Isis." 
Despite the above, Obama and the organization of NATO is either playing a double game against the Kurds. Or, more likely, the leaders of America and NATO are cynical leaders, weak, and they are being outfoxed.
President Erdogan of Turkey, a leader who imprisons journalists along with tens of thousands of individuals on flimsy charges, sums up the shallowness of democracy in the rhetoric of Obama and the organization of NATO. After all, how can you have a war on terrorism, when "the gates of terrorism" continues to be flouted by Turkey? Similarly, NATO powers opened up Libya to ISIS (Islamic State – IS) and various al-Qaeda affiliates who in turn destabilized Mali.
However, while NATO can claim that a failed state wasn't the priority in Libya – clearly debatable given the policies of the same nations in Afghanistan and Iraq – thereby NATO can claim to be naïve at best, or utterly reckless at worse. This debatable argument by America, France, the United Kingdom, and several Gulf powers, when it comes to Libya all fails given the ratlines used by these nations in destabilizing Syria.
Yet, Turkey is going the extra mile by being an open sectarian terrorist conduit since outside nations began to destabilize Syria. Also, it is abundantly clear that the main concern for Turkey is to contain the Kurds of northern Syria. In other words, while NATO powers became al-Qaeda's airpower by stealth in Libya – and the same applies to other terrorist and mercenary militias – this time NATO Turkey tolerated sectarian terrorists, including ISIS, to utilize the land of a NATO nation. Therefore, while an array of forces is fighting ISIS in Iraq including the Kurds, the same Kurds in northern Syria are being stabbed in the back by Obama and NATO.
http://www.independent.co.uk/news/world/middle-east/turkey-kills-kurdish-soldiers-syria-us-backed-killed-a7371156.html
www.cnn.com/2016/10/20/middleeast/turkey-syria-air-raid
Modern Tokyo News is part of the Modern Tokyo Times group
DONATIONS to SUPPORT MODERN TOKYO TIMES – please pay PayPal and DONATE to sawakoart@gmail.com
http://moderntokyotimes.com Modern Tokyo Times – International News and Japan News
http://sawandjay.com Modern Tokyo Times – Fashion
https://moderntokyonews.com Modern Tokyo News – Tokyo News and International News
http://global-security-news.com Global Security News – Geopolitics and Terrorism
PLEASE JOIN ON TWITTER
https://twitter.com/MTT_News Modern Tokyo Times
PLEASE JOIN ON FACEBOOK