U.S.-Backed Syrian Rebel Commander Boasts of Fighting With AQ Affiliate
by Ariel Behar and Ravi Kumar  
Investigative Project on Terrorism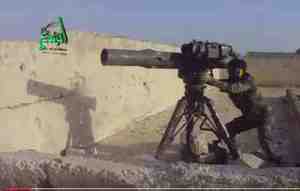 A commander of a U.S.-backed Syrian opposition group says his fighters continue to ally on the battlefield with an al-Qaida-tied jihadist group.
The United States continues to arm Nuruddin az-Zinki as it fights dictator Bashar al-Assad's forces. But in an interview posted online last week, az-Zinki founder Tawfiq Shihab Al Deen acknowledged teaming up "with Al Nusra (an al-Qaida affiliate in Syria), which is a group that proved themselves to be forceful fighters."
"Our groups, Nuruddin az-Zinki, along with Al Nusra, are the only groups continuously fighting against the regime in the al-Malah area in Aleppo," Shihab al-Deen told Abdullah al-Muhasayni, a radical Saudi preacher said in an interview posted on YouTube June 21.
Al-Muhasayni interviewed jihadi commanders in Syria during the month of Ramadan. He is known to be the conduit between the Jihadi rebel groups in Syria and their benefactors in the Gulf.
The United States has armed Nuruddin az-Zinki, which has posted many videos showing their fighters using U.S. TOW missiles.
It is not clear why the United States continues to support Nuruddin az-Zinki despite its alliance with an al-Qaida affiliate.
Muhasayni's interview with Shihab al-Deen could indicate that this alliance between Nuruddin az-Zinki and Al Nusra extends beyond the battlefield. Muhasayni is considered the spiritual father of al-Qaida in Syria.
The U.S. suspended non-lethal aid to Syrian rebels late in 2014, after jihadists seized warehouses storing supplies. But support for Nuruddin az-Zinki continued, the McClatchy news service reported.
The Investigative Project on Terrorism kindly allows Modern Tokyo Times to publish their articles. This important think tank provides essential information in the area of terrorism.
http://www.investigativeproject.org/ – Investigative Project on Terrorism
https://twitter.com/theipt – Investigative Project on Terrorism (twitter account)
www.investigativeproject.org/5472/us-backed-syrian-rebel-commander-boasts
Photo image: Nuruddin az-Zinki fighter with a Tow missile provided in the original article by the Investigative Project on Terrorism