Art of Japan and Bijinga: Torii Kiyonaga and Torii School

Tomoko Hara

Modern Tokyo Times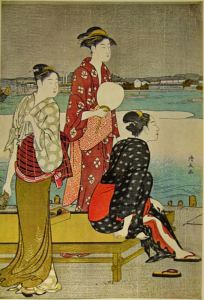 Torii Kiyonaga (1752-1815) was an extremely stylish ukiyo-e artist who belonged to the Torii school. His rise to the top of this school highlights many aspects of Japanese culture within the art world because he wasn't related to the Torii family. However, despite this he rose to the top after the death of Torii Kiyomitsu who was his teacher and adoptive father. Therefore, biological factors that remain powerful in modern Japan appears not to have been a hindrance in old Japan within the art world because the Torii family focused on reputation and not bloodline.
The rich tradition of the Torii family was maintained by Kiyonaga and he would supervise Torii Kiyomine who was the grandson of Kiyomitsu. In time Kiyomine would succeed Kiyonaga and clearly his teaching would prepare him fully.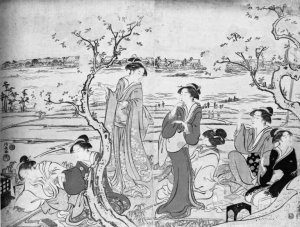 Lee Jay Walker at Modern Tokyo Times says: "Kiyonaga is famous for nishiki-e (""brocade picture" – multi-colored woodblock printing), bijinga (beautiful women), paintings of Kabuki actors, depicting courtesans and he also produced shunga (erotic art). However, Kansei Reforms in the 1790s which were based on other edicts did try to clampdown on shunga. Yet in time shunga would naturally fall by the wayside with the emergence of erotic photography in the Meiji period (1868-1912)."
Turning back to nishiki-e then this innovation and technique is credited to Kinroku.  This form of art was an important development within the ukiyo-e art world of the 1760s. Suzuki Harunobu popularized nishiki-e in the middle of the 1760s and clearly Kiyonaga understood the importance of this new technique.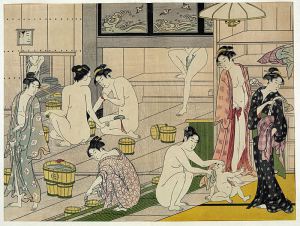 Bijinga was an area where Kiyonaga would excel and clearly the utilization of nishiki-e and elegant portrayals enabled him to produce many stunning pieces of art. Other notable bijinga artists apply to Utamaro, Suzuki Harunobu and Toyohara Chikanobu. The last greatest producer of this art form was Ito Shinsui who belonged to a different time period. Ogata Gekko also produced many stunning works of beautiful women and bijinga that are extremely pleasing on the eye.
The Art Institute of Chicago comments on their website that: "The artist Torii Kiyonaga has been described as the preeminent leader in…the golden age of ukiyo-e prints." This comment is followed by a quote from Chie Hirano who states: "He understood the human body much more thoroughly than other ukiyo-e artists, and by beautifying it he created a healthy and noble type of his own."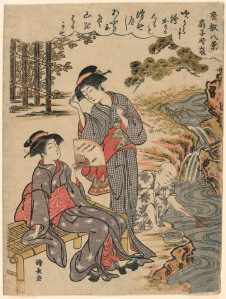 On the Van Gogh Gallery it is commented that: "His work is less stilted and formal than that found in prints from earlier periods, and he presents female figures and their male admirers and suitors in outdoor and indoor scenes. These scenes offer distant landscapes, views of houses and roofs in diagonal patterns, and river and boating scenes. Kiyonaga was a great master of color, and he liked to paint diptychs and triptychs, which were printed on separate sheets of paper. Whether he used deep, sensuous tones or more delicate pastels and shades of gray and black, he applied the color freshly and with great taste. His delicate line delineated graceful and appealing women."
"Kiyonaga's work makes use of genre objects and architectural detail, and depicts what must have been for the people of Tokyo, a series of familiar places and activities. Unlike other Ukiyo-e artists, he also offered the general public a series of prints, depicting court ladies of the tenth and eleventh centuries, dressed in their stiff brocaded kimonos, with elaborate coiffures."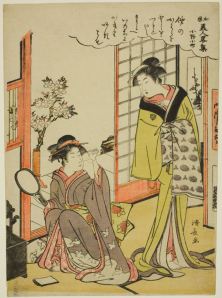 Kiyonaga left behind a rich legacy in several areas of ukiyo-e because he clearly responded to changing techniques by utilizing nishiki-e. Also, the elegance of many art pieces by Kiyonaga means that aspects of high culture and changing styles can easily be imagined. At the same time, he maintained the rich history of the Torii family and prepared the next generation.
Lee Jay Walker gave guidance to Tomoko Hara
http://www.art.com/gallery/id–a8195/torii-kiyonaga-posters.htm
http://www.vangoghgallery.com/artistbios/Torii_Kiyonaga.html
http://www.artic.edu/aic/exhibitions/exhibition/toriikiyonaga
Modern Tokyo News is part of the Modern Tokyo Times group
http://moderntokyotimes.com Modern Tokyo Times – International News and Japan News
http://sawandjay.com Modern Tokyo Times – Fashion
https://moderntokyonews.com Modern Tokyo News – Tokyo News and International News
http://global-security-news.com Global Security News – Geopolitics and Terrorism
PLEASE JOIN ON TWITTER
https://twitter.com/MTT_News Modern Tokyo Times
PLEASE JOIN ON FACEBOOK
https://www.facebook.com/moderntokyotimes
Some art and cultural articles by Modern Tokyo Times are republished in order to highlight the unique reality of Japanese culture to our growing international readership.