Contemporary Japanese Artist: Magical Village and Homage to Sekka
Lee Jay Walker
Modern Tokyo Times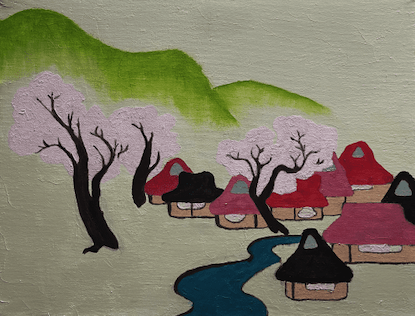 Sawako Utsumi (art above) is a contemporary Japanese artist who admires the artwork of Kamisaka Sekka (1866-1942). However, despite her homage to Sekka, Utsumi utilizes an alternative color scheme that works delightfully.
Sekka is deemed the last great Rinpa (Rimpa) artist to bless Japan. He was born during the dying embers of the Edo Period – and witnessed the modernization dynamics of the Meiji Period (1868-1912). Accordingly, the dynamics of the Meiji Period and Taisho Period (1912-1926) entailed Sekka to create a more individualistic style within the world of Rinpa.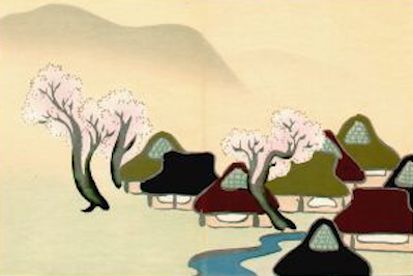 The original art piece by Sekka above is beautiful and individualistic. Thus Utsumi pays a natural homage to this esteemed rinpa artist. However, Utsumi's distinctive colorful approach entails a different magical scenery based on color – that is also full of warmth and wonder. Therefore, her art piece, "The Magical Mountain Village inspired by Sekka," is a delightful artistic treat!
Sekka lit up the Japanese art world with his atmospheric approach during a period of international conflict. For example, he went outside traditional boundaries by creating a world of dreams. Of course, not all art by Sekka was based on this dimension. However, without a doubt, certain areas of his art are like never-never land.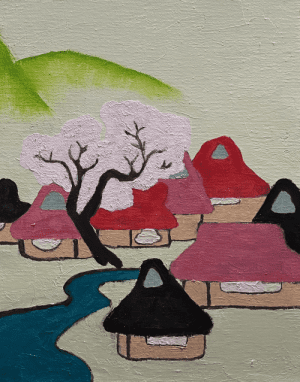 The Cleveland Museum of Art says, "Rinpa is a style of Japanese art focused on abstracted natural motifs and allusions to classical literature. Coined in the early 1900s, Rinpa means "Rin School," after painter Ogata Kōrin (1658–1716), whose work was critical to the later transmission of the tradition. Three techniques associated with Rinpa are tarashikomi, horinuri, and mokkotsu. In tarashikomi (dripping-in), the artist drips ink or color on wet surfaces, creating pooling effects. Horinuri (painting-by-carving) leaves initial ink outlines uncovered after shapes are filled with ink or color, so the surface looks carved. Mokkotsu (boneless) entails creating shapes without contours or lines defining edges and boundaries."
Utsumi provides a magical village that enters the dream world of children and imaginative adults. Accordingly, the art piece by Utsumi provides a lovely dimension that is equally fresh – (while not negating the original by Sekka) based on her distinctive usage of color.
https://fineartamerica.com/featured/the-magical-mountain-village-inspired-by-sekka-sawako-utsumi.html
http://fineartamerica.com/profiles/sawako-utsumi.html – Sawako Utsumi and where you can buy her art, postcards, bags, and other products. Also, individuals can contact her for individual requests.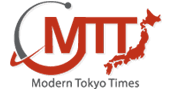 Modern Tokyo News is part of the Modern Tokyo Times group
http://moderntokyotimes.com Modern Tokyo Times – International News and Japan News
http://sawakoart.com – Sawako Utsumi's website and Modern Tokyo Times artist
https://moderntokyonews.com Modern Tokyo News – Tokyo News and International News
PLEASE JOIN ON TWITTER
https://twitter.com/MTT_News Modern Tokyo Times
PLEASE JOIN ON FACEBOOK