Fugitive Bangladeshi Militants Bring Jamaat ul Mujahideen to India
Publication: Terrorism Monitor Volume: 16 Issue: 13
By: Animesh Roul
The Jamestown Foundation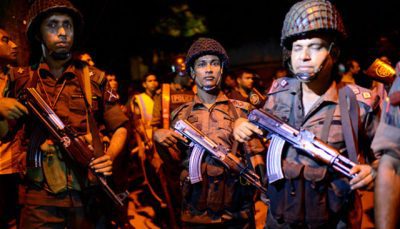 A failed bomb plot that appeared to target the Tibetan Buddhist spiritual leader, the Dalai Lama, as he visited a pilgrimage site in Bihar, India, has been blamed on the militant group Jamaat-ul-Mujahideen Bangladesh (JMB), and an emerging Indian offshoot.
On January 19, a low intensity blast on the grounds of the Tibetan monastery in Bodh Gaya caused panic among devotees of the Dalai Lama. A subsequent sweep of the vicinity—the blast occurred after the Dalai Lama had left—led to the recovery of two improvised explosive devices near the monastery's Kalachakra (Wheel of Time) prayer ground (Indian Express, January 20). Investigations into the incident revealed the involvement of the Bangladesh-based JMB.
India's elite anti-terror National Investigation Agency (NIA) and Kolkata Police Special Task Force (STF) believe the JMB was planning to avenge the atrocities on Rohingya Muslims in neighboring Myanmar by targeting Buddhist pilgrims and foreign nationals—actor Richard Gere was among those who visited the Dalai Lama—who had come to listen to the Dalai Lama during his month-long stay (New India Express, February 3). The NIA initiated a massive search and sweep operation in West Bengal, a well-known hideout for Bangladeshi militant fugitives. Subsequently, details of a newly emerged JMB network in India have surfaced.
Jamaat-ul-Mujahideen India
In February 2018, the Special Task Force (STF) of the Kolkata (West Bengal) police arrested at least six people from the Murshidabad and Darjeeling districts with suspected links to JMB, including two who police say were involved in the planting of IEDs in Bodh Gaya (Hindustan Times, February 23). Following the arrests of the two men—who the authorities named as Azhar Hossain and Shish Mohammad—police in the town of Dhuliyan, in Murshidabad, seized more than 200 kilograms of ammonium nitrate, 50 detonators, timers and tiffin boxes (metal lunchboxes) that were allegedly to be used to make IEDs.
Two other suspects arrested, Paigambar Shaikh and Jamirul Shaikh, revealed more incriminating details about JMB's India wing and the recruitment drive in West Bengal and Bihar. The pair reportedly confessed that fugitive JMB leaders Salahuddin Ahmed (a.k.a. Salein) and Jahidul Islam, known as "Boma" Mizan for his expertise in explosives, were the creators of Jamaat-ul-Mujahideen India (JMI) and had planned to target Buddhist pilgrimage circuits in West Bengal and Bihar. They claimed that Salein was the chief of JMI and had been instrumental in recruiting several new members, and said that at least eight units of JMI, each comprising 10-12 members, had been tasked with carrying out anti-Buddhist attacks in India (New Indian Express, February 3).
The continued crackdown led to the arrest on June 11 of a suspected militant named Hazibullah, who the police claim helped in procuring explosives for the Bodh Gaya bomb plot (DNA India, June 12).  Hazibullah was picked up in Bandel town, in the Hooghly district of West Bengal.
Before the formal founding of JMI, the remnants of a fleeing JMB contingent were visible on Indian soil, especially during the Burdwan bombing episode of October 2014. According to India's National Investigation Agency (NIA), JMI's chief and his deputy are responsible, along with other JMI members, for an accidental explosion in 2014 in the Burdwan district of West Bengal. The Khagragarh blast, which was followed by a police raid and a subsequent arms seizure, exposed for the first time a flourishing JMB network in India (Live Mint, December 1, 2014). Two JMB militants were killed in the accidental explosion and a number of others sustained severe injuries. Both NIA and Bangladesh's Counter Terrorism and Transnational Crime Units have already announced monetary rewards for credible information relating to JMB fugitives and its burgeoning network.
JMB Fugitives  
JMI's Salein has been a senior figure in JMB since 2001. He was in charge of Sylhet-Mymensingh region in Bangladesh, but fled Bangladesh and is in hiding. He has possibly been operating from Indian territory since he and Boma Mizan escaped from a prison van after a JMB orchestrated ambush in the Trishal locality of Mymensingh district in February 2014 (Daily Star, February 23, 2014).
A committed jihadist originally from Narayanganj, Salein has been sentenced to death in Bangladesh for his role in the Mymensingh court bombing in 2007, the targeting several Christian youths in Jamalpur and the killings of Hridoy Roy in April 2003 and Joseph Gani Gomez Mandal in September 2004 (Daily Star, February 21, 2013; Daily Star, March 08, 2015).
A cursory look at Salein's career within JMB's rank and file suggests he had been a member of the Jamaat-e-Islami party's radical student wing, Islami Chhatra Shibir (ICS).  He joined JMB while studying in Tejgaon Polytechnic Institute in Dhaka, and was influenced by JMB's military chief Ataur Rahman Sunny. He was arrested in late April 2006, during a Rapid Action Battalion (RAB) operation at Pahartoli in Chittagong. Boma Mizan is presently the deputy chief of JMI and has backed Salein since his dramatic 2014 ambush and escape.
Boma Mizan, who was finally arrested in May 2009 after years of work by the Bangladesh security agencies, came onto the security radar following JMB's countrywide serial bombings on August 17, 2005. He played a major role in making more than 500 bomb attacks across Bangladesh that killed and injured more than a hundred people.  His bomb-making skills were employed by JMB in a series of attacks against the Court Houses and judges in Bangladesh, between October and November 2005 (Dhaka Tribune, February 23, 2014; BDNews24.com, September 26, 2017). He was arrested in May 2009 in the Mirpur area of Dhaka, the Bangladeshi capital.
According to Bangladesh's investigating agencies, like many JMB operatives, Boma Mizan had received arms and explosives training from the Rohingya Solidarity Organization (RSO), an insurgent group that fought for the cause of Rohingya Muslim minorities and against alleged atrocities by Buddhists in Myanmar (Daily Star, May 19, 2009). These long-standing operational links with the Rohingya group may lie behind the attempts by fugitive JMB leaders to target Buddhist pilgrimage circuits in West Bengal and Bihar.
Proselytization, Training and Armed Combat
The founding of JMI on Indian soil indicates two things—that Bangladesh's concerted counterterror operations have pushed the JMB remnants into neighboring India in search of a safe haven, and that there has been somewhat of an ideological rift within the original JMB with the different strands adhering to either the jihadist ideals of al-Qaeda or those of Islamic State (IS).
Salein's al-Qaeda-influenced, India-based faction is attempting to regroup and recruit new members under the banner of JMI, and its seemingly broad based jihadist objectives and geographical reach. Long before the confessions of arrested militants in February revealed the existence of JMI, Salein and his team had attempted to reinvigorate the old JMB and had broadcast their future agenda through a Bengali language media arm, Sahm al-Hind (Dhaka Tribune, August 5, 2017).
JMI and Sahm al-Hind media used popular online publishing platforms like WordPress and Justpaste.it, as well as social media channels such as YouTube, to post their propaganda. In mid-July 2017, Sahm al-Hind published an interview with Salein that gave details about future activities and the objectives of his new group, although these details appear worryingly to have escaped the attention of India's intelligence agencies. [1]
Underscoring the JMB's reorganization as JMI and the larger agenda of jihad on the Indian subcontinent, Salein in his interview with Sahm al-Hind outlined JMI's three main objectives: proselytization, training and armed combat with a view to establishing Islamic rule across the Indian subcontinent. According to Salein, JMI's target would oust "unbelievers" in the "land of Allah" by force of arms. He vehemently denied the existence of any New-JMB in Bangladesh and rejected suggestions of a split in the JMB, calling the suggestion a conspiracy intended to malign the movement. He urged Muslims of the region to wage the mythical Ghazwa tul Hind (battle between infidels and believers in India) to establish a caliphate in the Indian subcontinent. [2].
Salein is highly critical of IS in Syria and Iraq and adheres instead to the ideals of JMB's original influencer, al-Qaeda. In sharp contrast, the Neo-JMB faction that has dominated the militant landscape in Bangladesh in recent years and masterminded several high profile attacks in the country—including the July 2016 attack on the Holy Artisan bakery—is ideologically and operationally influenced by IS and its violent principles (Prathom Alo, August 17, 2016; Hindustan Times, February 10).
India's northeastern region, including Assam and West Bengal, provides a safe haven for illegal immigrants and Islamic militants because of its porous border and poor security. The regions have predominate Muslim populations, with mosques and madrasa networks that have allowed Bangladesh-based militant groups like JMB and Harkat ul-Jihad Islami (HuJI) to raise money, material and manpower.
West Bengal's four districts: North 24-Parganas, Murshidabad, Malda and Nadia and Assam's Nalbari district remain major hotspots for Bangladeshi militants and have become a stronghold of JMB over the years. Bangladesh has taken stringent measures to tackle terrorism since the country suffered a series of terrorist attacks between 2013 and 2016, mostly claimed by the al-Qaeda-linked Ansarulla Bangla Team (ABT) and the IS-inspired Neo-JMB. Now JMB jihadists have spilt over into neighboring India.
NOTES
[1] "Special interview of Emir Jamaatul Mujahideen Shaikh Salahuddin (Hafiz),  (Author's translation from Bengali language) Sahm al-Hind Media, July 21, 2017, https://sahmalhind1.wordpress.com/2017/07/21/জামাআতুল–মুজাহিদীনর–আম/
The Jamestown Foundation kindly allows Modern Tokyo Times to publish their highly esteemed articles. Please follow and check The Jamestown Foundation website at http://www.jamestown.org
https://twitter.com/JamestownTweets The Jamestown Foundation
https://jamestown.org/program/fugitive-bangladeshi-militants-bring-jamaat-ul-mujahideen-to-india
Photo image: Image in the original article by The Jamestown Foundation is the Bangladeshi security forces (Source: Zee News) by the agency mentioned.