Fujishima Takeji, Alfred Sisley and Art: Impressionism, Landscapes and Paris Connection
Lee Jay Walker
Modern Tokyo Times
Alfred Sisley and Fujishima Takeji were both born in the nineteenth century and their common factors apply to the stunning art they produced and the richness of Paris which influenced both artists. They both also studied at the Ecole des Beaux-Arts de Paris in France.  However, the generational gap meant that both individuals studied at this important institution at different periods.
Fujishima Takeji (1867-1943) and Alfred Sisley (1839-1899) may have been born in two very different parts of the world but the Paris connection brought them together in the artistic sense. Alfred Sisley retained his British citizenship throughout his life despite being born in Paris and residing mainly in France. Therefore, Alfred Sisley was firmly based in Europe while Fujishima Takeji understood the diverse complexities of both Japanese art and European art.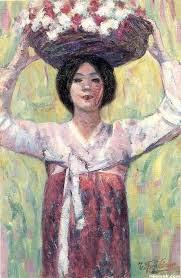 However, Alfred Sisley would have connected with the birth place of Fujishima Takeji because he was born in Kagoshima. The reason for the connection applies to the countryside which meant so much to Alfred Sisley who adored landscape art. This also is another common theme shared by both exquisite artists.  The same also applies to Impressionism which meant so much to both artist but for Alfred Sisley the power ofImpressionist landscape was much deeper.
The stunning Impressionist landscape art of Alfred Sisley amazingly appears to be massively underrated when it comes to the fame of his name. Of course, for people who adore Impressionist art and art in general, then Alfred Sisley will be known to many. However, even within the art world his name doesn't spring to mind when compared with other Impressionist artists. This is extremely surprising because he produced many sublime pieces of art which strikingly standout.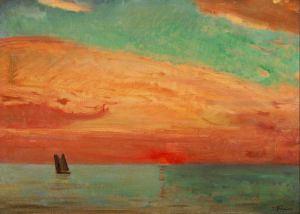 One important difference between Fujishima Takeji and Alfred Sisley is that Alfred Sisley never left the path ofImpressionist landscape art. Impressionism meant the world to Alfred Sisley. However, for Fujishima Takeji the influence of Japanese art and searching for new ideas meant that other art movements were equally important.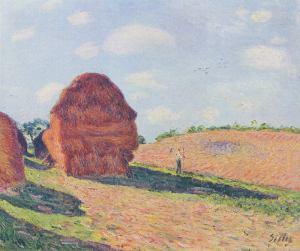 Fujishima Takeji had originally started studying traditional Japanese painting when he relocated to Tokyo in 1884. During this period he studied under Gyokusho Kawabata and prior to this he had learnt brush stroke techniques under Togaku Hirayama. However, the lore of Western art appealed greatly to Fujishima Takeji therefore he soon changed his art direction and focused on Western-style paintings. He was lucky enough to study under Hosui Yamamoto and Yukihiko Soyama when he made this transition and it soon became apparent that Fujishima Takeji had taken the right path.
Outside of Japan Fujishima Takeji became known for his importance in focusing on and developingRomanticism and Impressionism which graced the Japanese art scene called yoga (Western-style). This change of direction would also witness Fujishima Takeji becoming influenced by Art Nouveau. Yet despite the many influences it was the yoga path which became instrumental to him by the mid-1880s. Great credit for enhancing his abundant talent must be given to Hosui Yamamoto and Yukihiko Soyama for their expert guidance.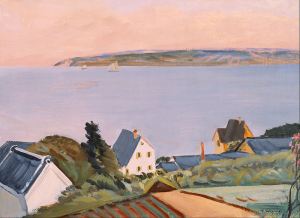 Ironically, the industrialization and innovation of the Meiji Restoration (1868) meant that new opportunities were occurring within all strata's of society. This enabled many Japanese artists to focus on new art forms and to free their minds whereby many paths were open to talented artists outside of the traditional art forms of Japan. However, for Alfred Sisley his stunning art bypassed the power of industrialization and instead it would appear that nature was in the ascendancy. This was also done without any political or romantic bias because everything seemed so natural and this is the beauty of Alfred Sisley.
Another different aspect to the lives of Fujishima Takeji and Alfred Sisley applies to material wealth and certainty. Alfred Sisley was born into a wealthy family but after the 1870-1871 Franco-Prussian war, everything changed because poverty and challenging times would now become the norm. In this sense, Fujishima Takeji overcomes material obstacles because his later life was extremely stable when it came to financial matters. However, for Alfred Sisley this area remained problematic for him despite having wealthy patrons which enabled him to travel to Britain from time to time.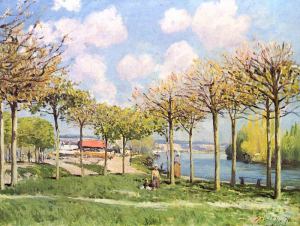 Despite poverty remaining with the Sisley family this never dampened his spirit and love of Impressionism. Therefore, he rose above everything and continued to produce stunning landscapes throughout his remaining years on this earth. Also, when the Sisley family moved away from Paris and relocated near to the forest of Fontainebleau, this decision turned out to be very fruitful because it suited his style of art. Given this, Alfred Sisley became refreshed by the surrounding environment because he did not need the trappings of major cities by this stage in his life.
Meanwhile the life of Fujishima Takeji in the 1880s was given a huge boost by the novelist and art critic, Ogai Mori. This applies to the fact that Ogai Mori was highly respected and well connected. Therefore, Fujishima Takeji was now moving in the right circles and he clearly utilized all the wisdom and skills that he had learnt from Togaku Hirayama.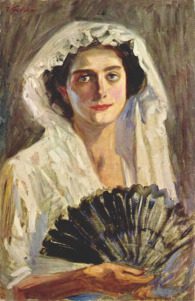 The Marubeni Art Collection states that "In 1905, Fujishima traveled to Europe and studied under Fernand Cormon at the Ecole des Beaux-Arts de Paris in France and Carolus-Duran, President of the Academie de France in Italy. Cormon's speciality was historical paintings, while Duran excelled in portraiture."
This meant that Fujishima Takeji also studied at the same institution and while Alfred Sisley had sadly passed away in 1899, his spirit and the power of the art he produced remained strong. Therefore, the same art institution and the trappings of Paris will have been felt richly for both stunning and gifted artists. The meaning of the art institution and their time in Paris will have meant different things. However, certain connections will have flowed in their veins even if the outcome was different for both individuals.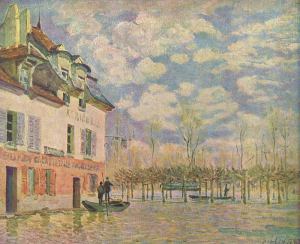 The Marubeni Art Collection continues by stating that "On his return, in 1910, Fujishima was nominated Professor of Tokyo Art School and became a member of the Imperial Art Academy (the Teikoku Bijutsu-in), as well as a member of the jury for its exhibitions, known in abbreviations at the Tei-ten. In 1937, he received the very first Order of Culture (Bunka Kunsho), a decoration given by the Government to those who have contributed greatly to the development of art, science and other fields of culture, along with Saburosuke Okada."
Overall, the beauty of the art work of Alfred Sisley and Fujishima Takeji is abundantly clear when you view their most famous pieces of art. Certain flows of history and important circles naturally entered both of their respective worlds irrespective if the outcome was different. These two amazing artists have left a rich legacy and both need to be studied more in the modern period because of the richness of the art they both produced.
http://www.vincentvangoghclaudemonet.org/artist/Fujishima_takeji.html
Some Japanese art and cultural articles by Modern Tokyo Times are republished in order to inform our growing international readership about the unique cultural reality of Japan.