India Faces Up to Growing Islamic State Threat
Publication: Terrorism Monitor
By: Animesh Roul
The Jamestown Foundation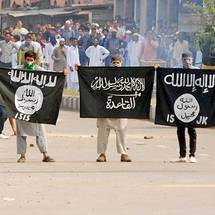 One of the first indications of the Islamic State's potential appeal in India occurred in late 2014, when Aarif Majeed, a youth from the state of Maharashtra, returned to the country from Iraq, where he had reportedly received training from the Islamic State (Times of India, November 28, 2014). He and three other youths from the State had reportedly travelled to Iraq and Syria in May last year specifically to the join the organization. Following this incident, in December 2014, a Bengaluru-based engineer, Mehdi Masroor Biswas, was arrested for allegedly managing and running the influential pro-Islamic State Twitter account "ShamiWitness," an event which seems to have served as a wake-up call for the Indian security establishment (Indian Express, December 14, 2014).
Since then, authorities have said that it estimated that a total of 13 Indian nationals have joined the Islamic State so far, of whom six have already died during the fighting in Iraq and Syria (Indian Express, August 4). Another 17 men have been arrested or detained while attempting to leave India to join the organization. These youths are from several different states, but most are from Telangana, Maharashtra and Karnataka.
Further evidence of Indian nationals in the Islamic State has come through social media outlets like Twitter and Facebook, either run by jihadist sympathizers or the group's own media units. For instance, on July 21, images of a boatful of purported Indians were released by al-Hayat Media, the Islamic State's media wing. Jihadist pseudonyms of alleged Indian fighters were also released. These include the slain "Abu Turab al-Hindi," who was in fact Muhammad Sajid, a prominent member of the Indian Mujahideen militant group accused of involvement in several bombings in India in 2008, and "Abu Qaqa al-Hindi," another Indian Mujahideen fugitive who is presently with the Islamic State (Indian Express, July 21). Another Indian Mujahedeen fugitive, Abdul Khadir Sultan Armar, was killed in March 2014, in heavy fighting in the Kurdish town of Kobane in Syria (One India, December 8, 2014). Sultan Armar is believed by the Indian authorities to have previously been involved in recruiting for the Islamic State, mostly from Madhya Pradesh and Karnataka. Following his death, the Islamic State has reportedly installed his brother and fellow jihadist, Shafi Armar (a.k.a. Yusuf al-Hindi) at the leadership position of Ansar-ut Tawhid (AuT), an India-centric militant splinter group, and as head of is recruitment in India. Both Armar brothers were reported to have previously undergone militant training in North Waziristan, Pakistan (One India, May 6).
Evidence is also growing that AuT has turning itself into a full-fledged Islamic State unit, and that it has been active in the Pakistan-Afghanistan border areas. This process was illustrated when one of its members, "Abu Abdullah al-Hindi," in November 2014, released an English-language audio recording of him making an oath of allegiance to the Islamic State and urging Indian Muslims to join and support the group (YouTube, November 14, 2014). The evolution of the Islamic State/AuT's military units meanwhile came to light in April 2015, when Muhammad Sharif and five other youths affiliated with AuT were arrested in Madhya Pradesh for conspiring to carry out attacks inside India. Shafi Armar was reportedly instrumental in talent-spotting of all these men for the Islamic State, and the Indian intelligence agencies reportedly believe that such recruitment and radicalization efforts are further underway in India (New India Express, May 8; Indian Express, May 6).
In addition, there is evidence of broader Islamic State influence among some Indian Muslims, as evidenced by the waving of Islamic State flags, the display of the group's banner or pictures of youths wearing fatigues with the Islamic State logo or insignia, as well as instances of pro-Islamic State graffiti on walls, for example, in Jammu and Kashmir, Tamil Nadu and Maharashtra. One of the most recent such instances of Islamic State flag-waving occurred in June in Srinagar, the summer capital of Jammu and Kashmir (Times of India, June 19). Similar flag waving took place in the state in July and October last year, prompting the security agencies to investigate the possible Islamic State influence in Kashmir and beyond. These events indicate the potency of the Islamic State brand on at least some of the country's more impressionable Muslim youths, even if this trend is not widespread.
Not long ago, in December 2014, India's Minister of Home Affairs dismissed the potential Islamic State threat to India as "negligible" and showered credit on the country's Muslim community for discouraging their children from being influenced by the organization (The Hindu, December 16, 2014). Since then, the government has taken some major steps, notably imposing proscriptions on the Islamic State terror group, all its manifestations and affiliate organizations under Section 35 Of Unlawful Activities (Prevention) Act, 1967 in late February this year (The Hindu, February 26). The increasing evidence of recruitment and much talked about threat from "returnees" from the fighting in Iraq and Syria clearly prompted the government to take this strong measure. In addition, in June 2015, India banned all trade with the Islamic State and related terrorist organizations active in Middle East, specifically in oil, oil products and items of cultural, scientific and religious importance (Reuters, June 30). The Indian government has also sought to intercept young men suspected of leaving the country to join the Islamic State and to conduct follow-up counsel with them on the values of Islam and other religions. For instance, one such group consisting at least 14 individuals from Andhra Pradesh, who were suspected of seeking to travel to Syria and Iraq, were detained on May 6 at Hyderabad Airport and subsequently counselled by authorities before their release (Daily News and Analysis, May 6). Such attempts, while common in some Muslim-majority countries, are novel in India, which has traditionally used more hard-edged methods to control radicalization and militancy.
Despite the Islamic State's sporadic successes in recruiting some Indian Muslims, much remains unclear about the group's activities in the country, particularly in comparison to other neighboring countries like Pakistan, the Maldives or even Bangladesh. However, India is very much within the operational ambition of the Islamic State for at least three reasons: the relative proximity of the Islamic State's most active South Asia branch (Wilayat Khurasan), which is centered around Afghanistan and Pakistan and gaining strength day by day; its links with home-grown/indigenous Indian Mujahideen members; and, last but not least, the Islamic State's powerful social media channels that proved to the most enticing medium for aspiring jihadi volunteers. Irrespective of the government's recent endeavors, including its novel effort to build a counter-narrative against the jihadist ideologies, and, most importantly, in contrast to the popular belief about India's composite culture and liberal minority Muslim populations, India clearly remains vulnerable towards the Islamic State brand of transnational jihadism.
Animesh Roul is the Executive Director of Research at the New Delhi-based Society for the Study of Peace and Conflict (SSPC).
TerrorismMonitorVol13Issue17_02.pdf
http://www.jamestown.org/single/?tx_ttnews[tt_news]=44304&tx_ttnews[backPid]=7&cHash=53a056ba01030f1a73b4ef002941c56b#.VdehVs76mf4
The Jamestown Foundation kindly allows Modern Tokyo Times to publish their highly esteemed articles. Please follow and check The Jamestown Foundation website at http://www.jamestown.org/
https://twitter.com/JamestownTweets The Jamestown Foundation
Photo: Kashimi protestors waving the flag of the Islamic State (Source PTI).