ISIS Slaughter Yazidis in Iraq while Gulf and NATO Powers Weaken Syria and Shia Houthis in Yemen

Murad Makhmudov, Noriko Watanabe and Lee Jay Walker
Modern Tokyo Times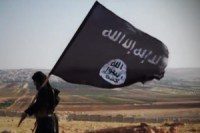 It is abundantly clear that Qatar, Turkey and Saudi Arabia care little about the ethnic and religious cleansing of various groups in Iraq and Syria. After all, the Saudi Arabia led coalition is killing Shia Houthis and fellow Yemenis without a care in the world, while these same allies are involved in sinister circles against Syria. At the same time, NATO Turkey watched while Kurds in Kobane, and in other areas, faced the Takfiri Islamist sword of ISIS (Islamic State – IS). Indeed, images clearly show NATO Turkey assisting ISIS and other terrorist forces against the government of Syria.
Similarly, NATO Turkey, Qatar and Saudi Arabia are funding an array of barbaric Sunni Islamist terrorist groups that persecute Alawites, Christians, Shia Muslims and Sunni Muslims loyal to the government of Syria. America and France are also involved in intrigues against the government of Syria while claiming to support the central forces of Iraq. It is one big nightmare where a NATO nation is now nothing more than a major conduit for various Takfiri and terrorist organizations that behead for fun.
Latest reports state that around 300 Yazidis in Iraq have been butchered by ISIS Islamists that follow the Takfiri mindset. Clearly, for nations like Saudi Arabia that don't allow one single non-Muslim holy place and where Shia Muslims are second-class citizens, then this news will mean little. Indeed, militant Salafi Islamist clerics in various parts of the world are often praising the murder of non-Muslims and Shia Muslims with open glee. Therefore, while Yazidis and others face the sword of ISIS and al-Nusra (and an array of other Islamist Takfiri groups) in Iraq and Syria, the government of Saudi Arabia is bombing Shia Houthis and backing barbaric groups against the secular government of Syria.
The BBC reports "Several hundred Yazidi captives have been killed in Iraq by Islamic State (IS) militants west of Mosul, Yazidi and Iraqi officials say."
This media group continues "A statement from the Yazidi Progress Party said 300 captives were killed on Friday in the Tal Afar district near the city."
America's response, under the estranged administration of President Obama, is to create a new terrorist and sectarian group with Turkey and continue to refuse to work openly with the only armed forces that are fighting various al-Qaeda groups and ISIS on the ground. This notably applies to the armed forces of Syria when it applies to al-Qaeda affiliate groups and ISIS in Syria. Similarly, the Shia Houthis in Yemen remain steadfast against al-Qaeda. Also, more recently it is clear that ISIS is gradually growing in power in Yemen and this applies to terrorist attacks against the Shia Houthis and beheading Yemeni soldiers. However, it is the armed forces of Syria that have been taking the fight to various terrorist and sectarian groups despite the odds being massively against this nation because of the intrigues of various Gulf and NATO powers.
In other words, comments of sympathy and utter shock in relation to the latest massacre of Yazidis in the corridors of powers in London, Paris and Washington mean nothing. After all, these nations have all been involved in terrorist and sectarian intrigues against secular Syria. At the same time, these leading Western powers fully understand that NATO Turkey is an open conduit for international sectarian terrorists. Also, the governments of America and France are openly siding with the Saudi Arabia led coalition against the Shia Houthis in Yemen. In other words, while Western powers rely openly on various Shia forces in Iraq and the support that Iran is providing this nation, the same nations are undermining all this because of their collective intrigues and support of Qatar, Saudi Arabia and Turkey.
Vice-President Osama al-Nujaifi of Iraq was visibly shocked by the latest ISIS massacre against innocent Yazidis. He states the ISIS Islamist crime is "horrific and barbaric."
However, the same government of Iraq must similarly be at a loss about anti-Syria nations that are destabilizing this country in the full knowledge that this will impact negatively against Iraq. Likewise, Iraq knows full well that while Gulf powers have openly played their role in supporting various Takfiri Islamist groups in Iraq, they are now involved in destabilizing Yemen and targeting Shia Houthis. Therefore, various al-Qaeda affiliates, other Takfiri Islamist sectarian terrorist groups and ISIS are a major threat to Iraq, Syria and Yemen respectively.
Yet while the sectarian intrigues of Qatar, Saudi Arabia and Turkey are abundantly obvious, the same can't be said about the estranged Obama administration that is implementing a schizophrenic approach to the region. Given this reality, the latest massacre of Yazidis in Iraq is also based on the intrigues of nations that support the destabilization of Syria.
Meanwhile, Shia Houthis in Yemen continue to be bombed by a coalition that is being led by Saudi Arabia. This reality is being supported by America therefore al-Qaeda and ISIS will gain from the intrigues against Syria and Yemen respectively. While in Iraq the utter confusion of friends of friends within NATO and the Gulf means that Christians, Shabaks and Yazidis face utter annihilation. Therefore, the latest massacre against Yazidi civilians is the culmination of outside Gulf and NATO nations that are spreading chaos throughout the region and then abandoning the most vulnerable in society.
http://www.bbc.com/news/world-middle-east-32565809