President-elect Trump plugs Non-Interventionist Policy outside tackling Terrorism: Russia and Syria
Murad Makhumdov, Sawako Uchida, and Lee Jay Walker
Modern Tokyo Times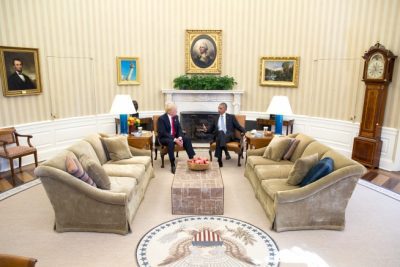 The President-elect of America, Donald Trump, plugged a non-interventionist military policy outside of tackling terrorism. If this comes to fruition then the endless destabilization policies that have unleashed so many negative and brutal consequences, will come to an end under Trump. This will be welcomed by major powers including China and the Russian Federation because in the last few decades the same failed policies keep on being unleashed in relation to destabilization.
Not surprisingly, given past statements by Trump prior to winning the presidential election, he will focus on ISIS (Islamic State – IS) and the many Takfiri offshoots that blight the world. Hopefully, this bodes well for the government of Syria because past destabilization policies have been a disaster.
Indeed, if you look at the mass migration crisis then policies in Afghanistan, Iraq, Kosovo, Libya, Pakistan, and Syria, have been collective disasters. This applies to the endless cleansing of religious minorities – for example, Serbian Orthodox Christians in Kosovo, Christians in Iraq and Syria, Yazidis in Iraq, Shabaks in Iraq, and other religious minorities. On top of this, Sunni Islamist Takfiris slaughter the Shia on a daily basis in nations like Iraq and the same faith community suffers greatly in Afghanistan and Pakistan. Similarly, innocents of all faith groups and the rights of women have been blighted by death, destruction, growing Takfiri militancy, limited opportunities, the fear of terrorist attacks that are all too real, and the collapse of the infrastructure leading to failed states.
Reuters reports, "President-elect Donald Trump laid out a U.S. military policy on Tuesday that would avoid interventions in foreign conflicts and instead focus heavily on defeating the Islamic State militancy."
Trump said, "We will stop racing to topple foreign regimes that we know nothing about, that we shouldn't be involved with… Instead, our focus must be on defeating terrorism and destroying ISIS, and we will."
Hopefully, Trump can reset positive relations with the Russian Federation because it is in the international interest for both these nations to rebuild a positive relationship. In other words, the sinister underlining policies of President Obama, endless rhetoric by NATO towards the Russian Federation, and the fear of what Hillary Clinton would have done will hopefully be erased by a genuine thaw. If so, then divisions over Ukraine and Syria – and other areas – will be debated from a more open standpoint based on genuine dialogue.
Trump said, "We don't forget. We want to strengthen old friendships and seek out new friendships… We will build up our military not as an act of aggression, but as an act of prevention… In short, we seek peace through strength."
Trump further said policies of "intervention and chaos" must be abandoned. If so, it is hoped that Syria will witness a real international change. After all, Obama appears to want to bleed everyone to death while allies of America seek to overthrow the secular government of Syria. Therefore, if Trump sticks to focusing on international terrorism and major groups like ISIS, rather than the failed policy of mass destabilization, then signs of hope exist for the government of Syria.
Likewise, it is hoped that America will reset the button with nations like Egypt, rather than the Muslim Brotherhood underhandedness of the Obama administration that meddled behind the scenes. Similarly, a fresh approach to the crisis in Yemen is badly needed. After all, Obama's support of the Saudi Arabia led coalition is just leading to more deaths in Yemen and the utter devastation of an already weak infrastructure.
Only time will tell if America does become more non-interventionist. However, unlike under Clinton, at least you have room for hope even if the path ahead remains fraught with danger and uncertainty based on the utter failure of the Obama administration.
http://www.reuters.com/article/us-usa-trump-military-idUSKBN13W06L
DONATIONS to SUPPORT MODERN TOKYO TIMES – please pay PayPal and DONATE to sawakoart@gmail.com
http://moderntokyotimes.com Modern Tokyo Times – International News and Japan News
http://sawandjay.com Modern Tokyo Times – Fashion
https://moderntokyonews.com Modern Tokyo News – Tokyo News and International News
http://global-security-news.com Global Security News – Geopolitics and Terrorism
PLEASE JOIN ON TWITTER
https://twitter.com/MTT_News Modern Tokyo Times
PLEASE JOIN ON FACEBOOK