Review of Ellery Queen's Japanese Mystery Stories
Special Contribution: Renae Lucas-Hall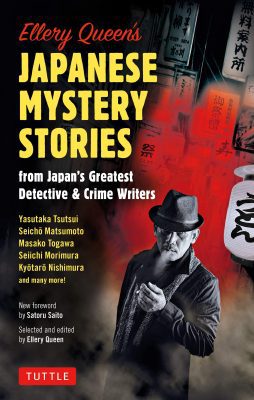 Originally published by Tuttle in 1984 under the title Ellery Queen's Japanese Golden Dozen, this cover features a watchful detective smoking in Tokyo's back streets with Japanese street signs, red lights, and lanterns in the background.
Crime fiction is very popular at the moment and this set of short stories is one of the best, especially if you have an interest in Japan. The brilliance lies in the astonishing plot twists.
Ellery Queen is the pseudonym and well-known protagonist created by Frederic Dannay and Manfred Bennington Lee, two cousins from Brooklyn who wrote successful detective fiction in the 1930s and 1940s. They've gained widespread recognition and acclaim in Japan so it's no surprise they were asked to choose this collection for this anthology.
At the beginning of each story Satoru Saito – an Associate Professor of Japanese Literature at Rutgers University – provides background information on each writer. He describes their writing style, any awards the author may have received, and a hint of what you can expect from the story that ensues.
These 12 mysteries dwell on this kind of criminality loitering in the shadows of everyday life. Don't expect a lot of blood and gore, these stories shouldn't give you nightmares. Instead, you can look forward to terrific character development and unexpected endings.
Each story is different and unique. The first tale "Too Much About Too Many" by Eitaro Ishizawa is a fine example of what you can expect from the rest of the book. It reveals a lot about Japanese society and the patience a detective needs to solve a crime.
If you know how to write kanji characters, you'll love "Write In, Rub Out" by Takao Tsuchiya. However, it's "The Kindly Blackmailer" by Kyotaro Nishimura that will get under your skin. You think the author is telling a story with karma as the central theme but the twist at the end proves something else altogether.
"The Vampire" by Masako Togawa is another brilliant tale. Not only because it's unlike any vampire story you've ever read. It also makes you realize how easily we can slip into judging others based on preconceived notions.
The circumstances in a couple of the stories seem unlikely but all of them are gratifying because they give such an interesting analysis of the human condition. These mysteries will appeal to a wide spectrum of readers because the flow of the writing is excellent and there are so many unforeseen surprises.
All characters are well-developed.
http://cherryblossomstories.com Renae Lucas-Hall is a Novelist & Writer of Japanese Fiction & Non-Fiction
https://www.tuttlepublishing.com/japan/ellery-queens-japanese-mystery-stories