Saudi Arabia is the epicenter of Harakah al-Yaqin: Gulf Petrodollars Assisting Jihadists in Myanmar
Noriko Watanabe and Lee Jay Walker
Modern Tokyo Times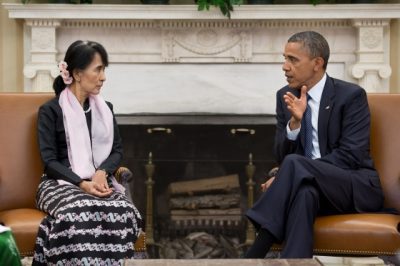 Saudi Arabia is the epicenter of intrigues that is spreading untold misery and sowing discord within the Muslim world and non-Muslim world alike. Indeed, with vast sums of Gulf petrodollars entering corrupt elites in Malaysia, then not surprisingly the current leader of Malaysia is trying to play the "Muslim card" in relation to anti-Myanmar rhetoric. This is somewhat ironic because the Saudi Arabia led coalition is slaughtering Muslims in Yemen and enabling mass malnutrition of the populace to take place based on destroying the infrastructure. At the same time, Malaysia is anti-Shia, therefore, this nation should clean up its own backyard before attacking Myanmar. Of course, media manipulation and political elites in nations like Malaysia and Saudi Arabia know the utter hypocrisy they spew. However, Gulf petrodollars and the impulse for siding against non-Muslims isn't so difficult unless they happen to be Shia Muslims who are deemed apostates.
In October and November, this year jihadists from Harakah al-Yaqin and militants within the Bengali Muslim community attacked the security forces of Myanmar. Yes, unlike the portrayal in the Gulf and Western media, it was Islamists who unleashed fresh bloodshed in this troubled country beset by ethnic and religious disputes. Indeed, over many decades the Christian led forces of various militias will account for more deaths than any other non-Buddhist religious group in Myanmar but you wouldn't know this if you read Gulf and Western media outlets.
Alarmingly for Myanmar is the fact that past history dictates that international jihadists follow the intrigues of major Gulf and Western powers. Hence, Sunni Islamist Takfiris being supported by the same two Trojan horses in Afghanistan (the 1980's and 1990's), Bosnia, Libya, and Syria. Other intrigues imply underhanded shadows in the Central African Republic, Egypt, and a few other nations. Likewise, the Saudi Arabia led coalition is benefitting al-Qaeda and ISIS (Islamic State – IS) in Yemen. Therefore, with Syrian government forces regaining Aleppo and with ISIS under growing military attacks in Iraq, then it is conceivable for Saudi Arabia to focus on the export of Sunni Islamist terrorism. After all, since the Siege of Mecca in Saudi Arabia, then exporting jihad is an internal policy in order to keep the home front quiet.  If so, and with anti-Myanmar media hype being excessive, then Myanmar may become the next in line.
The International Crisis Group says, "The deadly attacks on Border Guard Police (BGP) bases in Myanmar's northern Rakhine State on 9 October 2016 and the days following, and a serious escalation on 12 November when a senior army officer was killed, signify the emergence of a new Muslim insurgency there. The current violence is qualitatively different from anything in recent decades, seriously threatens the prospects of stability and development in the state and has serious implications for Myanmar as a whole. The government faces a huge challenge in calibrating and integrating its political, policy and security responses to ensure that violence does not escalate and intercommunal tensions are kept under control. It requires also taking due account of the grievances and fears of Rakhine Buddhists."
Harakah al-Yaqin is basically a committee controlled by Bengali Muslim migrants based in Saudi Arabia. Note, in this nation not one Buddhist temple is tolerated and apostates from Islam to Christianity face the death penalty. Saudi Arabia, just like Malaysia, is anti-Shia and it is clear that some Rohingya migrants will be affected by the austere version of Islam that is supported by the state in this nation. Accordingly, the International Crisis Group notes that Harakah al-Yaqin is commanded by Bengali Islamists who have experience in international military events.
Also, it is believed that this Islamist group is well funded and tightly organized. Instrumental to the propaganda machinery is Ata Ullah (several different aliases) and an Islamist scholar called Ziabur Rahman who was educated in Saudi Arabia. At the moment this group is still in its infancy and just like the Muslim insurgency in Southern Thailand, it could well be that it mainly remains an internal issue. Yet, with the proximity of Bangladesh in relation to the crisis and the Islamist movement in this nation that is butchering secular writers and bloggers, then the omens bode ill unless Myanmar can focus on several multifaceted policies.
Modern Tokyo Times in a past article said, "In a regional context it is abundantly clear that certain Buddhist clerics are disillusioned and aghast at the cleansing of Buddhists in the Chittagong Hill Tracts in Bangladesh, countless terrorist attacks by Islamists against Buddhists in Southern Thailand, the destruction of holy Buddhist places in Afghanistan by Sunni Takfiris, endless Han migration to Tibet in order to dilute the influence of Tibetan Buddhism, and other issues, for example, Buddhism is illegal in nations like Saudi Arabia (the same Sunni Islamist nation is intent on spreading Salafi Islam into the heart of Buddhism). Therefore, from the point of view of Buddhist clerics in Myanmar who support the protection of Buddhism internationally, then regional and historical realities are being neglected by a simplified Western and Islamic media bias."
Despite enormous media hype based on misinformation and playing into the hands of international jihadists and the Salafi missionary dream, the crisis in Myanmar is extremely complicated. In other words, the Muslim angle is but one of many complex issues that face this nation. Indeed, the nation is still cautiously taking democratic steps but the complex ethnic issues that blight this nation taint genuine reforms.
https://www.crisisgroup.org/asia/south-east-asia/myanmar/283-myanmar-new-muslim-insurgency-rakhine-state
http://moderntokyotimes.com/?p=6181
Modern Tokyo News is part of the Modern Tokyo Times group
DONATIONS to SUPPORT MODERN TOKYO TIMES – please pay PayPal and DONATE to sawakoart@gmail.com
http://moderntokyotimes.com Modern Tokyo Times – International News and Japan News

http://sawandjay.com Modern Tokyo Times – Fashion
http://moderntokyonews.com Modern Tokyo News – Tokyo News and International News

http://global-security-news.com Global Security News – Geopolitics and Terrorism
PLEASE JOIN ON TWITTER
https://twitter.com/MTT_News Modern Tokyo Times
PLEASE JOIN ON FACEBOOK