Art of Japan and Kabuki: Realism of Toyokuni Appealed Despite Sharaku
Lee Jay Walker
Modern Tokyo Times
Utagawa Toyokuni was born in 1769 and died in 1825 during the Edo Period in Japan. Sadly, despite producing elegant and stylish art he gave a rather negative comment about his artistic merits.  Indeed, many art experts have wide opinions about Toyokuni. Therefore, his comment that "My pictures – they are merely something that I draw, and nothing more than that!" continue to plague the real beauty of his art if taken to the absolute.
However, modesty is part of Japanese culture. Also, within the history of art in this nation, it was common in this period for artists to remain in the background from a historical context. This applies to following in the footpath of the respective master artist they were following and then hiding the real identity of the original artist. Of course, many ukiyo-e artists did have individual spirits. Similarly, not all Japanese nationals have modest traits despite the strong cultural undertones that try to embed this. Given this reality, it could well be that Toyokuni was being over-modest despite the doubters that persist.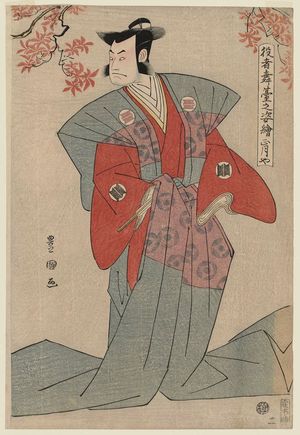 It is known that Utamaro greatly influenced Toyokuni and maybe this led to his negative comment about himself. This is based on the enormous creativity of Utamaro in comparison to himself.  It is true that Toyokuni didn't share the same individual abilities of Hokusai, Hiroshige, and other more famous artists. Similarly, he doesn't appear to have challenged himself in the area of enormous diversity, yet you do have commercial factors behind this. Likewise, not all Edo artists focused on the same area, therefore, it is mistaken to focus on other more individualistic artists because Toyokuni focused on his strong points.
Despite everything, he perfected art by focusing on the history of art and digging deep into the historical legacy of past artists. After this, Toyokuni then created a distinctive style based on initial methodology and then manipulating his art form in order to create something new.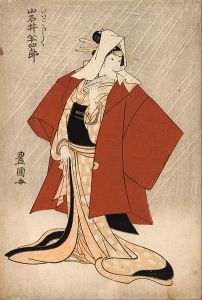 The main area of focus for Toyokuni after initially focusing on bijinga was Kabuki theater. Given his childhood then this made complete sense because he could connect with what he visually saw. Also, he was greatly influenced by Kiyonaga and Shigemasa during his informative years. In time, despite Toyokuni creating bijinga art pieces, he became firmly associated with Kabuki actors and other areas related to this theme.
Sharaku (art below) was much more expressive because he would exaggerate his artwork based on creating a more intensive image that was outside of what the eye could see.  Therefore, Sharaku can take hold of your imagination quickly and recreate the kabuki performance by taking it into a higher and mystical plain.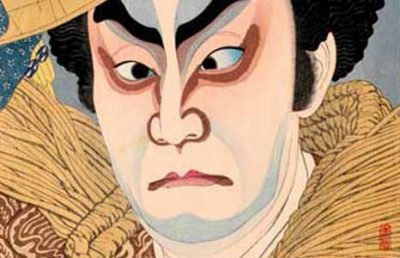 However, Toyokuni focused on what the eye could see and while this may not be viewed to be so creative or imaginative, it was still very effective and expressed reality. However, some would argue that methodology and the reality side of many of his images meant that the intense nature of art was missing. Yet this may be overstating the point because Toyokuni's art was still expressive in its own right.
Sharaku (art below) in the history of Japanese art is deemed to be a greater artist than Toyokuni. Yet, lay people and fans of kabuki on the whole favored to buy prints made by Toyokuni.  Therefore, it could well be that Toyokuni was constrained by commercial factors because he understood what the majority desired.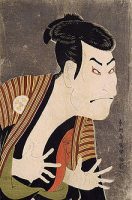 Artelino says, "The expressions of the actors are extremely vigorous and exaggerated – close to caricatures. The Sharaku prints seem like a snap-shot catching the character, the mood and momentary emotions of the actor."
It could be stated from an elitist point of view that the vast majority of kabuki fans were not avid fans of art.  Therefore, this enabled Toyokuni to connect because he appealed more than Sharaku when it came to simplistic images.  This meant that he hit the nail on the head for the average fan of Kabuki. Irrespective if this is an elitist comment or not, it is clear that you have merits behind this thinking. After all, Sharaku was a completely different type of artist and internationally he is in a different league. Yet, domestically, and during the lifetime of Toyokuni, he appealed to the masses because they appreciated the reality of his art.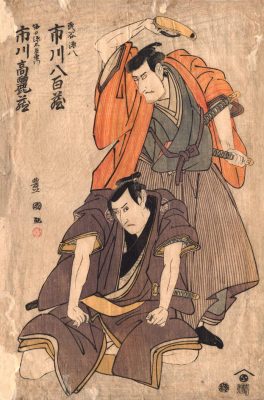 Toyokuni was a little harsh about himself because art pieces by him do share aspects of Japanese culture in the sense of reality. For this alone, he should be remembered for simplification, great detail and a realistic approach to the world he belonged to.
Therefore, while Toyokuni may be viewed negatively in some quarters the fact is that he never desired to be something that he wasn't. Instead, he focused on his own style irrespective of the creativity of others.  This in itself is admirable. Also, the fact that he helped this art form means that he should not be undervalued even if the creativity side was not the area he focused on – irrespective if this was based on his own art ability – or if based on commercial factors.
http://www.artelino.com/articles/sharaku.asp