Tajikistan Early Warning: Internal Pressures, External Threats
International Crisis Group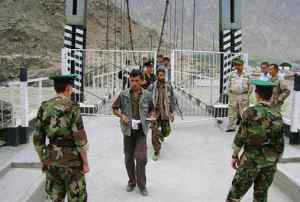 OVERVIEW
Tajikistan, Central Asia's poorest state, is under dangerous pressure both internally and externally. President Emomali Rahmon's 23-year rule is marred by violence, lack of accountability, corruption and mass migration. Remittances and drug trafficking are key sources of income. Controls on religion and political opposition, including a ban on the moderate Islamic Renaissance Party of Tajikistan (IRPT), foster resentment. Security along the 1,400-km border with Afghanistan is inconsistent at best, and increasing instability in northern Afghanistan, where Central Asian militants are allied with the Taliban, poses a threat to Tajikistan, Kyrgyzstan and Uzbekistan alike. Russia's support to Tajikistan is a major component in regional security, but Moscow's concerns about internal opposition to Rahmon are growing. The European Union (EU) and U.S. have only modest ability to influence the Tajik government, but they, Russia and others should be alert to the increasingly worrying direction of Rahmon's leadership, the risks of state failure and the potential for Islamist extremists to capitalise.
The 1997 peace agreement masked rather than resolved tensions after a brutal civil war (1992-1997) and is unravelling. Its core was IRPT representation of the war's opposition forces in parliament, but Rahmon deprived the party of its parliament seats after March 2015 elections that were riddled with irregularities, banned it in August, and declared it a terrorist organisation in September. The IRPT's fate and restrictions on religious expression underscore the state's contempt for pluralism. Widespread corruption and cronyism send the message to Islamist and secular citizens alike that the political process is closed to all who might challenge Rahmon.
The defection of the head of the Special Assignment Police Unit (OMON), Gen. Gulmurod Khalimov, to the Islamic State (IS) in Syria in May revealed schisms within the security elite, suggested Rahmon may no longer know who can be trusted and reflected the growing appeal of violent radical Islam. The president's responses are about his survival and do little to reverse the perception that the government is politically and morally bankrupt.
The economy is crippled, with the downturn in Russia adding to the difficulties because remittances are more than 40 per cent of GDP, and some 300,000-400,000 migrants returned home in 2015 with little hope of finding work. The rough economic climate, however, is fundamentally of the government's making: years of endemic corruption have bled local businesses dry and limit the impact of donor aid. Meanwhile, drug trafficking from Afghanistan is growing. Border security, despite investments and technical assistance from Russia, the EU and U.S., is at best haphazard, partly because of the mountainous terrain but also because the illegal trade has corrupted Tajik security structures.
Given its problems, Tajikistan should be a conflict-prevention priority for the international community. While pragmatic engagement should focus on preventing further repression and encouraging an orderly transition when Rahmon's term ends in 2020, the risks in sustaining a frightened autocrat with no interest in a credible political process must be factored in. Under the weight of economic crisis and political stagnation, the state may continue weakening, perhaps with little impact beyond its borders, but its internal and external fragility might also lead to instability that would resonate in the broader region. The border weaknesses increase Tajikistan's potential as a staging post for Islamic militants with ambitions elsewhere in Central Asia. The Uzbek border is relatively strong but that with Kyrgyzstan is much weaker.
State failure, due to whatever factors, would pose a major headache for Russia, other members of the Moscow-led Collective Security Treaty Organisation (CSTO) and China, with whose restive Xinjiang province Tajikistan shares a 414-km border. CSTO membership and Russia's military presence in the country is a deterrent against incursions, but the CSTO is untested. Uzbekistan, Kyrgyzstan and Kazakhstan, which have clear interests in maintaining peace and security in Tajikistan, should prioritise the security of their respective borders with it, not least as insurance against weaknesses on the Tajik-Afghan border.
Russia, the EU and U.S. should support efforts to increase regional border security. In their political engagement in the region, including their formal security and human rights dialogue formats, the EU and its member states and Washington should also highlight the strong link between political oppression and human rights abuses and longer-term instability. Russia, the UN and others who helped engineer the 1997 agreement, including the U.S. and Iran, should urge Rahmon to honour its principles in the interest of sustainable stability. Otherwise, there is little to stop a slide back into old conflict patterns, now aggravated by a restless northern Afghanistan and the appeal of militant Islam.
Bishkek/Brussels, 11 January 2016
http://www.crisisgroup.org/en/regions/asia/central-asia/tajikistan/b078-tajikistan-early-warning-internal-pressures-external-threats.aspx
The International Crisis Group kindly allows Modern Tokyo Times to publish their esteemed articles based on important research. Please check the website of this highly valued international organization at http://www.crisisgroup.org/
https://twitter.com/CrisisGroup International Crisis Group on twitter
Photo in the original article by International Crisis Group supplied by STR/AFP
Europe and Central Asia Briefing N°78 11 Jan 2016 – International Crisis Group