UN condemns ethnic and sexual violence in the Central African Republic (UN legacy)
Sawako Uchida and Lee Jay Walker
Modern Tokyo Times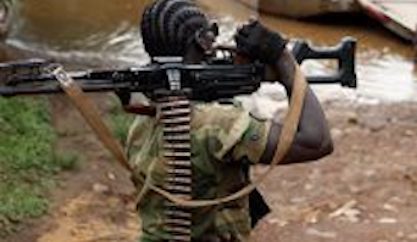 The United Nations (UN) said appalling ethnic and sexual violence is rampant in the Central African Republic (CAR). This was expressed after the latest findings by independent experts. This violence is also aimed at children who suffer at the hands of various militias, private military contractors, and the security forces of this country.
The UN high commissioner for human rights (Volker Türk) said, "Last year, the Human Rights Division recorded 647 children who were victims of child rights violations. The majority concerning the use of children in the armed conflict, attacks on their physical integrity, their freedom, arbitrary detention, and sexual violence linked to the conflict."
Islamic insurgent forces – with clout and favor from Chad and France – initially began to spread their power in late 2012. Many massacres took place against Christians. Accordingly, the anti-Balaka (most follow or fuse Christianity and Traditional Beliefs) defended Christians against Seleka Islamic insurgents. Massacres followed on both sides. However, from the outset, the anti-Balaka was outgunned militarily.
It is equally noticeable that foreign intervention never happened during the early period of the war when Christians and followers of Traditional Beliefs were being butchered and forced to flee. Also, with Chad being accused of taking the side of Seleka – and with Chad having favorable relations with France – then it could well be that the anti-Balaka militias prevented "a done deal."
Similar to the conflict in Bosnia – whereby UN forces enabled Bosnian Muslim forces to leave areas to kill Serbian Orthodox Christians – the same happened in the CAR.
Human Rights Watch says, "Seleka forces in January 2014 tortured and killed civilians in and around the town of Sibut, where the former rebels have been regrouping, Human Rights Watch said. Seleka forces were able to leave bases to which they had been confined by African Union peacekeepers by using bush roads to circumvent checkpoints or by traveling with Chadian troops in heavily armed convoys."
Turning forward to events now. The Special Representative of the U.N. Secretary-General for Children and Armed Conflict (Virginia Gamba) said, "The recruitment and use of children remained the most prevalent violation verified in 2022… While boys were most affected, girls were also recruited and used by parties to conflict and most of them were subjected to sexual violence during their association. Some of the girls became pregnant following the rape."
Voice of America reports, "A recent U.N. food assessment finds 2.7 million people, nearly half the population, are acutely food insecure, with 642,000 on the verge of famine. OCHA reports hundreds of thousands of people are suffering from acute malnutrition, most are children under age five. In addition, more than half a million children aged three to 17 are out of school, making them susceptible to recruitment, exploitation, and trafficking."
UN LEGACY AND SEXUAL ABUSE
The BBC reports (2016), "Last December an independent panel calling the UN response to allegations in the Central African Republic (CAR) "seriously flawed" and a "gross institutional failure"…It accused senior UN officials of abusing their authority by failing to take action over allegations of abuse by soldiers from France, Equatorial Guinea and Chad."
France 24 (2021) reports, "Secretary-General Antonio Guterres on Wednesday ordered the immediate repatriation of the entire U.N. peacekeeping contingent from Gabon serving in the Central African Republic following credible reports of sexual abuse by some of its 450 members and past allegations."
UN forces – and several charities – have been involved in raping young children, food for sex, sexual abuse against adult women, and other evil acts. These scandals have happened from Haiti to the CAR – and further afield.
The CAR needs regional and international support. However, heinous males from various nations have abused conflicts for their sexual depravity.
Modern Tokyo News is part of the Modern Tokyo Times group
http://moderntokyotimes.com Modern Tokyo Times – International News and Japan News
http://sawakoart.com – Sawako Utsumi's website and Modern Tokyo Times artist
https://moderntokyonews.com Modern Tokyo News – Tokyo News and International News
PLEASE JOIN ON TWITTER
https://twitter.com/MTT_News Modern Tokyo Times
PLEASE JOIN ON FACEBOOK