Democratic Taiwan needs International Support: China and Taiwan need a Fresh Approach
Chika Mori and Lee Jay Walker
Modern Tokyo Times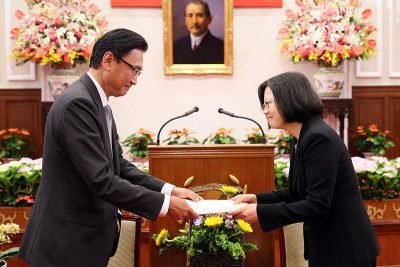 Democratic Taiwan should be a role model to be lauded; therefore, it is imperative that this nation is supported internationally by democratic nations if these shared values mean anything. China, for its part, should note that the vastness of this nation, its economic modernization, international economic clout, and continuous military development, all equates to fearing nothing from Taiwan emerging fully independent. Therefore, China and the democratic world should focus on mechanisms to put the China and Taiwan dispute to bed.
President Tsai Ing-wen of Taiwan in an independent female leader who seeks the best for Taiwan, while maintaining and developing a new approach with China. Sadly, political elites within the Chinese Communist Party (CCP) are upping the ante in pressurizing the leadership of Tsai. However, it is high time for China to firmly believe in the confidence of the nation state, rather than dictating to Taiwan because the "One China" policy isn't feasible based on the endless status quo. After all, Taiwan is a maturing democratic nation that is culturally very different and this equally applies to political philosophy.
Modern Tokyo Times reported in the past, "In the realm of trade, Tsai seeks to diversify Taiwan's trading partners in order to increase the independence of this nation. Tsai, of course, supports economic trade with China but from strength rather than obligations. In other words, she opposes many aspects of the Economic Cooperation Framework Agreement (ECFA) between China and Taiwan. Therefore, Tsai is focused on utilizing the full strength of Taiwan's economic power based on open trade and furthering closer ties with other nations – while maintaining strong economic ties with China."
Tsai, a very independent political leader with clear vision, seeks to reenergize Taiwan internally and externally based on all the positives of this nation state. Yet, the leader of Taiwan is clearly alarmed by negative statements emanating from China. Therefore, Tsai knows that Taiwan must remain steadfast, while also avoiding confrontation, thereby, neutralizing China's bullying tactics based on "true diplomacy."
Tsai (2016 Year-end Press Conference) said, "Step by step, Beijing is going back to the old path of dividing, coercing, and even threatening and intimidating Taiwan. We hope this does not reflect a policy choice by Beijing, but must say that such conduct has hurt the feelings of the Taiwanese people and destabilized cross-strait relations."
The esteemed leader of Taiwan continued, "For the sake of safeguarding regional peace and prosperity, I want to once again reiterate that our commitments will not change, and our goodwill will not change. But we will not bow to pressure, and we will of course not revert to the old path of confrontation."

It is in the interest of China and Taiwan to resolve differences based on genuine respect. Indeed, for China, new robust developments with Taiwan would reduce regional tensions and dilute the need for America to maintain such a military and political approach to the region.
At the same time, the democratic world should step up to the plate by supporting Taiwan to a much higher degree based on acknowledging all the positives of this maturing nation state. This doesn't mean a direct economic and political clash with China because Taiwan seeks a sensible approach that works for all nations. However, the democratic world should not be coerced into adopting policies that are in-line with the CCP. Instead, "democratic solidarity" and a more open approach should become the norm whereby China faces up to the changing sands and the reality that both nations have different cultural, economic, political, and philosophical values.
http://english.president.gov.tw/Default.aspx?tabid=491&itemid=38528&rmid=2355
Photo Source: http://media.president.gov.tw/ImageViewer.aspx?hl=&CID=229