China and the Quiet Kingdom: An Assessment of China-Oman Relations
Publication: China Brief
By: Chris Zambelis
The Jamestown Foundation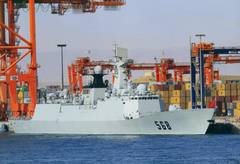 China's foreign policy toward the wider Middle East rests on advancing numerous objectives. Foremost among these priorities is China's need to assure domestic energy security. As the world's largest consumer of energy overall and second largest importer of crude oil, safeguarding a stable flow of crude oil from the region is a paramount concern. As evidenced by its recent decision to increase financial support for humanitarian aid and relief capacity in the Middle East to help alleviate an increasingly dire humanitarian situation, China has also used viewed the region as a platform to project its soft power and influence (Xinhua, October 13).
In contrast with China's ties with major Middle East oil producers and regional heavyweights such as Saudi Arabia, Chinese relations with the Sultanate of Oman, a key source of China's oil imports, a leading producer of natural gas, and an important geopolitical actor in its own right, are often overlooked. Middle East specialists have often treated Oman as something of an afterthought: Oman's historic stability and its characteristically quiet profile, despite its proximity to perpetual geopolitical flashpoints and its penchant for navigating some of the world's most complex diplomatic fault lines, has relegated it to outlier status. This oversight belies Oman's strategic importance and obscures the extent of China's interests in Oman. In recent years, contacts between China and Oman have diversified beyond the energy sector, yielding notable developments on the diplomatic, military, and economic fronts. People's Liberation Army Navy (PLAN) warships engaging in anti-piracy operations in the Gulf of Aden off of Somalia have made over 20 port calls to Oman's Port Salalah for replenishment and supply, testament to the position Oman occupies in China's broader regional strategy (Xinhua Online, May 14; China Brief, December 10, 2010).
Evolution of Ties
For all of its notable progress, contemporary Sino-Omani relations emerged out of a milieu of distrust and hostility during a period of domestic unrest in the form of an armed uprising against the Sultanate in Oman's southern Dhofar Province in the 1960s. China provided moral, diplomatic, financial and military assistance—overtly and covertly—to the Dhofar Liberation Front, a separatist insurgency inspired by Marxist-Leninism and Arab nationalism, as well as to its successor organization the Popular Front for the Liberation of the Occupied Arabian Gulf. [1] China also trained Dhofari rebels in China, even going so far as to deploy military advisers to fight alongside the rebels in Oman.  Despite these inauspicious beginnings, Oman eventually recognized the People's Republic of China (PRC) in 1978.
More recent Chinese and Omani political discourse has focused on ancient historical ties. Sino-Omani diplomacy is replete with references to the earliest contacts between China and Oman that developed during the era of the ancient Maritime Silk Road trade route that linked Asia to Africa and Europe, suggesting a natural continuity in Sino-Omani relations. Notably, Oman figures prominently in China's efforts to revive these ancient trade contacts under the auspices of its Silk Road Economic Belt and the 21st-Century Maritime Silk Road (commonly referred to as One Belt, One Road). Oman has enthusiastically embraced China's project and has expressed an eagerness to leverage China's expanding regional footprint as a means to project its reach into territories that once fell under its sphere of influence. Oman's influence as a maritime and imperial power has extended beyond the Arabian Peninsula and Persian Gulf to coastal East Africa and Gwadar in Balochistan in modern Pakistan—all areas that would be connected by the Maritime Silk Road. [2]
China has likewise acknowledged Oman's importance in its plans. China's ambassador to Oman, Yu Fulong, echoed these sentiments by emphasizing Oman's strategic location and the history of friendly ties between both nations despite their dissimilar political systems and societies. He also noted the inherent complementarity in their approaches to economic development and areas of mutual benefit (Xinhua, July 1). Oman's Sohar Port and Freezone, a deep-water seaport located on the Gulf of Oman in the northwestern part of the country near Oman's border with the United Arab Emirates (UAE), and the associated free trade zone that is counted among the world's largest developments of its kind, has attracted particular interest from China. China is also keen to benefit from Oman's expansion of road networks and a railway that will integrate Sohar Port and Freezone to existing Omani and Gulf Cooperation Council (GCC) transportation corridors extending into the UAE and Saudi Arabia. In the long run, these features will give Oman a competitive advantage over other established logistical and transportation hubs in the region (Construction Week [Dubai], August 13; Oman Daily Observer [Muscat], January 26).
Energy
Though infrastructure projects will certainly help grow relations further, petroleum exports serve as the foundation of Sino-Omani relations. Despite enduring an economic slowdown, China for the first time surpassed the United States as the world's largest importer of crude oil in June and April. Even as China continues to diversify its network of relationships with oil producers outside of the Middle East, relationships with nations like Oman remain vital. With a daily yield of just under one million barrels per day, Oman is a major oil producer and is counted among the world's top 25 oil producing nations. Oman was the first member of the GCC to export oil directly to China. [4] Omani oil represents an estimated ten percent of China's total oil imports. For its part, China is the top destination for Oman's oil exports. Over 97 percent of Omani oil finds its way to markets in East Asia with an overwhelming percentage destined for China. About 95 percent of Oman's oil exports in September were delivered to China (Muscat Daily, October 14). While most of Oman's exports of LNG in 2015 were delivered to Japan and South Korea, China continues to show interest in Oman's natural gas sector (Platts [London], August 15).
Oman's Geopolitics
Oman's geopolitical idiosyncrasies cast light on the deeper implications of the flourishing Sino-Omani relationship. Oman is situated in the southeastern Arabian Peninsula adjacent to the Strait of Hormuz, the vital maritime artery between the Persian Gulf and Gulf of Oman and the Arabian Sea and wider Indian Ocean. Between 35 and 40 percent of the world's seaborne oil traverses the Strait of Hormuz. Oman shares borders with Saudi Arabia, Yemen, and the United Arab Emirates. Oman's geographic placement puts it into close proximity to other areas of central concern to China, including Djibouti, Somalia, and the wider East Africa expanse, Iran, Pakistan, India, and the wider Indian Ocean space. In contrast to many of its neighbors, Oman's strategic value to China in the context of its One Belt, One Road initiative and other interests is further enhanced by its relative peaceful and stable disposition. Oman's location opposite Pakistan's Gwadar Port—an important link to China through the China-Pakistan Economic Corridor (CPEC)—could make it a major link through western China. These stepping stones through the Middle East are not without their dangers; an insurgency in Pakistan's Balochistan Province has prevented China from realizing Gwadar Port's potential as a trade hub that would connect Western China's Xinjiang Province to the Indian Ocean (Dawn [Karachi], April 20).
As a region that remains largely within the purview of U.S. diplomatic influence and concomitant U.S.-led alliance architecture, China's engagement with Oman and the wider Middle East raises important questions about Sino-U.S. relations. At first glance, Oman appears to share a great deal in common with its fellow Gulf Cooperation Council partners. Oman is an authoritarian state led by a hereditary Arab Muslim royal dynasty. In addition to boasting significant energy reserves typical of the GCC, albeit at a lesser quantity, Oman maintains a close strategic partnership with the United States and other U.S. allies. Oman was the first GCC member to enter into a formal military basing agreement with the United States following the 1979 Iranian Revolution. Oman hosts a number of U.S. military installations, including three air force prepositioning sites located at Thumrait Naval Air Base, Masirah Air Base and Seeb International Airport (al-Jazeera, May 1, 2012). Omani territory has played a central role in launching and sustaining the U.S.-led wars in Afghanistan and Iraq and other military operations.
Similarly, Oman hosts U.K. military assets and engages in close military coordination, including military exercises, and is reportedly host to a Government Communications Headquarters facility, the U.K.'s equivalent to the U.S. National Security Agency, devoted to extracting a range of digital data in and around the Middle East (Wired U.K., June 3, 2014).
There are no indications to suggest that Oman is contemplating a shift its traditionally pro-U.S. and pro-Western foreign policy orientation. Nevertheless, China stands to benefit by increasing its footprint in Oman. For example, greater Chinese inroads in Oman can serve as a potentially effective lever of influence over the United States down the line, especially during periods of heightened tensions in Sino-U.S. relations over disputes related to the South China Sea, Taiwan, and other matters. Oman also figures prominently in the growing rivalry between China and India. Oman and India have a tradition of close diplomatic, cultural, and economic ties that include extensive cooperation in the military and defense spheres (World Politics Review, January 7).
At the same time, Oman has long charted an independent foreign policy trajectory predicated on principles of pragmatism, moderation, and neutrality. Oman has likewise positioned itself as a diplomatic mediator. This outlook is critical to understanding its embrace of China. For example, Oman has maintained cordial diplomatic ties and a robust economic relationship with Iran, hosting Iranian naval vessels and holding joint military exercises, even as it has drawn the ire of GCC members such as Saudi Arabia that are on the forefront of a region-wide campaign to curtail Iranian influence (Middle East Eye, February 12; Press TV [Tehran], June 9). This position made Oman instrumental in facilitating the back channel negotiations between the United States and Iran that led to the landmark nuclear agreement. Oman has also involved itself in the diplomacy surrounding the conflicts in Yemen and Syria (National [Abu Dhabi], September 21).
Oman's independent foreign policy stance is also illustrated by its decision to remain outside of the Organization of the Petroleum Exporting Countries (OPEC). Oman is the largest oil producer in the Middle East that is not a member of OPEC, a position it has used to criticize fellow GCC and OPEC members such as Saudi Arabia on oil pricing and production strategies undertaken by the cartel. Notwithstanding OPEC's waning influence, China may view Oman's position outside of the cartel as a valuable asset in which to exert indirect influence over established OPEC members—many of which are major sources of China's oil imports—on a range of matters.
Despite its autocratic character, Oman has been spared the kind of unrest and instability—including sectarian violence and radical Islamist terrorism—witnessed elsewhere in the Arab world, a consequence, according to many observers, of the widespread legitimacy enjoyed by the Sultan and the characteristically tolerant brand of Ibadi Islam practiced by most Omanis. Indeed, the climate of volatility and turmoil that has come to typify the wider Middle East in recent years will only increase Oman's value to China. However, a nascent opposition to the ruling system does exist and may become more pronounced as Sultan Qaboos's reign—the longest of any Middle East leader—eventually comes to an end (Gulf State Analytics, August 7, 2014). Indeed, Oman is on the precipice of political change. The septuagenarian Sultan suffers from ill health and, given that he does not have any children, has no heir apparent (Middle East Eye, January 13). A potential succession crisis may usher in a state of unrest that will have important implications for China's regional strategy and well beyond.
Conclusion
On the surface, the confluence of mutual interests between China and Oman indicates that Sino-Omani relations will continue to flourish. Oman's favorable geographic disposition, notable influence in international energy markets, and independent foreign policy posture makes it an attractive partner for China. At the same time, the coming changes in Oman may shape up as a test of the durability of the Sino-Omani relationship.
Chris Zambelis is a senior analyst specializing in Middle East affairs for Helios Global, Inc., a risk management group based in the Washington, D.C. area. The opinions expressed here are the author's alone and do not necessarily reflect the position of Helios Global, Inc.
Notes
A joint Sino-Omani venture led by China's Merchant Holding International and Oman's State General Reserve Fund to develop Tanzania's Bagamoyo Port and associated special economic zone—a project estimated to be worth over $10 billion—is emblematic of the collaborative facets of Sino-Omani relations (Daily News [Dar es Salaam], October 17; Gulf Africa Review, November 14, 2014).
For a summary of China's interests in the Dhofar Rebellion, see Bin Huwaidin, Mohammed. China's Relations with Arabia and the Gulf: 1949-1999. New York: RoutledgeCurzon, 2002, pp. 102–04.
The Jamestown Foundation kindly allows Modern Tokyo Times to publish their highly esteemed articles. Please follow and check The Jamestown Foundation website at http://www.jamestown.org/
https://twitter.com/JamestownTweets The Jamestown Foundation
http://www.jamestown.org/programs/chinabrief/single/?tx_ttnews[tt_news]=44602&tx_ttnews[backPid]=25&cHash=7253003124642ddc4e48373481bc73b6#.VlHWi3v6mKI
Photo: Chinese Destroyer Hengyang docked in Salalah, Oman. Port calls to Salalah Oman have become a regular feature of Chinese anti-piracy patrols (Source: Chinese Internet).