Islamic State Kill Over 30 after Attacking a Military Hospital in Afghanistan
Amina Qamar, Sawako Uchida, and Lee Jay Walker
Modern Tokyo Times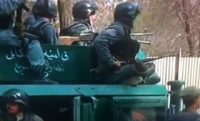 The growing menace of ISIS (Islamic State) in Afghanistan is being witnessed by massacres against Shia Muslims and the latest terrorist attack against a military hospital in Kabul. Reports indicate that ISIS has killed over 30 people in the latest Sunni Islamist attack in the capital of this nation. This, in itself, highlights the growing menace of ISIS in Afghanistan and the failure of central forces that can't even protect central areas in Kabul.
Apparently, ISIS infiltrated the military hospital by being dressed up like the medical staff. Given the problem of Sunni Islamist Takfiri terrorism in this nation and the close proximity of the United States embassy, then ISIS will view the terrorist assault to be a success given the twisted Sunni Islamist ideology they hold.
Reports stress that the attack lasted hours after clashes emerged with security forces. In this time, innocents killed include doctors, patients unable to escape the brutal attack, and hospital workers. Therefore, the sword of Sunni Islamism once more showed its utter depravity by slaughtering in a place that is meant to preserve life.
The BBC reports, "More than 30 people have been killed after attackers dressed as doctors stormed the largest military hospital in Kabul, Afghan officials say."
Not surprisingly, President Ashraf Ghani of Afghanistan lambasted the latest Sunni Islamist terrorist attack. He said, "In all religions, a hospital is regarded as an immune site and attacking it is attacking the whole of Afghanistan."
Reuters reports about the growing menace of ISIS by saying, "The movement, opposed to both the Western-backed government in Kabul and the Taliban, is based in the Middle East but has established a solid presence on the border with Pakistan.
Sadly, the final death figure is likely to increase.
http://www.reuters.com/article/us-afghanistan-blast-idUSKBN16F0GP
http://www.bbc.com/news/world-asia-39202525